Digital Marketing for Hair Salons and Barbers
With Yell's digital marketing packages, we'll help the website of your hair salon or barber shop to drive more appointments and revenue.
Digital Marketing for
Hair Salons and Barbers
With Yell's digital marketing packages, we'll help the website of your hair salon or barber shop to drive more appointments and revenue.
Are you a hair salon owner, stylist or barber looking to attract more customers and increase your revenue? Digital marketing is a versatile and powerful tool that can help you reach your business goals and make your salon the go-to destination for clients in your area.
To give an idea of the number of potential customers who could be searching for your services online, there are 74,000 UK searches every month for the term 'men's hair stylist', 110,000 for 'curly hair cutting', 358,000 for 'hairdressers near me' and 550,000 monthly searches for the term 'barber'1.
With our digital marketing services, we can help your hair salon or barbershop to be more visible for terms like these, which in turn can drive increases in traffic, more appointments and boosted revenue for your business. We offer a range of services to help encourage more online engagement, so you can either pick which ones you need the most, or take an integrated approach by booking them all.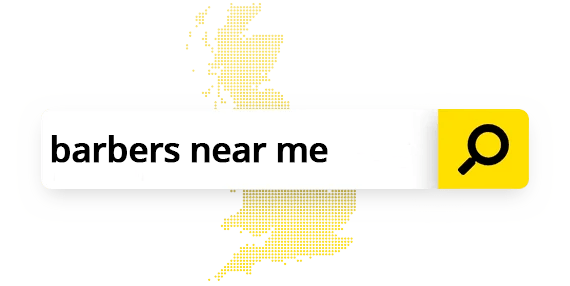 Our digital marketing services include:
Website creation – We can help with the design, creation, and ongoing support of your website to ensure your online presence is as carefully constructed as your salon.
SEO – Our Search Engine Optimisation services will help to improve your site's visibility by boosting its rankings in search engines like Google.
PPC – Yell's Pay-Per-Click packages will oversee the creation of targeted ads that will reach your ideal audience on search engines and across Google's Display Network.
Social media advertising – By crafting ads for social media networks like Facebook and Instagram, we'll help you reach potential clients in some of their favourite online spaces.
Online reputation management – we'll make sure your business details are featured on a range of websites and directories, and, with access to our online portal, you can consolidate your customer reviews and social networks into easy-to-use dashboards, to make ongoing engagement and communication simple and easy.
You can learn more about each of our services below or get in touch today to learn more about how Yell can help your hair salon or barbershop stand out from the competition online.
Websites for Hair Salons and Barbers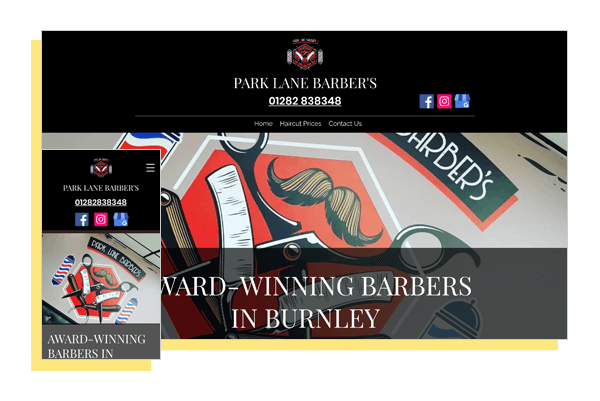 Think of your website as the front desk of your salon or barbershop. Just as a welcoming and organised front desk can set the tone for a great salon experience, a well-designed website can attract potential customers and give them a positive first impression of your business.
But the effectiveness of a business website isn't just about looks, it's also about functionality- it needs to be easy to use and navigate. An accessible website ensures that potential customers can find the information they need, such as your hours, services, and location, with ease. This can lead to more appointments and, ultimately, more revenue for your business.
And let's not forget about security - your website needs to be secure to protect your customers' sensitive information. A secure website can also increase your credibility and build trust with your customers, which is essential for long-term success.
With our website services, the team here at Yell can ensure that your online presence is professional, attractive, accessible and easy for your clients to navigate on both PCs and smaller screens like phones and tablets.
PPC for Hair Salons and Barbers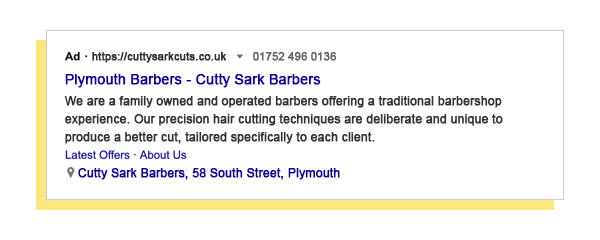 PPC (Pay-Per-Click) is a type of online advertising where you pay each time someone clicks on your ad. It allows you to reach potential customers who are searching for keywords related to your business, even if they're not already familiar with your brand.
By creating targeted ads and bidding on keywords related to your business, the PPC team here at Yell can ensure that your business appears at the very top, 'advertising' section of search engine results when potential customers are searching for hair salons or barbers in your area.
You won't be relying on chance or luck to draw new customers - instead we'll identify the right people to see your ads, based on their demographics, interests and geographic location so all traffic to your site is qualified and relevant. We'll also shape the style and content of your ad to appeal to your perfect audiences. This means each click to your site will be from a potential customer in your area, with an increased chance of converting to an appointment.
We'll regularly review your campaigns to find ways to adjust and improve your results. Plus, your ads can start driving clicks from the moment they go live, so you'll see instant increases in visibility and traffic to your salon's site.
Video for Hair Salons and Barbers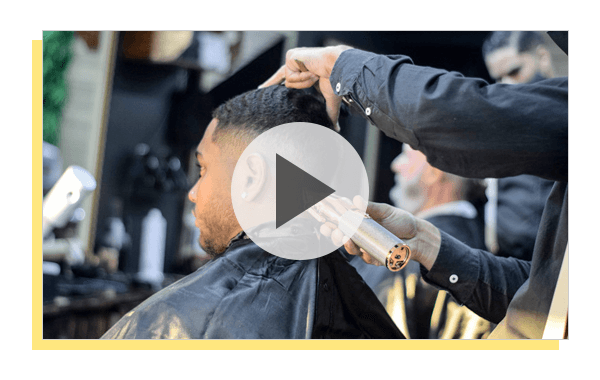 Professional marketing videos are an increasingly useful tool for hair salons and barbershops who want to stay competitive and attract new customers.
By showing what makes your salon unique, you can attract customers who are looking for what you provide. Maybe you specialise in vintage hairstyles or offer all-natural products. Whatever it is that sets you apart, a marketing video can help you highlight those strengths and attract the customers who are most likely to appreciate them.
It's also a space for you to potentially share advice, guidance or styling tips. By positioning yourself as a valuable resource for your customers, you build trust and loyalty that can translate into repeat business and referrals.
The video experts here at Yell will work to create professional videos that tell your story, establish your salon's expertise and differentiate you from the competition. We can offer filming, editing, voice over and even animation packages to help get your message and brand across. This in turn is yours to share on your website and social channels, helping you to attract new customers, build trust and loyalty, and grow your bottom line.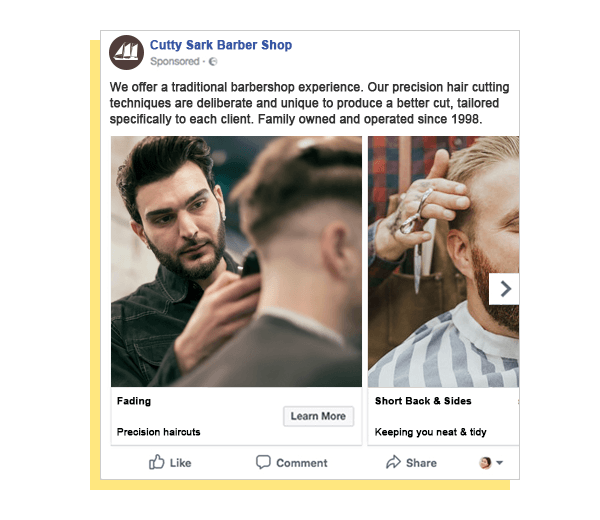 Businesses like hairdressers and barbers can drive a lot of value from regularly posting on social channels, whether that's by showcasing your salon, sharing 'before' and 'after' shots of your work, or giving styling tips and advice to drive engagement. However, sometimes it can feel like a full-time job, and take time and energy away from your client work. Plus, it can be difficult to know if you're reaching your potential customers in the right location for your salon.
Social media advertising is a data-driven way to target your key audience with precision. With Yell's social media advertising packages, which come as part of our Smart Performance solution, we'll use demographic and interest-based targeting to ensure your ads are seen by the people who are most likely to become your customers. We'll also use retargeting to reach people who have already expressed an interest in your business, but haven't taken the next step to book an appointment.
Unlike traditional forms of advertising, you don't need a big budget to see results. We can set a budget that works for you and track your results in real-time, which allows us to optimise your ads for maximum impact.
Online Reputation Management for Hair Salons and Barbers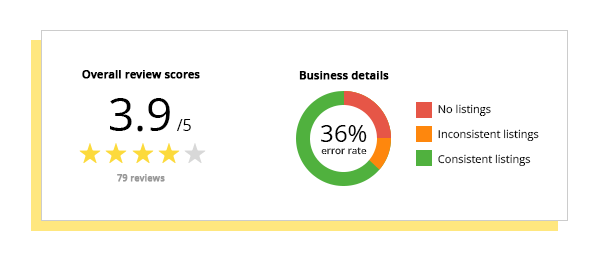 With more people selecting and booking with businesses online, reviews are becoming increasingly important for potential customers looking to make informed decisions. By securing, responding to and managing your online reviews, you can curate a positive online reputation that will set your salon apart from your competitors.
With our online reputation management services, you'll have access to a specialised online portal that consolidates your online reviews, making it easier for you to monitor and respond to client feedback.
We also offer a social posting management system, so you can link your social networks into one easily accessible place, making it quick and easy for you to engage with your customers.
Plus, with our listings management service, we can create entries for your salon or barbershop across a network of websites and directories. This will ensure your key contact information can be easily found by your customers, with all details synchronised from your Yell Business Profile so you know they're correct and up to date.
SEO for Hair Salons and Barbers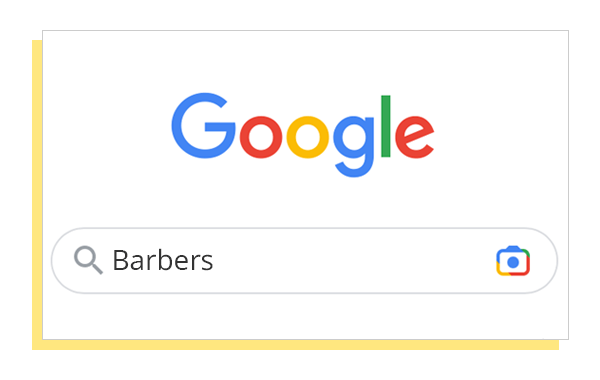 SEO (Search Engine Optimisation) is a marketing approach that focuses on ensuring your website appears at the top of search engine results when potential customers search for keywords related to your business. It requires the right strategies and tools to improve your website's search engine rankings and boost traffic to your site.
If your website appears at the top of search results when a potential client searches for a term like 'hair salons near me' on Google, then that customer is more likely to click on your website and learn about your services.
That's where Yell's SEO services come in - we'll identify the right keywords for your business and will optimise your website to improve your visibility on search engines. As a result, your website will drive more appointments, more referrals, and more revenue for your salon or barbershop.
Chris Birch, Director and Strategist at Entrepreneur Consulting Limited, explains how Yell Smart Performance multi-channel digital advertising has helped save time, drive website visitors, and maximise advertising conversion which has contributed to ongoing monthly revenues of over £9,000.
April 2022
Using the right keywords on your website is one of the key ways to help boost your rankings for those terms in search engines. The best keywords to use can depend on the specific services and products you offer, the location of your salon or barbershop, and your target audience. If you focus on curly hair, kids' haircuts or keratin treatments, then these terms should be featuring in the right way across your website. However, you may also find that terms like 'hair salon' will be so competitive that you might struggle to rank higher than large brand, multi-salon competitors.
The experts at Yell will use a range of professional tools to understand which are the best terms for your site to focus on, based on data like search volume, competitiveness and relevance. We'll then prioritise them carefully based on which could drive the most value for your salon. We'll also ensure your site is shaped for relevant customers in your geographic region, so you know that you're reaching the right people in your local area.
Recommended reading
For more detailed information on the topics discussed here, here are some recommended articles from our Knowledge Centre
SEO
There are three significant streams of SEO – Off-Page SEO, On-Page SEO and Technical SEO. I've previously walked readers through weaving Technical SEO into the website foundations and considering On-Page SEO.
PPC
Let's begin this guide with what PPC really means and how it works. Pay-per-click (PPC) is a method of advertising your business online by paying for your advert every time someone clicks on it.
WEBSITE
Are you looking to promote your business online? With more people turning to the internet to find local businesses, having an online presence is essential (especially in the current climate). In this article, we look at the steps you can take to build your online presence.
If you are running a small business, learning how to leverage your time is essential. One great way to do this is by using a content strategy known as "Content Repurposing". In this article, we explore the power of repurposing content. What Is Content Repurposing?
Contact Us
Let's talk. You can call, start a live chat, or fill in our contact form and one of our friendly experts will call to help advise you on the best digital marketing for your business needs. We're here for you every step of the way.
1. All figures taken from Google Keyword Planner, March 2023