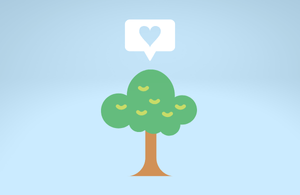 When you manage a small business, you can find yourself staring at your Instagram with a totally blank mind. It makes it tempting to give up. Why are you having to do a full-time job on top of running your actual business?
I've got some easy and quick ways to help you get the growth you need on Instagram. Because it matters: Insta is an incredibly useful thing for small businesses, in terms of community, but potentially also serious sales.
This is all stuff I recommend to real small businesses. Tried and tested, ready to be put into action to grow YOUR business's Instagram.
Your 6 small business Instagram tactics
1. Post behind-the-scenes content
People are interested in where their products come from – people who buy from small businesses on Instagram, anyway.
Give them something to support you for and the provenance that adds value to their purchase.
Tours of your workplace
Your work in progress
Visits to suppliers
Even your stack of parcels to post!
2. Get your admin in order
Instagram has ways to make your life easier. If posting seems like less of a mammoth task, it will be far more achievable to grow your small business Instagram.
When you post on Insta, use the sharing tools for that post to also publish it on Facebook. Two for the price of one, and you start cross-pollinating your audiences.
If you have a business account, you can schedule posts so you don't need to be on-the-spot all the time.
Use tools like Linktree to share your online shop, latest blog post or a press feature from one link in your Instagram profile.
3. Set yourself up for selling success
Instagram for business offers a shop and even food order integration. An Insta shop is managed through Facebook, but that doesn't mean you have to also be super active on Facebook as well – you can just use the FB shop as a tool.
Once you have a way to offer social commerce, use your Instagram posts to feature products and tease upcoming launches.
4. Become an inspiration account
Don't just post your products; post your inspo from your world. Colours, textures, people, places – just make sure to tag the person or location.
If you want to repost an image from another account, use a third-party app like Regrann. It's good etiquette to ask if you can repost, and you might actually make more connections that way.
5. Post with trends
The phrase 'content calendar' used to fill me with dread until one day I took a physical calendar and filled in all the themes throughout the year.
New Year, Valentine's Day, spring is here, Easter, summer's coming, holidays, good weather, end of summer, falling leaves, Halloween, pumpkin spiced lattes, Christmas. And these aren't just one-day events – you can get a week's content out of just one holiday. Just ask the advertising world.
When you post with these themes, you're tapping in to what people care about at that moment. It keeps you relevant and hopefully inspires some creativity. When you've filled in those themes on a calendar, thinking up posts for the rest of the time seems a lot less daunting.
6. Find, join and build community
Hashtag challenges are trends within communities, for example interior design, where someone will announce a photo challenge. Each day, you post to a theme – like #myhappyplace. Joining in with this means people within that community will see your images within that hashtag and hopefully engage.
Follow other accounts like yours – this can promote you in their 'similar accounts' banner on their profile and get you more followers. It'll also give you inspiration, show you hashtag trends you should get on and connect you with other small businesses.
Be smart with hashtags. Looking at what other businesses are doing with hashtags is a good start but don't just copy/paste. Select hashtags that have well under a million posts and be mindful of how often people are posting with them. If your post immediately gets swallowed up by thousands of others, you'll never be seen. If no one posts with any regularity, you might be posting with a dead hashtag.
Don't fear Instagram
Instagram is a lovely place to get involved with communities. It's brilliant for getting bored eyeballs on your products or even just business ethos.
Use these tips to inspire you to create regular content. Be consistent and creative – that's what people will latch on to.
Time to grow your small business Instagram – good luck!