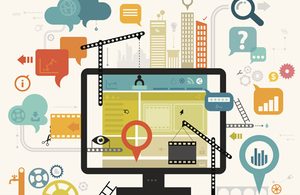 Creating your business website is an exciting experience, but it can also be incredibly daunting. Knowing how to use your website to its best advantage can be difficult to decide. You might just need one or two pages with important information on, or perhaps something a little more elaborate to appeal to your audience.
Check out these 7 top tips to get you started on your business website content
Click To Tweet
Here are a few ideas of things you can include in your website:
Opening times and contact details – You'll be surprised how many businesses don't include these yet they are the most basic and important details needed for any site – if you don't include anything else, make sure you have these. Even if you run a 24/7 online shop you should still let customers know what time your customer services phone number/email runs from so they know when to contact you and if you're there
A gallery – not just for photographers and artists, if you have a trade business then a gallery is a wonderful place to show off the jobs that you've completed. Customers love to see photos of real jobs you've undertaken and how they look, it gives them confidence that you're genuine and that you'll do a good job for them
"of the Day" promotions – Deal of the Day, Soup of the Day, lunch specials – all of these will be a good focal point for the site.
I once came across a small cafe's website and the only information they had on their site were opening times, contact details/location and their soup of the day – many office workers visited at lunchtime for their soup so it was great that they could check the flavour before they came to the cafe, it's something so simple but also so useful for customers
Reviews and ratings – not just for products and eCommerce sites, you can also obtain reviews and ratings for your business and display them on your website. Popular sites include Check-a-trade, Feefo, Yell, The Good Garage Scheme, Yelp etc. A good rating will help you instil confidence in your customers and will give you an advantage over businesses with bad or no reviews
A social hub – a forum, blog and social media widgets. If you have a large community presence online or would like to create one then use your website as the centre of this. This won't work for every business but it will work for a surprising number of them. Examples are: if you're an electrician you could build a community around advice: 'How To' videos on YouTube (how to wire a plug, how to work your fuse box, how to switch off power to your house) and maybe a blog to complement the videos, perhaps a 'help' forum where you answer customer questions (or you could do this via social media) – see this example of a YouTube channel by someone called Fixit Sam – he uploads 'How To' videos for fixing cars and also for home electrics, his videos go from just a few thousand views up to half a million views! Now that's good publicity for your business. Think about how this might work for your own business no matter what sector it is in
A newsletter sign-up – it can be fairly easy to implement a small newsletter sign-up widget into most sites. That way you can collect visitors' email addresses and include them on your mailing list. Emailing customers and potential customers periodically with useful information, offers and news can be a great way to keep in touch and remind people you're there
Downloads – if you want to offer an extra dimension to your website then a downloads section can do that really well. Not only does it allow you to show off your expertise, it also gives potential customers something to take away and refer to – hopefully this will keep you in their mind for when they need you. You can also share your downloads on social media and via an email newsletter if you have one.
Ideas for downloads you could use:

Instruction manuals – either ones from the manufacturers or ones you create yourself. You don't need to be a shop to include manuals, you could have manuals on 'how to care for your laminate floor' if you're a flooring specialist, or 'how to use your thermostat' if you're a heating engineer. The manuals could be video ones instead, with a hands-on instruction guide (upload them to YouTube and embed them in your site)
E-magazine – a collection of articles and information produced monthly/annually etc in a magazine format, normally presented in a PDF or online flip-book format. It's a great way to get people interested in your business and your industry. Don't make it salesy, just informative and useful as that'll be enough to entice people. You can then share your magazine via social media or email newsletters. See this accountancy one as a good example of a simple magazine, but it could span to several more pages if you'd like to do something more in-depth
Whitepapers and research – if there is a topic that you are interested in (that is related to your business) then collating information and your opinions on the subject and then creating a white paper or research document can be a great idea. They are simple to create once you have the content – if you make them in a word processing program and then make that document a PDF, you can upload it to your website for others to download
Projects – something that your customers can use your product for, e.g. if you sell paint then maybe create a project PDF on restoring an old cabinet and painting it (with your paints). Or if you offer a service like cleaning, maybe a project like this 'Make your own cleaning wipes' one
Infographics – slightly more complex to make, these are images that have useful information on, they do well on social media and tend to get shared lots if they are good and useful. Here's a good place to have a look at other infographics to get some ideas: dailyinfographic.com, you might need a designer to help you create one or you could try one of the free tools available on the web
It's worth thinking about what you want your website to do before you choose what will be on it, do you want it to be a showcase of work you've done, or perhaps a simple place for contact information. Think about what customers will find useful and follow that route – if you don't know what your customers want then why not ask them? Their feedback will be incredibly valuable!