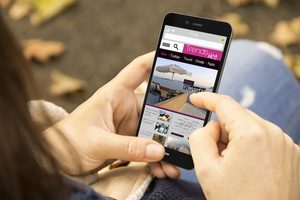 As businesses come to terms with the effects of the Covid-19 pandemic, advertisers have found themselves needing to adapt in an agile way, to keep up with customer needs and expectations whilst also keeping themselves afloat.
Big increases in media consumption and the use of ecommerce have kept the ad industry alive, and so the key trends throughout this year look to follow suit. More people are looking to buy online, and have found themselves looking for innovative solutions to their advertising needs. These trends in innovation and bespoke content look set to continue to keep the vendor/consumer relationship flowing freely.
Innovation and UX
New advertising technologies, including AI, video advertising and interactive advertisements help create bespoke content to engage with audiences. For example, beauty brand Urban Decay Cosmetics has recently launched an AI shop on Instagram, allowing users to virtually try on a range of its make-up products using the camera function on a smartphone.
It's now understood that to fully engage with today's audiences, advertisers have to use technology to their advantage, utilising new and creative formats in response to customer needs. This customer-centric approach is central for many brands but the new key trend of 2021 will be to combine the functions of technology, creativity, new media and data to create a holistic form of user experience.
Remote Working
Remote working is also playing a large part in advertising industry trends throughout 2021 as brands focus on customer needs for home workers and in a lockdown environment. Not only are brands tailoring their ads to those now home working and homeschooling, but new job opportunities and experiences will be created within the ad industry for those working remotely. As fewer people need to work in the vicinity of their employer, so many new technologies and influences will combine to create more exciting and innovative ad campaigns. A focus on wellbeing, home improvements, and a shift in company culture will all play a part.
Focus on Equality and Diversity
A focus on equality, diversity and inclusivity is an essential element of any brand ad campaigns these days. A call from consumers needs, advertisers to have open and transparent practices and to show they are not only inclusive of all potential consumers, but that they are actively making an effort to create change and progress. Brands with messaging aligned with public opinion can expect an uptake of consumers, whereas those who have not may struggle with sales, and may also be actively called out to make advancements. Collecting data and information, and subsequently reporting on equality and diversity advancements will also be imperative for progress.
Transparency
Open and transparent brand messaging that resonates with consumer values is a marketing trend that's hopefully here to stay. Communicating your brand level of standards, what is and isn't acceptable and what you're striving to achieve in an open and honest way will create trust between brand and consumer. Brands (and individuals) are being boycotted and even banned from social media because of incorrect or irresponsible views. Consumers are now holding advertisers responsible for harmful behaviour and calling them out for cheap tricks like clickbait or spreading false information. Advertisers should therefore aim to be honest and relatable to their audience, keeping consumers and brand values at the forefront of any business or marketing activity.
Increased Content
Spending more time online during the pandemic has created a catalyst for higher digital content creation. Not only are we consuming more online but we're looking for higher quality and innovative content to take us away from our everyday stresses. Working, schooling, shopping, streaming, gaming and communication online have greatly increased, creating an increase in customer touch points and the need for advertisers to generate more content to fit a range of diverse platforms. Generating a large amount of new content, with a fast turnaround, means the use of digital content is booming and looks set only to continue.
Rise of Ecommerce
Selling online through apps, websites and social media channels is predicted to increase even further as the public looks for safe ways to buy online, in response to the Covid-19 pandemic. Sadly the situation has seen many high street and face to face retailers shut their doors as consumers have moved their shopping habits online. However, the opportunity for Ecommerce means many have been able to adapt and move business online and reach a wider demographic than before. The rise in Ecommerce has also seen opportunity for advertisers to collect data on user groups to further develop more effective advertising campaigns.
Innovation, Equality and Ecommerce. Read on to learn more about key advertising trends in 2021.
Click To Tweet
Looking forward, this is an exciting time for business advertising with many trends looking set to snowball throughout the next 12 months and more.