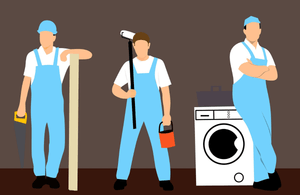 Google is rolling out Local Service Ads in the UK. Local Service Ads help businesses stand out in search results and connect with local customers looking to hire their services. If you run a home service business (e.g. plumbers, window cleaners, or removal services), and want an easy way for local customers to find you online, then this may be of interest to you.
What are Google Local Service Ads?
Local Service Ads is a service offered by Google which allows people to search for services and contact the business directly. Businesses can manage enquiries and bookings using Google's online portal or their own app, which is available on Android and iOS.
Google first launched Local Service Ads in the US in 2015 and are now rolling it out in the UK. The service is for home service businesses such as electricians, cleaning services, and appliance repair services. You can find a full list of currently eligible industries here.
Google Guaranteed
By signing up for Local Service Ads, you can also apply for Google Guaranteed, a consumer protection feature. This adds a green tick next to your company in search results, which will help you stand out in search results.
Why Get Google Guaranteed?
Increases Buyer Confidence
The green tick indicates to customers that Google has vetted this business and that if things go wrong, they will be protected. If a customer books through Local Service Ads and they are not satisfied with the service, they can ask Google for a refund of the amount of the invoice, which is capped at a limit per customer (currently £1,500 in the UK). The refund is at Google's discretion.
Increased Visibility in Search Results
Google Guaranteed businesses are prioritised in search results, bumping them to the top. It also helps with generating leads (enquiries) through organic search.
How to get Google Guaranteed
When a business applies for Google Guaranteed, Google will run some background checks. These checks include checking your business licence and insurance and your online reviews. Depending on your industry, they will also run various background checks (at no cost to you). If you pass these checks, your business will receive the green tick.
However, to keep your green tick, you must maintain the high standards you had to gain it – otherwise, Google can take it away!
What are the benefits of using Local Service Ads?
Local Service Ads can help you:
Increase search engine visibility with a top spot in local search results (especially if you also have Google Guaranteed)
Connect directly with customers who are looking for your services (increasing the chance of bookings)
Manage your bookings and communicate with customers on an easy to use platform
Gain trust with Google Guaranteed
Pay only for relevant leads to your business
And finally, because search results are based primarily on your location and what services you offer, there is no need for extensive keyword research, making it a bit different from traditional search engine advertising.
How Do Google Ads Rankings Work?
When ranking your business, Google uses a variety of factors to decide where your business appears in search results, including:
Your location
Your opening hours
Whether you are Google Guaranteed
Your responsiveness to client enquiries (i.e. how often and how quickly you respond)
Your review score and how many reviews you have
When it comes to reviews, having a strong presence on Google My Business could give you a good head start, as both Local Service Ad reviews and Google My Business reviews count towards your review score.
Keeping on top of your reviews can help you to score more highly. This includes building a good portfolio of reviews and also finding and responding to any negative ones. Addressing negative reviews shows that you care about customer service. To learn more about responding to negative reviews, check out our handy guide to managing negative reviews.
What do Local Service Ads cost?
With Local Service Ads, you pay per lead that contacts you. The cost per lead can vary, depending on factors such as your location. However, you can set a monthly budget that will stop expenses from going over a set limit. You can also dispute any leads that turn out not to be genuine. You can find more information on how Google charge for Local Service Ads in their Help Section.
How do you sign up for Local Service Ads?
As the service is still rolling out in the UK, the first step is to check if your business is eligible using the eligibility checker on Google's sign-up page.
If your business is not yet eligible, don't worry. As Google expands the service, more industries are likely to be added, so it's worth checking back every once in a while.
In Summary
When applying for Local Service Ads and Google Guaranteed:
Make sure your business licence and insurance are up to date (as Google will be checking these in their background checks)
Don't forget to include the areas you operate in on your profile
Keep your business hours up to date
Keep on top of your online reviews