In this post I will shed some light on what Sitemaps are and how they can be useful when combined with other SEO activity. There are still mixed views on the importance of Sitemaps in the SEO community with most steering towards them having no affect on search rankings. My view is that though they do not directly affect rankings, they can help improve the accuracy of rankings and therefore search results, so good for your overall search campaign.
Think of sitemaps as safety nets for your users and for search engines….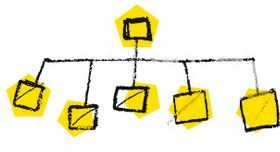 So what exactly is a Sitemap?
No surprises here, but simply a logical list of all pages on a website which can be made accessible to web crawlers and users. There are tools available on the web to build a sitemap for your website and I will add some links below, it's very easy to do. These maps can then be submitted to search engines like Google, Bing and Yahoo and be added to the navigation within a website for human visitors.
The way in which Sitemaps are generated and submitted has changed in recent years and XML (Extensible Markup Language) is the encoding standard now used. Note that submitting a sitemap does not guarantee indexing or crawl but is more like insurance for getting a search engine to learn about your website.
For new sites, this is certainly something I would look into doing to add visibility for search engines and speeding up the initial crawling process. If some of your pages are not crawled well on a site or just poorly crawled, sitemaps can help in that regard.
How do I submit a Sitemap to Google?
XML site maps can simply be submitted to Google via Webmaster Tools, under the Site configuration panel. Once the XML file has been uploaded you are done, fingers crossed you will see some benefit.
From an SEO point of view we know getting links from external sites is key but for on page optimisation lists of internal links to pages is also a helpful tool. Any ranking benefits seen when using sitemaps are simply a side effect.
Links to Sitemap generating websites :
XML Sitemaps – http://www.xml-sitemaps.com/
Google Sitemap Generator – http://code.google.com/p/googlesitemapgenerator/
AuditMyPC – http://www.auditmypc.com/free-sitemap-generator.asp
Feel free to share your own experience with Sitemaps and any related questions.