It's my brother's birthday. You don't care, I know. But the point is that I forgot. I forgot my Brother's birthday because I'm a bad person. Moonpig did not forget. They sent me a reminder and asked if I wanted to send a card and a gift. This got me thinking about opportunities that I miss. I have a business and I may be letting money making opportunities pass me by. It got me thinking. It got me thinking about anniversaries.
What do anniversaries mean to people and how could they be a business opportunity? You may be thinking that your business doesn't deal in cards or flowers or gifts so this doesn't apply to you. I make films and videos for people and businesses. The obvious thought is that this doesn't apply to me either. Then I thought again. I'd like to share my thoughts on how they could be useful communication points for us and our customers.
Why Anniversaries Matter
Those of us who are lucky enough to be married or in a loving relationship know why anniversaries matter. They matter because remembering shows we care. Perhaps even more powerfully, forgetting shows we don't care. Relationships are formed of shared experiences, fondness and recollections. As a business if we remember the anniversaries we share with our customers, we strengthen our relationship. We also offer our customers a soft, none demanding, memory prompt to buy from us again.
Which Anniversaries Matter?
All anniversaries are not equal. Reminding a customer that it's three months since that time emailed you to complain is not worthy of your time. Reminding them that it's a year since you made (insert bespoke product here) for them is good. What we are doing is using anniversaries as a form of nostalgia marketing. That means we are trying to evoke positive memories associated with our company. We want our customers to say to themselves, "Yes that was great. let's do that again." Or we want them to remember how we helped them so they'll come back to us when they need help again. But this depends upon our business type.
I make videos so I want to remind customers every year on the anniversaries of the set live date of their video, what a great job I did for them. I want them to think about updating and I want them to think about paying me to do that for them. If I was a wholesaler, supplying inventory for other businesses, I would be having a notification system operating on a much shorter term. Now I would be emailing to say it has been three months since you last order. This anniversary reminder would come with a question as to why they haven't ordered again. Did you buy too much last time? Are you still fully stocked? Have you found a cheaper supplier? Can we renegotiate?
How Do We Manage Anniversaries?
This brings us to a more practical question. What systems do we use for remembering anniversaries and contacting customers. Perhaps more important is then to ask how we manage what we send to our customers.

How Do We Manage Anniversary Contact?
It's perfectly possible to manage you anniversaries on a calender. Time consuming, but possible. If you have a few high-paying clients it may be the best way for you. It's also possible to schedule the sending of an email. You may wish to write your anniversary email when you complete your current project and then schedule it for a year in the future. But surely there is a better way? There is. There are scheduling products out there that will do all of this for you. The one that's right for you will depend upon volume of messaging and what you want to send. It's even possible to get Microsoft Access to schedule emails using you customer database. The important issue is scheduling in line with the needs of your business and in a way that communicates effectively with your customers. Which brings us on to what it is we actually send.
What Do We Send For Anniversaries?
Depending upon your customer base you may want to use email or snail-mail or text or even some form of messenger app for sending your anniversary message. But, the content will still come down to you. If your customer base is small you may wish to write each message individually. That may not be possible if there are huge numbers. But if we are in the business of yearly anniversaries for bespoke work, personal messages that speak to our relationship will be best. That doesn't mean you have to write the message each time. You can assemble some data in your customer records that can be drawn upon for your email. You can use your database to send very personal messages, addressed by first name and referencing things that happened during your last project… if you keep your records with that in mind.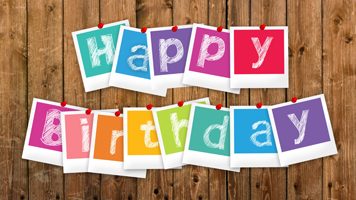 Even if all of your systems for contact are totally automated, remember that it is the personal touch, the forging of the relationship that will make you stand out from the herd. The most successful anniversary contact may be just to send your customers a birthday card every year. No sales pitch, just something to say we are thinking of you.