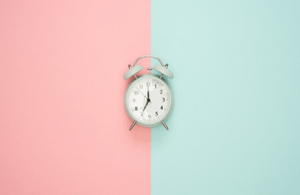 Instagram has been making life difficult for small sellers for years now – to the point that I've been advising on how to diversify to other platforms. Marketing through Insta just isn't what it used to be.
But could our small business cries have finally reached the ears and pockets of the Instagram overlords? Instagram announced late last year that it had been testing the biggest shakeup since it first stopped chronological timeline… Chronological timeline.
Is chronological timeline really back?!
It's a little more complicated than that, but Instagram has now confirmed that users will be able to manage the content they see quite a lot more, including some views in chronological order.
If you're a small business using Instagram or you follow any small sellers or creators, you'll know that a lot of businesses are struggling with the unpredictable nature of their reach. Some weeks you're overwhelmed with attention – others, you're barely getting the likes. Cursing 'the algorithm' is very common to see.
Head of Instagram, Adam Mosseri, tweeted at the beginning of January that we'll soon see three views on our home screen, accessed through a dropdown options menu. Mosseri said the new timelines will be rolled out in the first half of 2022.
Three new views for our timelines
Home
Instagram is, of course, still keen to push its algorithm. Previously called Explore, the new Home will be the first feed a user sees and will be full of the usual stuff Instagram thinks you'll like.
This view is based, as always, on the posts you interact with and other usage data. I don't know about you, but the Instagram algorithm tends to know me better than I know myself. It's irritatingly relevant to my interests.
Although this feed doesn't help you directly with your own following, it does mean people can discover you. If Instagram likes your content, of course – which still means video and Reels.
But I feel quite a bit better about Instagram favouring video content if it also stops hiding my other content.
Following
Getting users to turn on notifications for your profile was the previous work-around for the non-chronological feed because at least you had a guarantee they'd be notified of you posting. The new Following view will show the accounts you're following in chronological order.
That means a lot more visibility than we've had the last couple of years and a round-about answer to our small business prayers. At the very minimum, the people who choose to follow us will be shown all our posts, which should increase engagement for you. That makes the time and effort spent on content seem a lot more worth it!
Favourites
So, Following is your personalised timeline, then Favourites means the posts you get first will be from the accounts you most want to see. That lets you see what's happening in real time but in a more curated feed.
The user has to do the work of favouriting accounts, but at least we can promote the option to our followers to improve our visibility even more. Getting a coveted spot on our followers' Favourites list will be a big new goal for 2022.
Getting the word out
At first, this ability to curate feeds will be a novelty for users – so get yourself to the head of the queue! We've all had a lot of noise in our Instagram feeds for the last couple of years, so many people will find the new control a useful way of refining that (frankly anxiety-inducing) level of content.
To get your community prepped for the changes, why not do a video of yourself talking through the update? It appeases the Insta gods, helps your followers and gets you set up for being favourited.