Register and Claim Your Free Business Listing and Profile Pages Today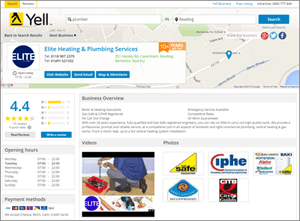 Your free business listing on Yell.com includes a set of Profile Pages, giving you the ability to display detailed information about your business that potential customers will find useful, and making it easier for customers to find the services you provide via Yell.com and search engines like Google.
This means that, with the right content, your Yell.com business listing and Profile Pages can help you reach more potential customers than ever before.
Your Profile Pages can contain:
Photos
Videos
Opening times
Your current offers
Details of any professional body you're a member of
A map of how to find you, and an email response page
In fact you can include any extra information that will help your business be found, stand out from your competition, and encourage customers to get in touch.
It's really important to keep this information up to date, so we have created a simple way to claim and edit your business Profile Pages. Here's a step-by-step guide to get you started.
Step 1 – Find your business
Firstly, find your listing on Yell.com. Visit https://www.yell.com and search for your business, and click on your company name to open your Profile Pages.
Step 2 – Manage your page
Click on 'Is this your business?' in the left hand side to log in or register an account.
Step 3 – Register / Log in
If you've not registered before, click on the 'Register' button, otherwise log in with your email address and password.
Log in screen
Registration screen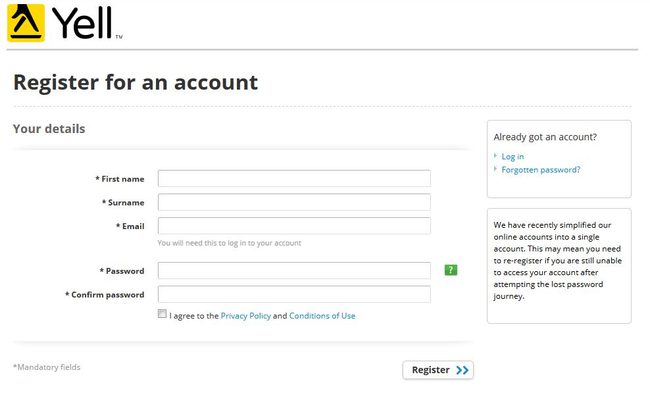 After registration you'll be asked to confirm that you're the business owner. Please read the terms and then click 'Claim this advert'.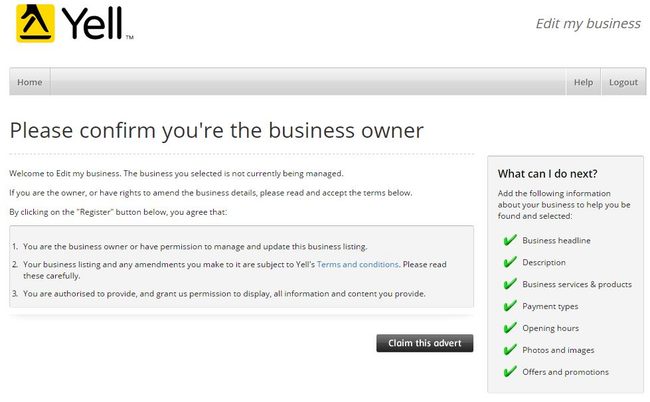 Step 4 – Edit & Update Your Profile Pages
Now you have registered and claimed your Profile Pages, you'll need to keep them up to date. To do this, go to your Profile Page and click on 'Manage this page' in the bottom right-hand corner to log in. Once you've logged in, this takes you to 'Your Business Listing' page, which is the home page of your Profile Pages. It displays the information already held about your business and also prompts you to add further information to help customers find you. Use the navigation on the left or the preview to add/edit your business Profile Pages information.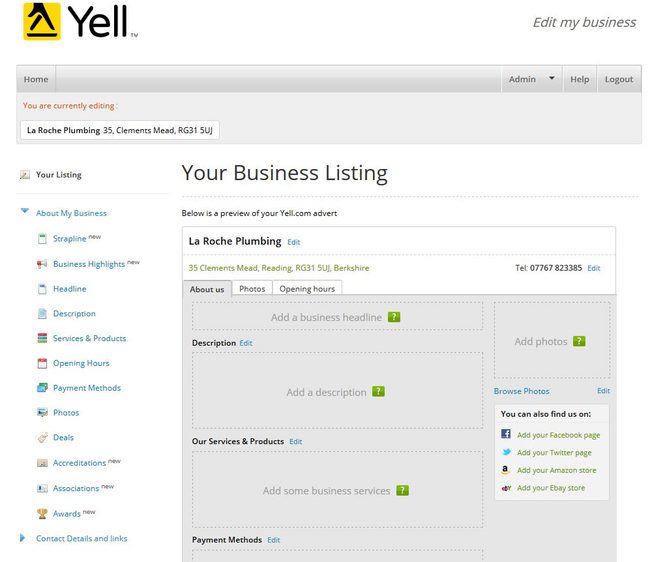 Step 5 – Describe your business
It's very important that customers can easily establish who you are and what you do. Your Description will help you be found so remember to use words and phrases that potential customers will use when searching for a company like yours. All information in your Profile Pages will be used to match what you do with what customers are looking for on Yell.com and search engines.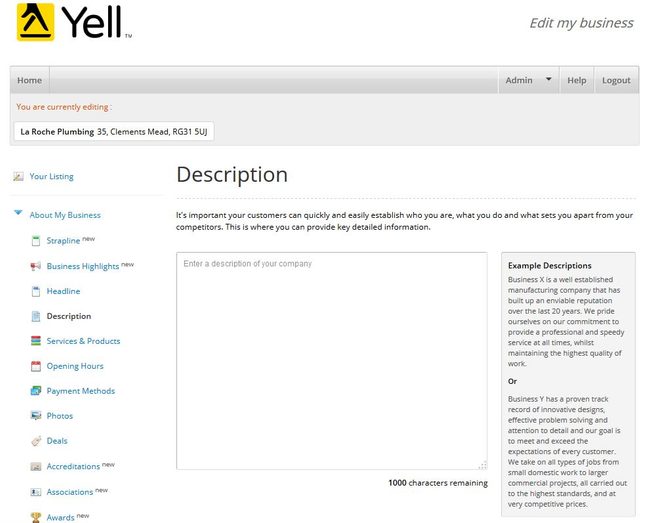 Step 6 – Add a Headline
Many businesses use this section to highlight a special offer or promotion. You could use it to draw attention to a unique feature or something your business can be proud of like an award or accreditation. This is a key part of your Profile Pages that helps customers choose to contact you over your competitors.
Maximum length: 180 characters. Once complete, click 'Save'.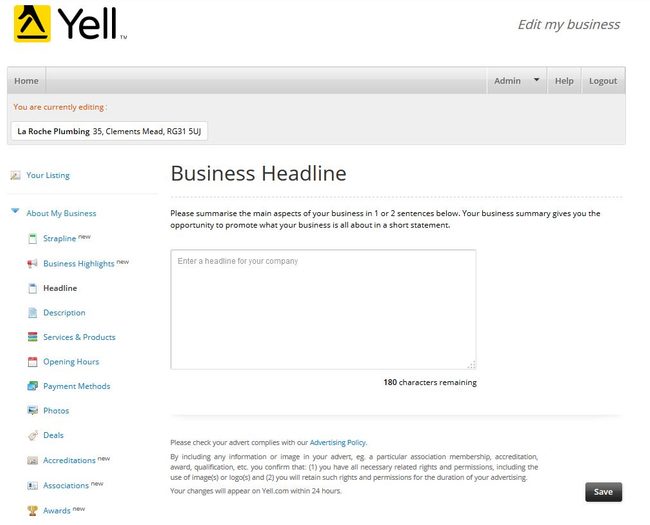 Step 7 – List your Services & Products
This area allows you to list all the products and services you offer. We have tried to help by listing the terms used most often by customers when searching for your kind of business. So, if you offer any of those product or services listed then make sure you select them to give you the best chance of being found. It's possible you will offer things that aren't on this list – if so, add these too to indicate a product or service that is more niche. Adding this depth of rich information about your business in your Profile Pages will help Yell and search engines match your business offering with exactly what customers are looking for.
You can edit, re-order or delete the bullet points, just roll your mouse over them and click on the pencil/edit button or double-click on the text.
Maximum number of Products & Services displayed is 40
Maximum character length each is 50
Once complete, click 'Save'.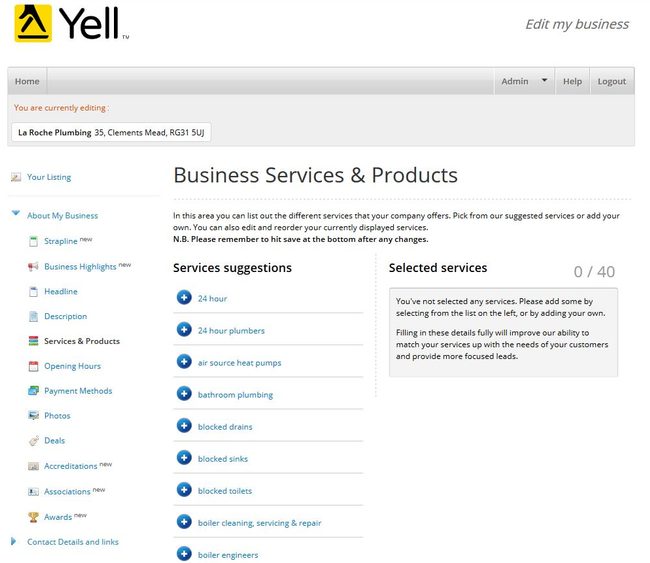 Step 8 – Specify Opening Hours
Customers find opening hours particularly useful, so make sure you include yours on your listing. Once complete, click 'Save'.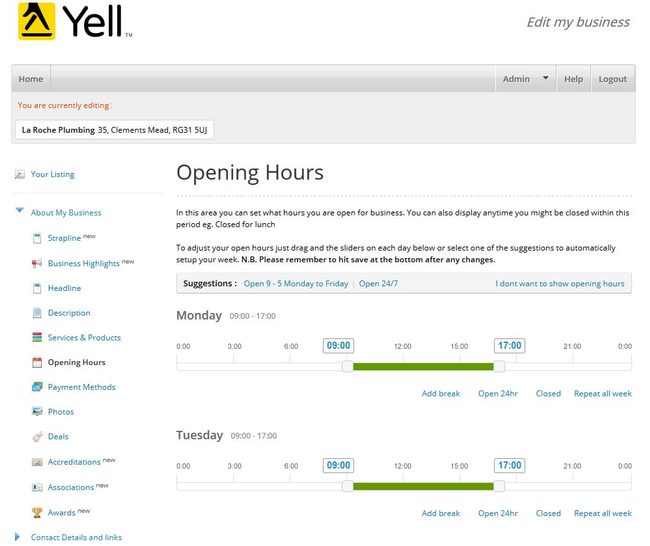 Step 9 – Detail Payment Methods
It is very helpful for prospective customers if you show them what payment methods are accepted by your business.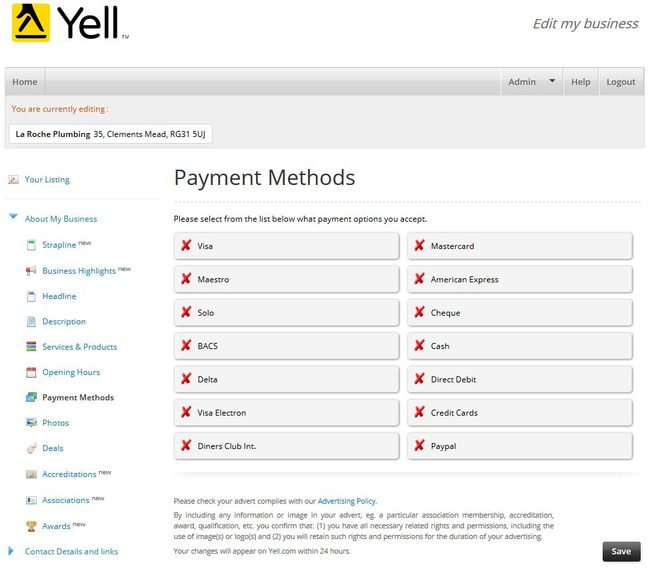 Step 10 – Add Photos
Images are another key component of your Yell.com Profile Pages. You can use photos to show examples of your product range, completed jobs, or your business premises. The photo gallery is a great way to showcase your business in a visual way, helping customers to decide to get in touch. You can also upload your company logo and select this to brand your business listing. Many businesses choose imagery from their website to deliver a consistent experience for customers clicking from their Yell.com listing to their company website.
Maximum number of images 20. Once complete, click 'Save'.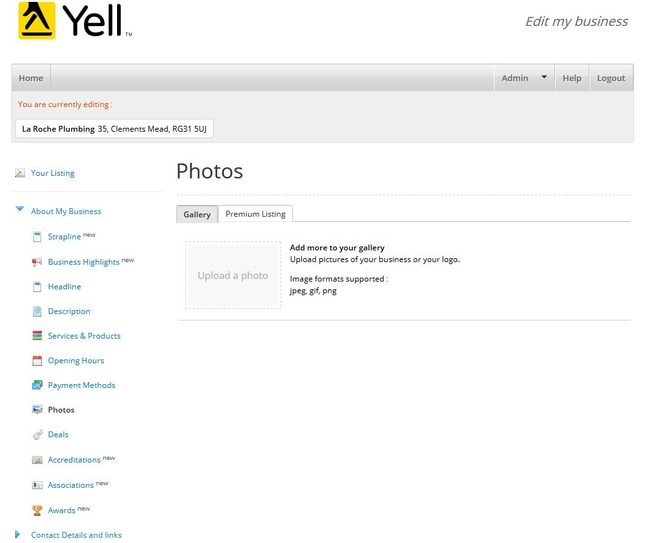 Step 11 – Deals
You may also want to promote a special deal or offer that you are running. To do this, you can keep this area updated using our simple form, which allows you to specify everything you need to make your deal as compelling to your customers as possible.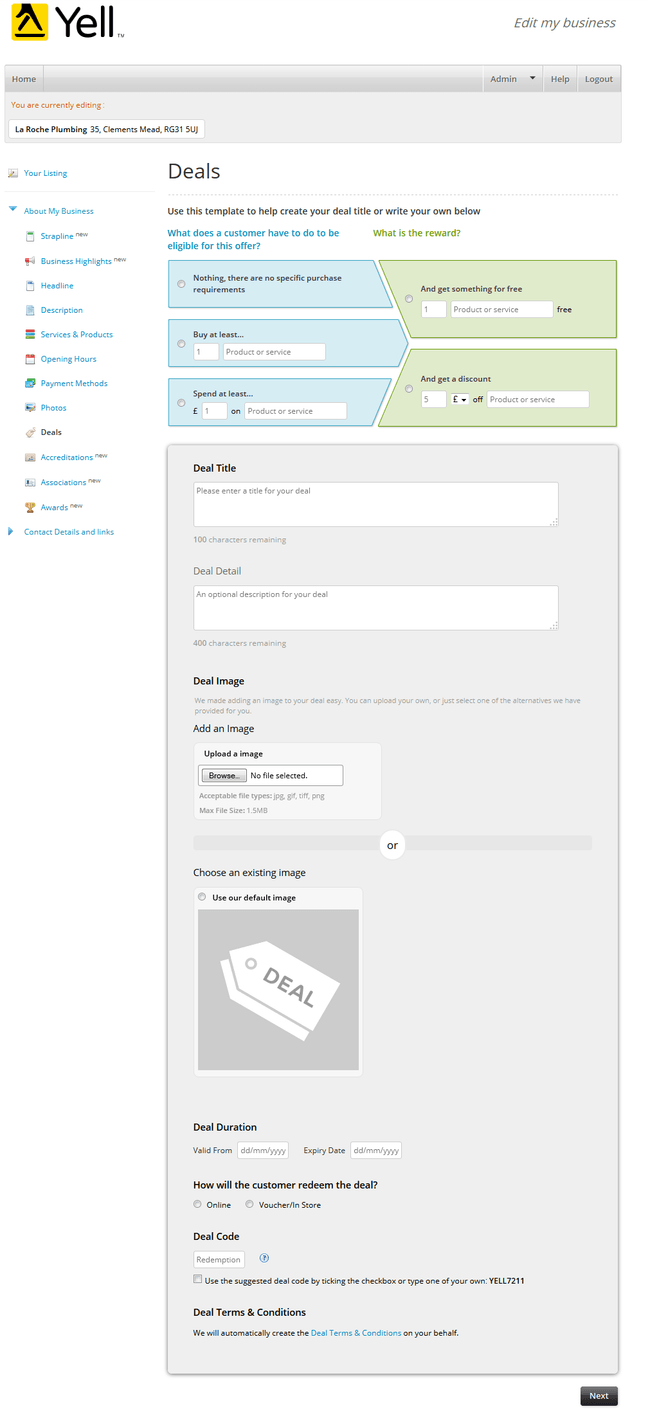 Step 12 – Contact Details and Links
Your contacts details, link to your website, and links to your Facebook & Twitter pages and more can also be easily added and updated as required.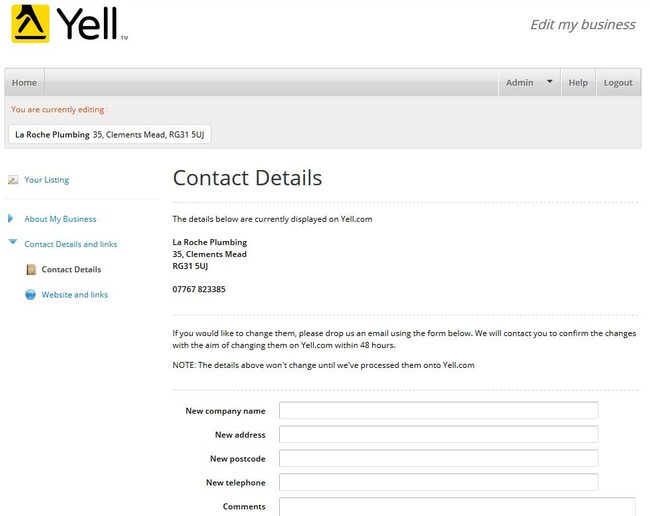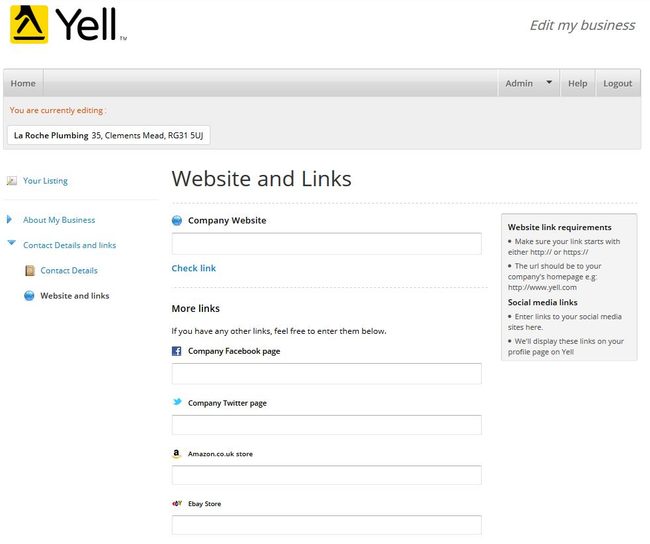 By following all the above steps, you will have created your Yell Profile Pages. The information you have provided will appear on your Yell Listing within seconds. It will help you be found on Yell.com, and your Profile Pages will also be listed on all major search engines.
Hints & Tips
Regularly update your Yell Profile Pages information
If you have more than one branch of your business, create separate Profile Pages for each location/business type
Use words and phrases that you know customers will use to search for your kind of business
Ask satisfied customers to review your business on Yell.com
Add a video about your business if you have one
Include a link to your business website
Include an email address to make it easy for customers to contact you out of normal trading hours
Register with Yell.com now and get your free business listing.