Assuming sole responsibility for the marketing of a business – especially your own business – can be daunting. Not only is there the planning, strategy and spend to think about, but there's also the implementation – and of course measurement – of your marketing campaigns.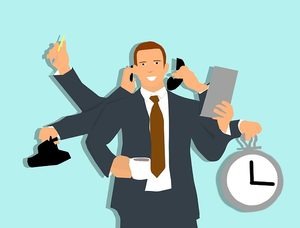 Once started, some people become overwhelmed by the workload and decide to prioritise the operational side of the business, leaving the promotion of the product to take care of itself. The problem with this is that marketing needs to be consistent in order to have a meaningful impact; you can't just switch it on and off like a tap.
It can be very exciting to have autonomy of the marketing, but you need to be exceptionally organised, highly creative, and, crucially, have the time to devote to it.
So how can you stick to a schedule, demonstrate results and achieve your objectives when you're mostly doing it by yourself?
Here are seven ways to go it alone and still achieve your marketing goals.
You cannot start planning your marketing too early, so start your marketing plan for the following year at the beginning of quarter three in the current year. How will you be able to start launching campaigns in January if there isn't already a plan in place?
Get a handle on your budget. Again, start planning it early. Find out how much you can afford to invest, divvy it up, and work out where additional investment is needed if necessary.
Integrate your activities within planned campaigns for each quarter; this will help you to keep your activities on-target and allows them to complement each other. It also creates a structure for the year, making it easier to keep track of your progress.
Focus on "big wins" – low/medium effort, high ROI activities that you are confident will work. Experimental campaigns can be saved for extra pockets of time if and when you get them. Big wins vary between businesses, but most agree that web content and PPC are usually key business drivers, with the added benefit of being highly measurable so you'll be able to see very quickly what's working and what isn't.
Keep a rolling to-do list on your desktop. Highlight things you need to do this week in one colour, and things you need to do today in another, and order accordingly. You will never, ever clear this list – but you'll find it easier to prioritise your tasks and to maintain the necessary sense of urgency to keep you moving forwards! Some people prefer to work from a detailed planner such as a GANTT chart, however, creating and maintaining such a document can easily become a time-consuming task in itself. My advice is to keep things simple; you have enough to do.
Secure external support where needed. Some things – such as accruing national press contacts or developing PPC expertise – can only be achieved over time or through training. You may or may not have certain marketing disciplines under your belt, so if not, be prepared to look into appointing a third party digital marketing company. They cost money, but there are benefits too. You don't need to worry about the HR side of things in terms of personal development, holiday, sickness etc – that's their company's problem. It's also much easier to bring a contract to an end with a third party company than with an employee; there's a contractual notice period of course, but you don't need to calculate remaining holiday, notice period, or assist with a handover. If budget is an issue, some digital marketing companies are happy to work on a flexible project basis, however, most will require a retainer. You should also bear in mind that you will need to manage and direct your digital marketing supplier just as you would an employee.
Keep yourself motivated! Marketing matters so reward yourself for your efforts. This might be by keeping a simple "achievement log" to list highlights of your results each month, from % increases in web traffic to how many new pieces of content you've created. Fresh coffee on tap is also a great motivator!
Do you have any advice of your own to offer solo business owners when it comes to their marketing? Share in the comments below.
How to achieve your marketing goals when you're a one-person show
Click To Tweet
READ MORE:
How Your Product Partners and Suppliers Can Help With Your Content
10 Ways To Encourage Customers To Promote Your Business