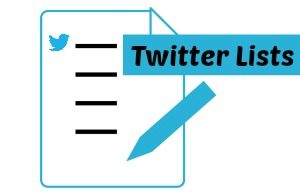 Whether you are brand new to Twitter or a relative veteran like me (I've been a member since 2009), as you build up your Twitter follower base, it can become more and more difficult to monitor your Twitter feed and keep engaged with the right people.
Creating a Twitter list provides you with an organised Twitter feed, enabling you to successfully interact with 'select' individuals / industry accounts AND effectively manage your time on this social platform.
The official definition of a Twitter list is:
"A list is a curated group of Twitter accounts. You can create your own lists or subscribe to lists created by others. Viewing a list timeline will show you a stream of Tweets from only the accounts on that list."
Twitter List Types
1. Created by you, which can either be private or made public
Private – only you can see the list and its members. Members do NOT receive a notification. This can be an excellent way to keep track of your competitors or target clients without actually following them.
Public – anyone can see the list, including the members in it, and members will automatically receive a notification when they are first placed into the list. It is worth remembering to add yourself into your own public list, as this can boost your own exposure should people subscribe to it.
2. Created by others which you can subscribe to
This can be a great way to follow a specific industry group of people without increasing your follower numbers.
3. Created by others, which you are a member of
You will get notified & can see these in your list area under the 'Member Of' tab.
I can remember feeling rather excited the first time I was added to a list. I have since been placed into a number of lists where people have grouped me with other industry experts. In total, I'm now in over 125 lists and some, such as 'Awesome Bloggers', 'Awesome Marketing Legends' and 'Social Media Experts' to name a few, I've been rather flattered by.
How To Set Up A New Twitter List
Click on your picture (top right of your twitter home screen) & select 'Lists' from the dropdown menu.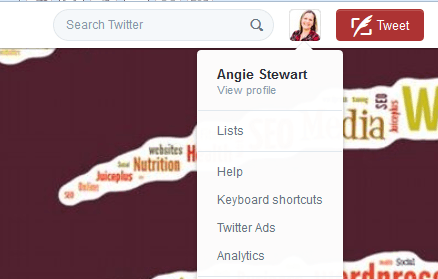 This takes you to this screen which displays any lists you are subscribed to or a member of. On the right, you will see the button to click to 'Create new list'.

The following form will then display for you to complete: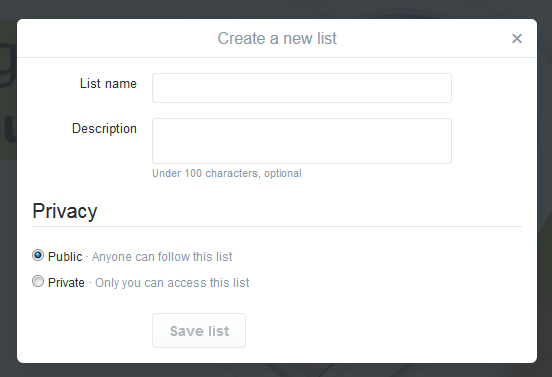 If you are creating a PUBLIC list, think carefully about the list name and description as the information in both of these fields will be seen by everyone. A well devised title may attract people to subscribe to follow it.
Adding People To A Twitter List
Once you have saved your list, you need to add people to it.
Click on your followers tab (or a single person) and then click on the 'cog' symbol on the right handside. Next select 'add or remove from lists'. This will bring up a pop up list where you check the box next to the list you want to add them to. Note, you can also create a new list from this screen too.
Viewing Your Lists
Once you have created your lists, navigating to them is simple. Either click on your picture top right and select 'lists' (as you did above to create a new list), or click on 'tweets', so 'lists' displays as a tab option in the middle of your screen.

Clicking on any of your list headings will display a bespoke timeline feed, which only shows tweets from people in your chosen list. You can then scroll through, reply, RT, interact as usual.
Twitter List Ideas
I thought I would finish this article with a few Twitter list ideas:
Private Lists
Target clients
Suppliers
Clients
Competitors
Employees
Friends & Family
Public Lists
Trends
Events
Networking Hours
Influencers
Industry News
Motivational People
New to Twitter Lists? Find out how to create one to boost your business networking
Click To Tweet
For further help & guidance on using Twitter Lists (including how to create a list via a mobile device), you can visit Twitter's Help PageSave