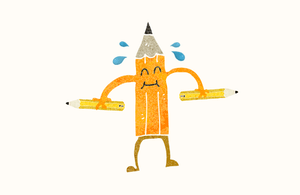 For anyone who has to write copy alongside their ACTUAL job, finding time to polish skills can be tough.
Practising writing comes way below actually having to do it for real.
Don't get me wrong – writing on the spot and under pressure is great for you. There's nothing like doing for making you sharpen up, fast.
But when you've just finished the logistics for next week's sales event and find yourself staring blankly at a request for PPC ads…you need a little copy workout to get you going.
Five five-minute copy workouts
Check my answers at the bottom.
1. Write a product description for a pet bed
The bed is shaped like a shark
The important keywords are 'pet bed', 'dog bed' and 'cat bed' – remember you can use synonyms!
The product description must be between 250 and 350 characters
2. Sell flowers three ways
A homepage headline for a funeral florist
A homepage headline for a wholesale flower market
A homepage headline for a luxury wedding flower designer
3. Write the first paragraph of a blog about gender reveal parties
You're a mummy blogger
You're sponsored by Dove
You have one child
4. Invite local business owners to try your restaurant's new menu
It's a flyer through their shop door
You've got a new chef
They'll get 75% off
5. Write a public transport escalator ad for an oven
It's run from an app
It heats up fast
The ad has three frames
These are a bit silly for good reason: you need to enjoy yourself. You need to stretch your creative muscles and lose yourself in writing. For five brief minutes. Then it's back to those PPC ads.
Good luck!
---
My answers to the copy workouts
1.
Crafted in a hygienic and machine-washable micro-fibre, this shark-shaped pet bed is both practical and hilarious. If you've found yourself thinking 'We're gonna need a bigger bed', this one comes in three sizes so it's suitable as a cat bed or a bed for small to medium dogs. Snap it up before it goes out of stock again!
2.
Let flowers say the words you're reaching for
Bulk discounts on the freshest flowers, from 4 am every weekday
Vogue Wedding Florist of the Year 2018
3.
My child was supposed to be a girl. A girl! A little bundle of tulle and velvet, sparkles and delight. I put all my concentration into it. But when this child exited into the world, it turned out I'd made a wriggly tangle of grubby limbs, Lego and jelly snakes. AKA – why learning and celebrating the gender of my foetus would have been a good idea.
4.
Dear treasured local business,
As you might have heard, La Coeur has been having a bit of a makeover and as a stalwart of our town, we'd love you to be the first to try our new menu from our new chef.
On Tuesday 22 January, we'll be holding a special reopening soirée and offering 75% off all food for our honoured guests. We'll be welcoming you from 7 pm with complimentary champagne and canapés, so don't be fashionably late!
We look forward to seeing you,
Everyone at La Coeur
5.
[a head with thought bubbles of different dinners]
Fantasising about dinner tonight?
[a high-tech oven and an app visual]
Preheat from the last seat.
[open front door and dark hall, lit up oven in the distance]
The oven that always welcomes you home.