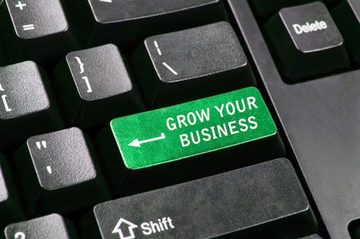 If you're looking to grow your business, online marketing could be the perfect tool.
A professional and well-designed website, combined with targeted, monitored online marketing, can help you attract new customers, give them all the information they need and convert them to sales – all without a single face-to-face meeting.
Your website – build your image
Your business website is the online shop front for your business. A well-designed website that's easy to use and clearly explains who you are and what you do gives a professional image. Prospects will be reassured that you're the type of business they want to buy from – saving you from losing them to your competitors.
Putting interesting, intelligent content on your website is also an excellent way to build your reputation and show that you're an expert in your field.
Social media – increase word of mouth
With social networking tools such as Facebook and Twitter, you can enter into conversations with potential customers. You can use them to give great service, answer queries, share content from your website or give useful tips and advice.
Above all, social networking is a great way to get people talking about you. And as all business owners know, word of mouth is one of your most powerful allies when it comes to attracting new business.
Search engine marketing – target your marketing
Marketing on search engines all revolves around keywords – the words or phrases people type into a search engine when they're looking for what you offer. There are two types of search engine marketing:
designing your website so it appears highly in search engine results for that keyword (search engine optimisation)
paying to place adverts on a search engine results page for that keyword (pay per click advertising)
By researching your keywords carefully, you can market to a very specific, promising segment of people – those who are actively searching for what you're offering.
It can also be a useful exercise in its own right, helping you think about what your customers want and what their priorities are.
Online advertising – improve your ROI
Online advertising methods – such as banner advertising – are not only much cheaper than traditional advertising channels such as print and radio, they can also be a far safer investment.
That's because you can easily measure responses to online advertising – for example, how many people click on an advert with particular wording – and make quick adjustments 'on the fly' as you find out what works and what doesn't.
As online adverts deliver traffic to your website, you can also fine-tune your 'landing page' (the page they arrive at) – by including compelling sales copy, a clear call to action and all the information they need to convert to a sale.