Throughout my blog posts I am going to be constantly mentioning the word relevance. It is a factor that can make or break the performance of your PPC campaigns and therefore I am extremely passionate about it, as anyone who has ever worked with me or I have run PPC campaign for will know!
Therefore I should probably explain exactly what I mean by relevance and why I think it is so important. In previous posts I have covered the importance of making sure your campaigns are well structured and each contains multiple ad groups that have been broken down to contain small handfuls of tightly themed keywords.
This helps you to create the most relevant advert copy for those keywords. If you were an online travel agent and you set up some ad groups for city breaks they could look like this –
This ad group contains a mixture of destinations and the performance and relevance to user's search queries could be improved by breaking it down into multiple destination specific ad groups. By breaking down the keywords into smaller more tightly themed groups it enables you to write more specific advert copy that is more relevant to those keywords. This could look like –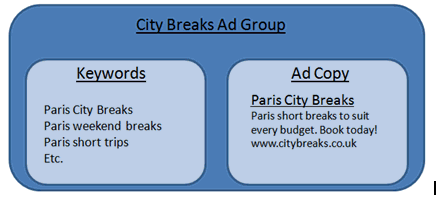 It does take time to create multiple ad groups and write the required ad text, but the benefits in terms of quality clicks definitely outweighs this. Once you have completed your ad groups the relevance must then be carried through to the landing page.
When the user clicks on your advert they must land on a page that specifically covers what they were looking for based on their search query and the content of the ad copy. In this example the user should land directly on a page which covers Paris Short Breaks only (but still allow easy navigation around the rest of the site).The landing page should display exactly what they are looking for without the user having to search again through irrelevant content or through sections on the site.
The below diagram illustrates the user journey described in this post. I believe by following this journey you will improve the user's experience and increase the likelihood of the user converting once they are on your site.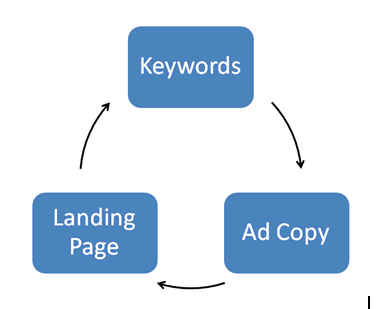 It is time consuming; however by following this process when creating and optimising your campaigns you will attract more relevant users and reduce wasted clicks.