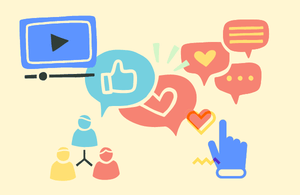 If you want senior team members to give a heck about LinkedIn, you have to make it easy for them. At this point in their careers, they're probably not hustling and thought leader-ing – because they're too busy doing the job they put years of that work into achieving.
That means it's vital to make them understand why their use of LinkedIn is important for the business and give them embarrassingly clear instructions. They also need to get the potential pitfalls, for themselves and their teams.
Why focus on LinkedIn for senior team members?
1. They extend your hiring networks
Hiring can be extremely expensive and time-consuming. Attracting candidates through networks can avoid a 10-15% agency fee – that's reason enough to keep those networks popping.
2. Their thought leadership makes the business look good
Our senior managers should be the best and brightest in the business, with fingers on the pulse. If we can get them to share their thoughts and experience, it reflects well on the business.
3. Consistency of message across the team builds an authentic story
The brand can say stuff all day long, but it becomes a genuine message when everyone in the business promotes the same vibe. We've got to live our truth.
We build our businesses on core values, and one of the best ways to show them to the world is through our people. We also make a LOT of claims about what we're experts in, so get the proof out there!
4. They're part of the value of the business
If you intend to do any fundraising or partnerships, the senior team is the number-one target for research. Keeping LinkedIn looking great isn't really a choice, when you look at it from this point of view.
Anyone interested in the business for investment is looking at the team as part of the overall value. That makes an enormous difference.
5. They're advocates for the culture
Senior leadership are so important for shaping the culture and maintaining it. If we have these people talking about how they manage their teams, how the business looks after staff and what we're doing in the future, it just looks good.
6. They are the eyes and ears
LinkedIn is a place to show off but it's also a place to keep up with what's going on in the industry, who's making moves and who's saying what. I don't ever want to encourage managers to be spies, but it is a good idea for anyone with a team to be connected and aware of what their people are posting.
It's good to keep up with their interests and milestones, and it's good to protect the business. Win-win.
Easy ways senior team members' LinkedIn can be an asset to the brand
Keeping profiles up-to-date: photo, role, posts
Using the brand toolkit: profile banners, job descriptions and business description
Trying to stay engaged in your network, taking part in conversations relevant to your discipline
Sharing open job roles, particularly in your department (you're one of the biggest draws!) but also in departments that need the most amplification because of competition
Reposting brand posts
Connecting and interacting with their colleagues – partly because it's nice and everyone can celebrate each other's achievements, but also because it builds a good picture of togetherness (and reminds junior colleagues that it's a business forum)
Thinking strategically about how their posts reflect on the brand
Key takeaways for senior management to keep in mind about LinkedIn
Their profile is part of the extended brand
They're a target for investors or partners researching the business
It's a potential draw/turn-off for candidates
Their network is valuable to the business