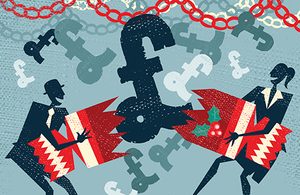 Christmas can be a tough time of year for many businesses, whether it means a big drop in trading or your busiest time of year. Either way, you'll need to keep an eye on your cashflow to make sure you don't run into any trouble. Here are a few tips that could help.
Pay attention to POs and invoices
If your company gets paid via invoices, you should take extra care at this time of year. Lots of the other companies in your supply chain will also be struggling with cashflow at Christmas, which increases the chances of a missed payment, delayed invoice, or even a misplaced purchase order.
Combine this with a more fragile cashflow situation than normal, and you could have a crisis on your hands. But there are some simple things you can do to minimise the risk — perhaps send a couple of extra email reminders when an invoice is almost due, or pick up the phone and speak to your key contacts. Even if everything is going fine, it's a good chance to build the relationship and spread the Christmas cheer.
Watch out for irregular payments
On the internal side, there are some other cashflows that may create difficulty for you. If you employ staff, the main cost will be running payroll earlier than usual so they can afford to buy Christmas presents. You might also give your staff gifts or pay for a party.
All of these are costs that you don't have for the rest of the year, so make sure you keep them in mind and factor them into your cashflow plan. Don't forget, these costs are well worth it if they keep your staff happy and motivated at a crucial time of year.
Plan for sick days and holiday
Even the most dependable staff are more likely to be absent at Christmas, whether it's planned holiday, unplanned sick days from the winter lurgy, or too much mulled wine at a midweek Christmas party. If possible, come up with a contingency plan — perhaps by scheduling an extra member of staff, putting in purchase orders early, or adding a cushion to your usual deadlines.
It's worth remembering that other firms are just as affected by these things too, which might mean your usual contact isn't available, or a normally prompt supplier is a bit slower off the mark when your order comes in.
Prepare for your tax bill
With all these Christmas irregularities, it's easy to forget about business as usual — which for many companies will mean a corporation tax or VAT bill in January. Although it may be a big ask, try putting some cash aside for this inevitable expense, and if you can't manage it over Christmas, don't despair, because there are business loans on the market that are specifically designed to finance a tax or VAT bill.
Keep your paperwork in order
Again, this tip might be easier said than done if you're in a mad scramble over Christmas, but keeping your paperwork clean and tidy might make a big difference. For one, it will hopefully mean you're more likely to notice any irregularities in your inflows and outflows, but it will also make life much simpler if you decide to use external funding.
Explore your funding options
Even if you're not sure whether you need business finance over Christmas, it's a good idea to do some initial research. There are lots of different options available to suit various business types and situations, and it's worth finding out which ones work for your firm.
Even something fairly simple like having bank statements or filed accounts ready will make the process of applying for a business loan much quicker and easier — and that might make all the difference at a tricky time like Christmas.
Enjoy the festivities!
With all these moving targets, it can be easy to forget to take care of yourself. It might not affect your cashflow directly, but if you're well-rested, calm and collected, you'll be much better equipped to deal with the stresses of managing your cashflow at Christmas.
If you need help covering a shortfall, firms like Funding Options are here to help you find the right business loan — but either way, don't forget to have a Merry Christmas!
Conrad Ford is Chief Executive of Funding Options, recently described by the Telegraph as "the matchmaking website for small businesses and lenders". Funding Options has been selected by HM Treasury to help businesses find finance when they're unsuccessful with the major banks, as part of the Bank Referral Scheme that launched in November 2016. @FundingOptions