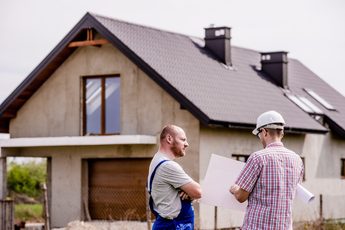 The building and construction sector is having a bit of a difficult time at the moment. Brexit uncertainty has caused some people to put big money items like building projects on hold, and the bad weather we had at the beginning of 2018 delayed many building projects.
On the positive side, if people are looking to spend money on housing, they are more likely to spend it on extensions and renovations rather than moving home. Planning applications have risen significantly every year, in 2012 there were 34,822, but last year there were 49,649. Meanwhile, there was a 183% increase in applications for basement extensions over the same period. So, if you specialise in those areas you'll more than likely have customers needing projects.
For builders, marketing and finding customers can change a lot depending on outside factors such as recession, big events like Brexit, the time of the year. So marketing to your customers needs to change to reflect the current trends, it's best not to use the same flyers or adverts throughout the year, every year.
Here are some of the best ways to market your business.
Reassurance is Key
Recent popular television programs like Cowboy Builders and Bad Builders: Bang to Rights have not been kind to the building trade. Even though they only show a handful of bad builders, they have made the UK consumers wary of contracting someone from the building trade. The Federation of Master Builders (FMB) recently surveyed 2,000 homeowners across the UK and found that a third are so anxious about the possibility of choosing a bad builder, they don't commission any building work at all.
One of the most important parts of a builder's marketing is reassuring a potential customer that they will do an excellent job. Most of this reassurance should be in your marketing so that potential customers feel confident enough to contact you.
Here are some ideas:
This advice sheet from the FMB on how to make sure you don't hire a cowboy builder is great for guiding customers on how to pick a good builder. You could create your own version of the advice sheet as content like this is a great way to show that you tick all the boxes of a good builder – also, when people search online to find out how to identify a good builder, then you might come up in the search results. You don't have to make a PDF, a blog post or website page would work too.
Photographic evidence of what work you've done is great for showcasing your talents. Simple before and after photos will show potential customers the work you do and they will be reassured that it is of a high-quality. These before and after photos work great on leaflets and social media.
Case study videos are also a great way of reassuring customers that the work you've completed is of high quality. They can either be just a simple video showing the work you've done – like this video from Croft Architecture screeding the floors or if it's a really big project you could do a full case study with customer interviews and a full description of the build like this video from Advanced Interior Solutions.
Breakfast is the Most Important Meal of the Day
Business Breakfasts seem to work incredibly well for people in the building trade. They schedule breakfasts that happen regularly and everyone who attends it has their own business. Some breakfasts are once a week, others might be once a month. There are many different types from formal to informal settings, free to paid memberships. There is no set rule on which will work best for your business, so it's best to try a few and see how you get on. The key to these breakfasts is to go regularly so people get to know you and learn to trust you.
Here are some ideas on how to find local breakfast meetings:
BNI is a very popular breakfast referral network. It's a very structured setting and does have a yearly and weekly cost. The aim is not only to meet people in the group but to also incentivise the group members to refer you to others they meet. You are only allowed one person of each type of business there, so you won't have competition – e.g. one builder, one plumber, one web designer. Many groups have several tradespeople that complement each other such as a builder, an electrician, a decorator etc – they often form little 'trade hubs' where they cross-refer work to each other. The BNI structure seems to work particularly well for tradespeople and you can visit the website to see if they have a meeting near you.
The Federation of Small Businesses (FSB) is a support organisation for sole traders and smaller businesses. Many of their chapters do regular business networking breakfasts. The breakfasts are less structured than the BNI, and the FSB offers different packages for membership, with one that just allows you to attend networking events. Many areas offer meetings alongside breakfasts such as BBQs, evening drinks, or summer get-togethers. To see what is happening in your area the FSB has a map of local chapters and activities.
Your Business Community (YBC) was set up by an ex-FSB chapter leader several years ago and is a very popular group for small businesses. They offer similar services to FSB, with general business support and breakfast networking plus other events which you can see in their event diary. As YBC is a little smaller and run by a very passionate leader, it has a great and welcoming community around it. Their breakfast networking isn't too structured and formal, and the groups are often friendly and helpful.
Your local Chamber of Trade and Commerce. These often have great breakfast events for members (and non-members can attend a few too). To see what events are in your area look up your local chamber for details.
Eventbrite and Meetup are both great sites for finding local breakfast meetings. They allow you to RSVP/buy tickets (many of them free or very cheap) and they often have a great selection of events to choose from.
There are lots of other business breakfasts you can try out too like Bob Clubs, Business for Breakfast, 4Networking to give you a few ideas. There is also a site called Find Networking Events that gives you a list of some of your local meetings.
When going to these breakfasts make sure you have lots of business cards and I suggest some small postcard sized leaflets with some more about what services you offer. Also, make sure you have a sentence or two prepared so you can easily tell people about what you do and what type of projects you are looking for. It's not all sales though, with networking events it's best to just chat to people and discuss interesting topics – it'll help the other attendees get to know you better so can build up a rapport.
Customer Reviews
For members of the building trade, there is nothing more important than getting genuine reviews. The best way to approach this is to make sure you are on a third-party review site where the public can submit their reviews and they can't be changed in any way. This reassures your future customers that the reviews are genuine and that the business owner can't change the reviews or remove the negative ones.

Yell.com has a nice review system where customers can leave a star rating and some text about the service. The star ratings make you stand out much clearer in the business listings. For example, this listing for Christchurch Conservatory Co took my eye when I was looking for builders in my area. Not only do they have three stars, but they also have a '15+ years with Yell' badge, reassuring me that they have been around a long time.
Other popular sites that are great for getting your business reviewed are Checkatrade.com, ratedpeople.com, mybuilder.com.

I also suggest you set up a Facebook page for your business and allow people to rate you on there.
Facebook is now used for much more than a social platform, people often use it to research and hire local businesses. Having a simple presence there with some good ratings is a great way to capture new customers.
As the worlds biggest search engine the Google My Business service is another essential.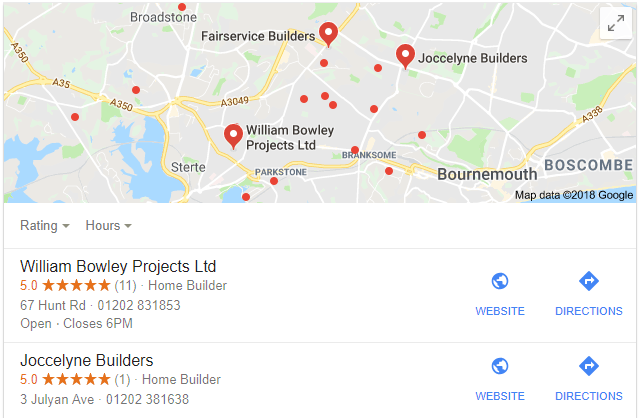 It allows you to add your company details and let people review your business. This will really help with your search engine presence on the search results page and also the map page. As you can see from the image, the businesses with star reviews really stand out in the listings.
Once you've signed up for the review sites it is important that you actively ask your customers to write you a review. The best way to do this is to send them an email after you've completed the job with a link to your profile on the review site – this will make it as easy as possible for them to leave a review.
Good quality marketing is a great way for your customers to get to know you. All your helpful posts, videos, and reviews will reassure them that you know what you're doing and that they'll be safe if they contract you for some building work.
Make sure you share your blog/videos/review links with any new business enquiries. It'll help show them what a great firm you are and that you care about your work – and hopefully seal the deal in converting them to customers!