In my last blog I discussed five questions I always use to start planning any marketing video. You can read it here. This week as promised, I'm going to start looking at the practical application of these questions for various business sectors. I'll start with wedding businesses as it's a fascinating and unique sector.
What Do Wedding Businesses Have In Common?
There are many different types of business in the sector; caterers, venue providers, videographers, photographers, dress hire/sale, car hire, jewellers etc etc. For each business type it would be common sense to ask and answer the planning questions separately. After all these businesses are often trading in completely different areas, unless, of course, there were some factor that linked all of their customers into a common group.
A wedding leads people to buy a huge variance of items all with a common goal in mind. We are able to look at the five video planning questions and answer them for all wedding businesses because the customers have that common goal.
1. Who Are My New Customers?
The obvious answer is people wanting to get married, but who are they? It's not so long ago that you could have made safe assumptions about most people getting married being in their early twenties. That is no longer true. In fact in the UK the average age of people getting married for the first time is 32. That tells us several things. For a start the difference between salaries for people who are just entering the workplace and those with over ten years of experience is substantial. On average salaries rise by over 90%. It also tells us something about what social media outlets they are likely to use.
2. Where Are My New Customers?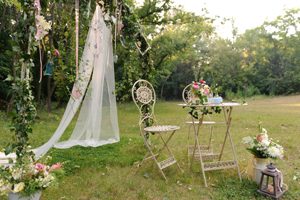 Our new customers are on Facebook. The over twenty eights overwhelmingly use Facebook before any other social media platform. But when it comes to weddings there is a twist. Pinterest is incredibly popular when it comes to wedding planning. Couples will often use several boards to share ideas and discuss options for flowers, cakes, outfits, decor. Then there are specific wedding ideas websites like theknot.com which use advertising as their main revenue stream.
These are the sites where your wedding marketing video should be placed. Facebook is great for a general broadcast, but also use Facebook's targeted advertising facilities to look at the right age groups and income brackets. You should also use links to your video on Pinterest using good images and information led captions to entice viewers to pin and view your link. If you have the budget, paid for and targeted video banner advertising through specialist websites is a great way to attract the attention of prospective customers. Finally, let's not forget the good old fashioned wedding fair. A good marketing video playing on your stand can really make your business stand out.
To market a wedding business using video, communicate warmth, humour and love.
Click To Tweet
3. What Are They Looking For?
Weddings are subject to fashion just as much as clothes or music and as a wedding business you have to know where the trends are heading. Does the trend for choreographed first dances present a challenge or an opportunity for you? Can you cater to the current vogue for vintage weddings as well as more openly modern affairs? Your prospective wedding customers will have their own ideas and it's up to you whether you try to cover all bases or focus your efforts more tightly.
4. What Do They Want To See?
Weddings are a stressful, expensive and often fraught time in the couple's lives when what they want is just to be happy. What they want to see is a high level of help and service. They want to be taken care of and not think your element of their wedding as something else they have to worry about. They want fair prices and they want to see the experiences of those that have used your service before.
5. What Makes Them Decide?
You need to show the wedding couple some love. Show them you genuinely care. I would suggest that a story of something that went wrong at a previous wedding where your business stepped up and saved the day is just the kind of element your wedding video needs.
What Are The Elements I Would Use?
The marketing video I would make for a wedding business would be a testimonial video. I would interview past clients and get them to rave about your service. Let them sell your business for you. I would concentrate on a story where the day went wrong but your business made everything right for them. I would intercut the interviews with beauty shots of whatever your product is. Whether that be full dance floors while a great band or DJ playing or glossy shots of a Rolls Royce gliding along country lanes. I would Interview couples of all ages, sitting together, holding hands. I would start with a young couple go to a more mature couple and finish with an older couple. A wedding is a romantic time and your video should play to the emotions of the couple getting married and their ideal of a long and happy life together. If you've ever watched the Film "When Harry met Sally" think of the interview sequences from that film. Think of the warmth and humour and love. That's what the marketing video for your wedding business should be.