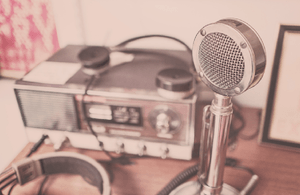 You've heard of podcasts, right? Like a radio show on the internet? Yeah, those guys.
Podcasting was quite underground until the last couple of years, despite being around since the iPod was still exciting new tech (guess where the 'pod' bit comes from).
It arrived in the first decade of the noughties but seemed to die a bit of a death. Back then you still had to download the thing and put it onto your MP3 player. The medium got its second wind as developers started releasing podcast apps and smartphones made it a matter of seconds to start listening.
Then a podcast called Serial launched. It's the serialised (no kidding) tale of a teenager accused of murdering his ex-girlfriend and its popularity spread like wildfire. Many people who had never even heard of podcasts discovered how easy it is to download an app, do a quick search and start listening.
The next big step was My Dad Wrote a Porno, and if you haven't heard of it – go find. Listen. It will make you look forward to your morning commute, I promise you. Just make sure you pull over if your tears of mirth become too extreme.
These podcasts brought the medium into mainstream culture. It's free, it's like belonging to a secret club and it's addictive. It helps us use dead time on something we enjoy. It grows our knowledge, expands our world view and helps us explore interests we didn't know we had.
And anyone can make them.
What do you know?
We all have specialist subjects. If you're on the internet looking up things to read so you can help your business, you're probably pretty passionate about it.
What do you know that other people don't?
In podcasting, you need a niche. Find one solid hook to tie everything together, then off you go. My favourite podcast is Stuff You Should Know, by a knowledge website called How Stuff Works. They have the freedom to talk about basically anything, all under the hook of explaining something you should really know about. Jury duty, composting and The Shroud of Turin have all been recent subjects.
What do people find funny, confusing or interesting about your line of work? Could you come up with enough topics for a long string of half-hour chats? If you have the answers to those questions, you're ready to get started.
Beware: a podcast is not an ad
Although podcasts often feature ads, they're not ads themselves. If you published 6 hour-long rants about how great your product is, your only listener would be your boss and your mum. No one cares.
Content marketing works – we've been told often enough that it does and I've actually lived it, so I know for sure it can make a business. But the key to making great content is to make it personal, chummy and enjoyable. VALUABLE to people with no strings – which an ad isn't.
Podcasts are intimate and authentic. They still feel like the early days of blogging, when it was real and obscure (before people started making money out of it, basically). Audiences fall in love with podcasters and listen to episodes about random, boring subjects because it's the presenters they come for.
The important thing is discussion. A podcast isn't an ad. It isn't a guide and it isn't a public service announcement. You need to let real experts have the freedom and confidence to let their personality shine through. Although there's always editing (phew), a podcast should feel like a radio show: unscripted and chatty.
3 niche podcasts to get you inspired:
If you're interested in seeing how much effort it would take to start a podcast, this no-frills how-to is a good place to start.
And before you ask – yes, I have one in the works.