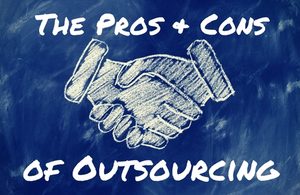 Outsourcing can bring many companies a lot of flexibility and freedom. You can outsource all kinds of tasks to varying degrees; PA duties, bookkeeping, marketing tasks, data entry, sales calling, web design – if a business needs it, you can probably outsource it.
However, there are also some disadvantages that it would be remiss to ignore. Though outsourcing can be a truly valuable practice, it's something you need to have a well-rounded view on before you decide what's right for you.
So without further ado, let's take a look at the pros and cons you need to consider.
Benefits of Outsourcing
Outsourcing provides a significant amount of benefits to companies of all sizes, especially when compared to hiring someone in house.
Let's start with the big one. Outsourcing essential-yet-time-consuming operations can help you focus on what you do best rather than trying to do everything yourself. It can free up those in management roles from having to do menial tasks and allow them to focus on the growth and improvement of the business.
On a similar note, outsourcing helps to shift the focus away from constant firefighting and chasing your own tail. You're effectively bringing another valuable pair of hands on board to help take a share of the load.
The charges and overheads associated with outsourcing are typically drastically lower than hiring employees. You don't have to pay outsourcees during holidays, sick time, or family leave; and you only pay for the amount of their time that you use, making the spend comparatively more efficient.
Being in business for yourself is often a bewildering and overwhelming experience, especially if you're a sole trader or small partnership. If you're starting to feel your business running you rather than the other way around, outsourcing the more specialist or time consuming tasks to an external party can take significant strain away from you; leaving you feeling more in control.
Outsourcing gives you back valuable time to do with as you wish. You can spend that time on business planning and strategising, providing a stellar service to your clients, or simply taking more leisure time.
Bringing on an employee comes with a lot more responsibility and red tape than outsourcing. Once you have an employee in place, you can't exactly change your mind about taking them on. However, if you outsource and then decide it isn't for you, you can end that professional relationship with relative ease.
When delegating a task to in-house team members, they often have many other things on their plate, and anything that doesn't have an impact on their day to day operations can quickly drop down in their priorities. However, when you outsource these tasks, they get the attention they deserve.
If you or your team are struggling to get to grips with a specialist skill or task, you can give it to someone who already knows the ropes in that field and can complete the task to a high standard.
If you're a smaller company with numerous large competitors, outsourcing some of your processes can help you appear larger and avoid the feeling of being a tiny fish in a huge pond. It's a cost-effective way of appearing larger and gives you the manpower to compete with larger businesses.
Drawbacks of Outsourcing
Outsourcing can be a very successful endeavour for a lot of companies, but let's cover some of the drawbacks.
Firstly, it's very rare that you can hit the ground running when you outsource any task; there's always going to be some amount of getting the outsourcee up to speed with your tasks, as well as getting used to each other's ways of doing things. If the person has any commitments to other clients or to their personal lives, you will need to learn their patterns and frame your own work and deadlines around their typical availability.
It's essential to thoroughly train a new outsourcee, which will most likely take time out of your day in the beginning. Though they'll probably save you time and effort in the long run, there will be a significant investment of your time in the early days to get them trained up.
When you outsource to an external professional, you're unlikely to be their only client. This means that if you have a job that requires them to drop everything and start work immediately, they may not be able to do so quite so flexibly. They will likely also have other clients making demands of them, so you're also at their clients' mercy too. The amount of time the outsourcee has to spend on you may vary wildly week on week, so you might have to adapt and become a bit more flexible yourself.
If you've never outsourced before, there's a lot to get used to. You need to wrap your head around what jobs to delegate and what jobs to keep; you'll need to make sure your revenue streams stay steady enough to pay for the person's time; and you need to generally come to terms with working around the outsourcee's other commitments.
This next one's for all of the control freaks out there. There will be a steep learning curve as you get used to releasing precise control of certain tasks. If you're particularly fastidious, there may be a period of careful checking of the outsourced person's work. But hopefully as your relationship goes on, your trust in them will grow.
Outsourcing comes with a certain level of decentralisation to your operations, and your business is more dependent on a company and persons outside of your direct control. If something happens in the outsourcee's professional or personal life, you might be stuck without their help for a while.
Outsourcing to someone off-site usually relies heavily on technology and online collaboration tools. Therefore if there are technical problems at either end, this can put a spanner in the works for any outsourced tasks, especially those that are required with some urgency.
And last but not least, there's the matter of price, or should I say – the temptation to keep everything in house to save a few pennies. Suddenly finding yourself shelling out for the tasks in question can come as a bit of a shock.
In Conclusion
So to conclude, outsourcing certain tasks to an external party can be incredibly beneficial to companies of all sizes (especially to those at the smaller end of the spectrum), though there are some undeniable downsides too. All in all, outsourcing can be totally worthwhile to a number of different businesses and situations, but it needs to be undertaken with care and a close awareness of any potential pitfalls.
Looking to outsource? Consider these factors as well as the above:
Consider what exactly you are going to delegate and how; perform these tasks yourself beforehand to clarify what information and access your outsourcee will need to complete the jobs at hand.
Shopping around on price is important, but you'll also need to look for someone who's a good fit in terms of skills and personality. Yes, you have to be able to afford them, but you've got to get on with them too.
Carefully plan how frequently you are going to use the person's services as well as how much that's going to cost you. Make sure that these tasks use the outsourcee's time (and therefore your money) wisely.
Think about how you will absorb the cost of using this person all year round. Ensure that your business has enough money in reserve during fallow periods to cover costs at all times.
To outsource or not to outsource - that is the question!
Click To Tweet
What are your opinions of outsourcing? Have you outsourced before? Do companies outsource to you? Do you feel there are any advantages or disadvantages that I've left out? Let's have a chat down in the comments!