Google recently launched a brand new feature called Search Plus Your World to integrate with their Google Plus social network; the aim being to help make their search engine a lot more social. The idea is to deliver personal results from your contacts within Google Plus on the right hand side and within your normal search results, providing unique personalised results to each visitor. The additional information includes images from Picasa and Google Plus posts.
You will see from the examples below from Google.com (due to be rolled out to all regional sites i.e .co.uk shortly) that Google Plus is influencing search results if you are signed in. Generating quality links from authoritative sources has always influenced rankings but this new social influence could be a major game changer. The +1 button is going to play a major role in search and SME's should look to set up their business pages and use the +1 button wherever possible to make best use of their content for SEO.
Take a look at some examples below, relating to a search for 'video for SEO'. Note how the results are completely different in this example and how articles shared by your contacts gain priority. Yell Marketing is a contact in my Google Plus Network and has heavily influenced the below results.
Click through to the Yell Marketing Google Plus page here
Logged out of Google :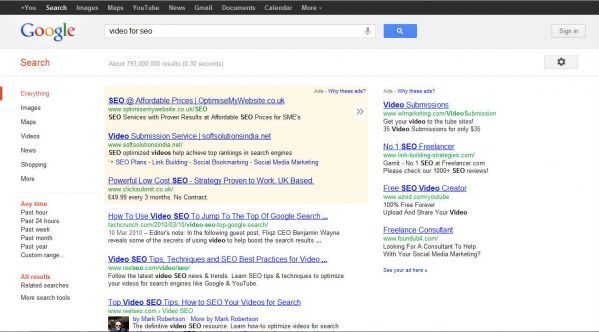 Logged in to Google :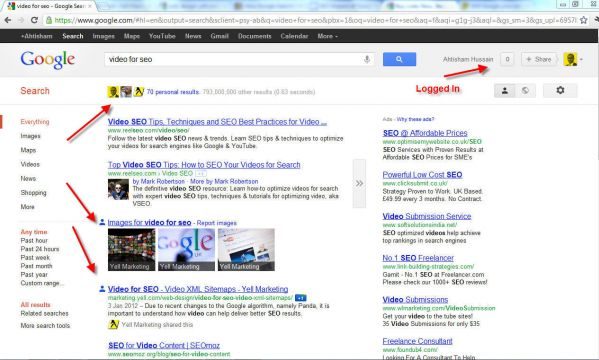 If you have not read my posts about how to setup a Google Plus page and Google Plus vs Facebook, please do so and let me know if you have any questions in the meantime..
Whether you are looking for a plumber or wedding photographer you will see a difference.