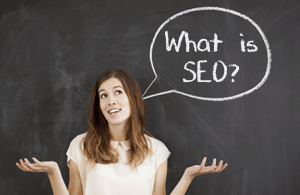 SEO is a fairly well established practice now, but it's changed unrecognisably from the practice of SEO we knew even five years ago, and is still changing even today. This has understandably thrown up many questions for confused website owners. I've answered some of the most commonly asked questions according to Answer The Public below.
How SEO has changed
Since the invention of the first search engine 'Archie' in 1990, businesses have been developing their SEO strategies to try and ensure their websites rank highly. SEO has changed drastically since the early days, when stuffing your pages full of keywords was enough to get you a decent ranking. Search engines have evolved to cater to searchers, rather than websites, so user experience is now front of mind. This has resulted in several key tweaks to the algorithm, including Penguin (penalising poor quality linkbacks), Panda (penalising poor quality websites) and most recently 'Mobilegeddon', which rewards websites with mobile-friendly interfaces that can be viewed properly from a mobile device. Now that the algorithm prioritises high quality user experience above all else, businesses need to avoid keyword stuffing and change focus to providing a good quality user-friendly website.
Are SEO consultants worth the money?
It really depends on the SEO consultant – if they're promising you page one of Google within a couple of weeks then probably not – SEO takes time to work. If SEO is important to you then a good SEO consultant who will work to understand the objectives behind your website, your target audience, and provide a way of measuring the ROI, is definitely worth the money. Beware of consultants offering you thousands of instant back links and an easy route to the top of Google!
When is SEO necessary?
When you want to give your website the best possible organic ranking on Google.
Which is better – SEO or PPC?
Both PPC and SEO are useful, and both work very well together. But if you've only budget enough for one, then which you use will depend on your marketing needs: do you need immediate results? Do you need to reach a specific audience? If so, PPC will probably work best for you. Do you need an affordable, long-term increase in organic traffic? Then SEO is probably better. If you need all of the above, then a combined strategy is needed.
Why SEO is important for small businesses
Some small businesses believe that it's a waste of time optimising their websites, particularly in competitive markets where larger competitors tend to dominate page one. However, while there's no getting away from the fact that businesses with bigger SEO budgets will likely rank higher than you for certain target keywords, SEO can still deliver ROI for businesses with smaller budgets – so long as you're not wasting your entire budget trying to compete for highly competitive keywords. If you focus 80% of your efforts towards optimising for less competitive long tail keywords, you'll have the potential to capture a lot of the traffic the larger competitors might be missing.
What SEO company to use
If you're going to use an agency, I would probably recommend a local one, simply so that you'll have more opportunities to meet them in person during the project. Ask them about their qualifications and experience, and check that what they're offering is going to meet your needs – you want a company that will offer to measure their SEO work so that you can see if you're getting any return from it. And you want a company that has your business objectives front of mind – not one simply offering lots of traffic without setting any key performance indicators (KPIs) nor suggesting a wider strategy for integrating your SEO with your other marketing activity.
Where to place keywords
Once you've researched your keywords, place them strategically on your website to maximise their visibility to the search engines. Don't shoehorn them in at the expense of coherence though – if a keyword phrase won't sensically fit into a header, don't put it in there – readability and usability are far more important than keywords.
Here are some of the best places to include your keywords, on and off-page:
URLs
Meta descriptions
Title tags
Image file names and alt tags
Headers and subheaders
Within the copy (aim for 1-2% density)
In internal link text
Read more
Eight common PPC questions answered
'Are SEO consultants worth the money?' and other common #SEO questions answered
Click To Tweet