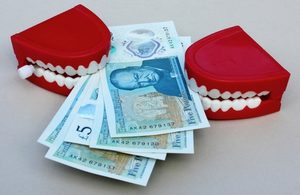 You may have already come across the new polymer £5 note, but that's not the only change afoot. The Bank of England is planning to eventually change all of our paper bank notes to far more secure and durable polymer notes.
And if that's not confusing enough, the Royal Mint have got in on the action too, announcing a newly secure £1 coin to be rolled out next year. So what's happening? And how will it affect your business? Here's everything you need to know.
Timeline
Here's a timeline of how the changes will play out:
13th September 2016 – New Polymer £5 Notes Entered Circulation
March 2017 – New 12-Sided £1 Coin to Enter Circulation
5th May 2017 – Old Paper £5 Notes to Stop Circulation
"Summer 2017" – New Polymer £10 to Enter Circulation
September 2017 – Old Round £1 to Stop Circulation
"By 2020" – New Polymer £20 to Enter Circulation
The current £50 notes were recently issued in 2011, so there's no word on when they will be replaced just yet.
Co-Circulation Periods
With each new change to our currency, there will be a period when both are accepted as legal tender. These dates are below:
£1 – March 2017 to September 2017
£5 – 13th September 2016 to 5th May 2017
The New Currency
The New Polymer £5 Note
The new bank notes are made from a polymer (a type of plastic) instead of paper. This makes them waterproof and resistant to dirt and tearing. The new notes feature a number of anti-counterfeiting measures that are only really possible with a plastic-like material, such as the clear "window" which features a foil image of Elizabeth Tower. Though the Bank of England states that there are only a small amount of counterfeit notes in circulation (0.0075% in 2015) these measures will help to stay a few steps ahead of counterfeiters as forgery methods become more sophisticated.
The polymer £5 note features Her Majesty the Queen on the front side, and Sir Winston Churchill on the reverse.
Why Change Our Notes?
The change to polymer notes makes practical sense to durability and security. The new notes are estimated to be 2.5 times more durable than their paper counterparts; over 20,000 paper notes needed to be replaced in 2015 due to wear, but polymer ones are expected to last two and a half times as long. If fewer need to be replaced, there will be a reduction in future manufacture, meaning less of a strain on the environment. Polymer notes can also be recycled into other plastic materials at the end of their useful life as bank notes.
The New 12-Sided £1 Coin
The Royal Mint states that this coin is the "most secure coin in the world." It has a distinctive 12-sided shape with alternate milled (ribbed) edges, a latent image, micro-lettering on each side and a distinctive bi-metallic finish (two colours of metal, like the current £2 coin). Probably the most interesting thing about the new £1 is that it features a "hidden high-security feature," allowing genuine coins to be automatically detected.
The coin will naturally feature an image of The Queen on the "heads" side, and a new image symbolising the unity between England, Scotland, Wales and Northern Ireland on the "tails" side.
Why Change Our £1 Coins?
Though we may not have a lot of counterfeit notes in circulation, we most certainly have a problem with counterfeit pound coins. It's estimated by the Royal Mint that 1 in 30 current pound coins are fakes. Pound coins as we currently know them were first issued in 1983 as a replacement to £1 notes. However, counterfeiting practices have changed a lot in 33 years, and the current pound coin is particularly vulnerable to forgery. The micro-lettering, alternate edges, unique shape and hidden security feature make the new coins far harder to replicate.
General Advice to Small Businesses
If your business is totally cashless, you don't need to worry. However, it may be worth considering how much you rely on cash in your day-to-day running, no matter how minimal. Do you run any vending machines for staff or customer use? Do you keep any petty cash? It's worth taking stock of just what role cash plays in your business so you can be prepared. With that information to hand, let's get to the advice:
List all machines within your business that operate with cash. This can mean ATM's, vending/dispensing machines, machines that sort or dispense money into larger or smaller denominations, self-service checkouts, coin-secured trolleys, amusement machines or video game arcade cabinets.
Contact the company who supplied each device so they can instruct you on how the change in currency will be accommodated. This may be as simple as a remote software update, but may require replacement or amendment of equipment. Make sure you know exactly what the plan of action is for each device.
Also check with suppliers of your machinery which currency your machines will accept/dispense during co-circulation periods, and communicate this clearly for each machine to your customers and/or those using the machines.
Agree with your bank in advance as to how to replace old currency with new once demonetisation occurs.
Make your staff aware of the features of any new currency and the dates that they are to no longer be circulated. Train them on the new security features that the currency contains. Though the new coins and notes are designed to be hard to counterfeit, unscrupulous types will likely still try, so it pays to remain vigilant.
The Bank of England has published their official guidelines for businesses relating to the new £5 notes here.
The Royal Mint has published training materials relating to the new £1 coin here.
Exchanging Defunct Currency
New Bank Notes
Once the paper notes are demonetised, they continue to hold their face value to the Bank of England for all time. You can usually cash in recently defunct bank notes at banks, building societies and post offices; but if they refuse the old notes, you can exchange them with the Bank of England directly in person or via post.
New £1 Coin
The Royal Mint states that following demonetisation in Autumn 2017, old pound coins can still be deposited into an account at a Post Office or with a number of high street banks.
Important Links
The Official New Pound Coin Website from The Royal Mint – http://www.thenewpoundcoin.com/
The Official New Fiver Website from the Bank of England – https://www.thenewfiver.co.uk/
The three Scottish issuing banks are also in the process of switching to polymer notes. Check out this link to find out more.
If there's any information you've come across relating to the changes that you'd like to share with other small businesses, please share it in the comments below.
Is your business confident about the change to polymer £5 notes & 12-sided £1 coins?
Click To Tweet