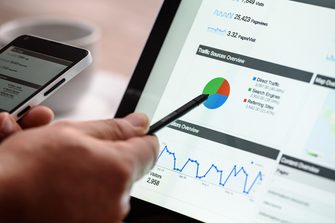 Disregarding the specific sector of your industry, as a local SME, you will have competitors. The very principle of modern-day capitalism is the fact that you will be pitted against not only other small and medium-sized firms but also large corporations. To be frank, larger corporations won't give a hoot about your company, but your small business does get affected by the overall conditions that prevail in that market.
It's not about the competition, it's about standing out in it.
As the norm of generating business has now shifted towards the online world, the very same competition exists over the internet. In order to compete in a competitive online environment, your website is your biggest weapon, but you need to load it up with ammo and go 'Rambo' in order to beat your competition. SEO (Search Engine Optimisation) is a practice that can help you achieve visibility in the online world and it is free to organically rank on search engine result pages. SEO is not only important but is crucial for your success, here are the top Local SEO ranking factors for SMEs:
1 – Google My Business
GMB is an effective factor to implement in terms of the high number of results you can get. Listing your business in Google My Business lets your company's information pop up on the right side of the results section on Google. When you list your company on GMB, several important information such as the address of your office, working hours and even customer reviews can be seen with one simple click by a user. In fact, GMB profiles that have relevant information and more customer reviews will receive a better ranking. Listing your business on GMB can be a good practice especially in the beginning of your entire SEO strategy.
2 – On-Site SEO
This is where it can get tedious for most of us. On-site SEO takes time and resources to fully infiltrate the market. Nevertheless, it is a great practice and should be taken care of on a monthly or weekly basis. On-site SEO primarily depends on various factors such as content readability, length and keyword optimisation.
As mentioned before, readability and length are two aspects that are very important in terms of local SEO. Your site should have an optimal word count that reflects your business. The sentences should be less than 20 words, this can be considered as a threshold. Google prefers to rank those websites high where readability measure is high. Your content's style should be geared toward easy verbiage. Remember you are now writing good and quality content for users visiting your website and not the bots that crawl your site. It is also important to keep your content fresh and keep re-writing content as Google favours new content.
3 – Business Directories
Listing your business on an online business directory further enhances your chances of reaching out to your potential audience and helps generate backlinks from an authoritative domain which can help improve your rankings. Many people use online business directories to find a supplier, and chances are that you can find a relevant local audience once you register on a business directory. Of course, Yell.com is the UK's No.1 online business directory, and a listing on our website can help you generate leads and improve your online visibility. It's also completely free to list your business on Yell.com – make sure you sign up now! https://www.yell.com/free-listing/
4 – Social Media
Social media has become increasingly influential in our daily lives. Many SMEs often try to target social media alone. If you approach it the right way, chances are you can do wonders with it. The relationship between SEO and social media is a complicated one and not necessarily related. However, social media optimisation is a real thing and it can really boost up your search appearance on Google or other search engines. Once you establish an online presence on social media, people will search for your company on search engines which can improve your company's visibility.
5 – Focus on your Website
Local SMEs often fail to realise how essential a website can be. Not in the terms of how it looks, but in terms of how it can engage an audience. Websites are the single most important factor that can make or break your entire SEO strategy.
We need to understand that Google ranks our website based on the experience it provides a user. For this reason, we need to make sure that our company's website is optimised, fast and responsive. SEO is a field that undergoes changes each moment that passes by. Here are some of the exclusive factors in website development that we need to ensure for a higher rank on Google:
Bounce Rate
This specific terminology refers to the rate of visitors on your site that enters on the first page and leaves without visiting another page on your site. A lower bounce rate can improve your rankings on Google.
On Page Time
This one is simple, the longer a visitor stays on your site, the better Google deems your website. This can be achieved with engaging content.
Mobile Friendly
Your website should be user-friendly on mobile. Many users prefer using smartphones or tablets over laptops so you should make sure that your website has optimal performance across all popular platforms. We have entered a 'mobile-first' approach to SEO which demonstrates the importance of your website being optimised for mobile.
Videos
The latest SEO factor that has been recognised by Google is the fact that having a video on your website can further your chances to increase a higher ranking. This video should, of course, be relevant to your business and should be able to captivate.
Google does review your visitors' behavioural signals in order to determine ranking so it is important to look further into the above factors.
6 – Per-Per-Click Advertising
It's time to start running some ads! Even though PPC doesn't directly affect your organic rankings it can still indirectly contribute towards your online presence and organic growth. Searchers who see your ad may familiarise with your brand so can be more likely to click on your organic list. Other advantages include clicks on paid ads possibly leading to increased links, coverage, mentions and sharing etc. which can boost organic rankings.
Final Thoughts
The six factors described above can really help drive traffic on your website. After all, let's not forget our primary objective which is to convert traffic into leads and then sales. Local SMEs face a daunting task in the online world but if you follow the right approach and implement and analyse different factors you can then thrive in your industry online.