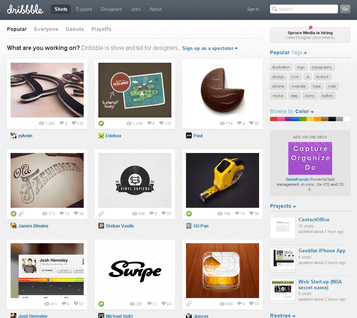 In 2011, we really saw the boom of two great website design community websites: Forrst and Dribbble. Both communities are based around the same concept: designers can sign up and share their design work with the community either to get feedback or just show off. Part of how these communities generate their income is through job listings. People looking for designers can post their job listings on these websites and members apply for the listed project. These can be both long term and short term projects. This is a fantastic way for project mangers and designers to meet each other.
A huge benefit for projects seeking designers through these communities is that active Forrst and Dribbble users will have a comprehensive list of their work that prospective employers can view. This list of work is likely to include unfinished work so prospective employers can view their design progression as well as their shiny finished articles.
Forrst
The Forrst community was initially built for both designers and developers but it seems that the designers have taken over. Forrst allows it's users to share snaps of what they are working on, questions to the community, links to interesting websites and snippets of codes for the developers. Forrst is more open to feedback than its Dribbble competitor and Forrsters (in my experience) provide comprehensive and supportive comments for designers of all standards. Forrst members have a greater range of design experience and capability than Dribbble which makes it a more accessible community for less experienced designers.
Dribbble
Built for designers by designers Dribbble allows it's users to post 'shots', small 400px by 300px images. It's extremely limited invite-only membership has ensured that only designers with fantastic portfolios are initiated. This means that its members really are the cream of the web savvy designer crop.
The grass isn't always greener…
The downside of these communities is that design trends are everywhere as designers are inspired by the work from other designers. This incestuous attitude creates uniform work which, ironically, is monotonous and uncreative. However, if you are looking for work which conforms to current web design trends and is sexy amongst your competitors then you can rarely go wrong with these designers.