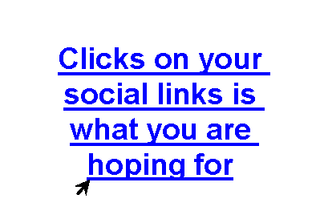 One of the big question marks hanging over social media for many small businesses concerns ROI, or return on investment.
Why take the time to set up a blog, a Twitter account or a Facebook page if you have no idea about whether it is going to have an impact the bottom line or not? And if you have accounts on one or more of the social networks, how do you know whether your efforts are worthwhile?
It's all well and good people encouraging businesses to get out there and test the water when it comes to using social media, but you do need some idea of how you can tie this in to your overall marketing.
There's the digital reputation side of things, so your name is out there on the social platforms and you can respond if someone is talking to you on Twitter or asking a question on Facebook.
You can also look at how many fans you have on your Facebook page or following your Twitter account, and therefore guess the maximum number of people who might be reading your updates.
You could then look at retweets on Twitter or comments and likes on Facebook, to see how your reach could be increasing.
However, how does this tie into the bottom line?
The important number to bear in mind
A key number to look at is how many clicks you are getting from links you put out on social media channels.
So if you post a link to your blog on Twitter, how many people actually click it? You could have 10,000 followers, but these could be people who don't engage with you, and you might get 100 clicks (a 1% clickthrough rate). However, you may have 500 followers and your links could be achieving 25 clicks (a 5% clickthrough rate), because your followers are really interested in what you post. Purely looking at followers or fans is an unreliable metric to pin everything to.
Using something like Hootsuite, a tool that shortens URLs for you and is therefore able to track the number of clicks achieved, can help with this when it comes to Twitter or Facebook. So, at this stage, you can say that you know how many visits your social media activity is bringing into your website.
But what about going a little deeper?
The next level
If you have Google Analytics on your website, you can use what Google calls its URL builder to add a piece of code to links that you then shrink down and post. You can also use this code on links within your blog posts, if needed, to work out how many people decided to click.
Using this means you can see what people actually do once they arrive on your website from Twitter or Facebook. Do they look at a few articles? Do they take a look at a product page? Or do they just read the article and then go away again? All this is valuable information if you are looking to work out how successful your efforts are.
And with this, you can judge what your time is worth. So look at one week, for example. Say you post four updates on Facebook and 15 on Twitter. Look at what traffic this is bringing to your website – so let's say 50 visits. Of those 50, one person fills in your 'contact us' form.
So what's that lead worth to your business? How much would this lead cost through a pay per click campaign on Google AdWords, or maybe through traditional advertising?
Thinking of social media in this way, as another channel that works in a similar way to others, can help you see the bigger picture.