There are three significant streams of SEO – Off-Page SEO, On-Page SEO and Technical SEO.
In my previous blogs, I've walked readers through weaving Technical SEO into the website foundations and considering On-Page SEO when writing content.
In this article I'm looking at Off-Page SEO – the optimisation you do outside of your website.
Off-Page SEO covers many areas: link building, digital PR, social media, local SEO (Google My Business), reviews, videos, influencers, and guest posts. Please don't panic, though; you don't have to do them all! Just focus on as many areas that you can.
How Does Off-Page SEO Work?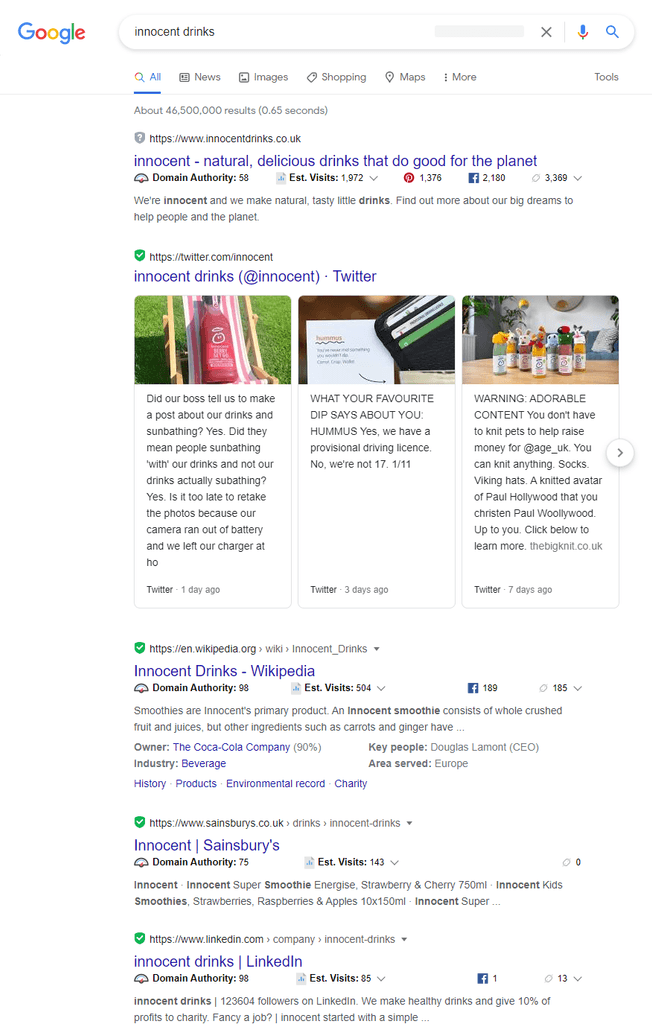 Off-Page SEO has two goals:
Increase your website rank in the search engines by finding good sites that will link to you.
Get mentioned on other sites, so your brand appears in the search results (even if your own site doesn't).
If you take my example image of Innocent Drinks, the brand is all over the entire first page when I search for the company in Google. Not only does the company website appear but also the social media channels, Wikipedia page, supermarket listings etc. All of this is giving them brand exposure in the search engines.
Link Building
Link building is the linchpin to Off-Page SEO. Ideally, you want to secure 'backlinks' which are links to your website from other sites. You want links from relevant, credible sites as they will pass some of their authority onto your site.
This is one of those occasions where quality over quantity is of utmost importance.
To help find sites that you might want to get a backlink from, compile a list of publications, businesses, and blogs that are relevant to your business or the topic you're promoting.
Next, look at each site's authority to see if they are good quality sites. I like to use the Moz domain authority tools to check out potential sites. You can do this in two ways: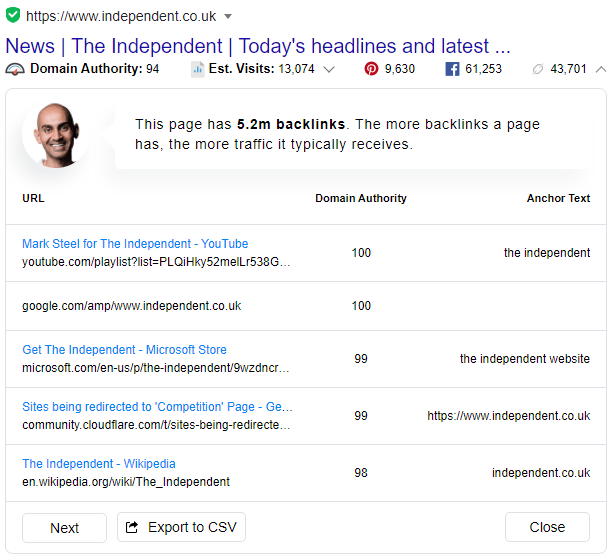 The Moz Link Explorer – you need a free account that will let you do ten searches a month. You enter the site you're interested in into the search bar, and it will take you to a page with all sorts of interesting information about the site, such as domain authority and top-ranking keywords
I also like to use the MozBar Chrome browser plugin to help me look at the authority of a website. This is free and doesn't have a limit like the Link Explorer. It displays the authority and other valuable stats directly in the Google search results.
Authority is measured between 0 and 100, with 100 being the best.
As you can see in my example image, I looked at The Independent newspaper using MozBar in the Google search results. It has high authority (94 out of 100). They also have 5.2m backlinks which have helped them secure that high authority rating. Popular newspaper and magazine sites are often some of the best for backlinks.
Narrow down your initial list to those with good authority, and you'll have the target sites you want to secure backlinks from.
For a more in-depth look at backlinks, read this post on improving SEO with backlinks.
In the next section, I will take you through Digital PR, which is one of the ways you can approach your target list of websites.
Digital PR
Digital PR is similar to traditional PR, where the goal is to secure a story or mention in the press, but it has a twist. Digital PR targets online publications and websites mainly and tries to procure a backlink within the article.
Digital PR campaigns work best if you create a campaign-specific landing page that you want the publications to link to. A journalist is much more likely to include the link if you have an enticing and relevant landing page.
A great example of a good Digital PR campaign is GAME Christmas Tinner. This was a Digital PR campaign about a gelatinous Christmas dinner in a can – fun and very sharable content. The landing page was a product page where you could buy the tin. The press were sent details of the can, and the link to the product page was included.
When I look in Moz's Link Explorer, I can see that this page has 112 inbound links, a considerable amount for a single product page.

Digital PR needs to be newsworthy for it to work; some examples of good campaigns are:
Funny or exciting products. They need to be outstanding and newsworthy. It doesn't even have to be a genuine product, the PlayStation Flow is an excellent example of this – it is an underwater console that was advertised as an April Fools joke.
Interesting stats. A lot of publications love data or statistics that reveal something new, interesting, or funny.
Sharable content. This is imaginative content that people will find helpful or entertaining. Some great examples are Sandtone – Parkdean Resorts take on Pantone colours, or Missguided's matching human and dog jumpers
In all the examples I've given, the companies had a landing page that added depth to the story – whether it was a product page or Sandtone's interactive page showcasing the campaign.
One thing to note, even if you include your link in the email or press release, a publication might not include it in the article. Don't be afraid to go back and politely ask the journalist for a link. Sometimes they will add one in for you.
If they don't include a link, don't worry too much – it's still great exposure.
Guest Posting
Guest posting is where you write some content for another business that is placed on their site. It could be for a newspaper or a blog. Like I'm guest posting this blog for Yell.
There are several ways to get a guest post slot:
Make a list of websites and blogs that have an affinity to your product or service. Ask them if they would be interested in a guest post from you and pitch them a couple of ideas. The best places to ask are businesses in the same industry as you but have a complementary product, so you're not competing with each other. Maybe even discuss an article exchange where you write for each other's site.
On Twitter, journalists use the hashtag #journorequest to ask for interviewees and writers for specific topics.
Help a Reporter Out is a platform that sends you regular emails on topics journalists want to write about – you can write back and pitch yourself to them.
If you have a bit more money, then ResponseSource's Journalist Request Service is excellent. You get emails with article requests from journalists, and if you spot one that interests you, then reply to the journalist with your article pitch.
As with Digital PR, you might not always get a backlink – but they will still be great for brand exposure.
Reviews
Many big review sites like Yell.com perform incredibly well in search engines due to the vast volumes of content and high domain authority. They can help your SEO in several ways:
If you choose a listing that allows you to have a website link, this is an excellent way to get a high-quality backlink to your site and pass down some of that domain authority.
If your website doesn't rank that well in the search engines, your listing on the review site might do, allowing people to find you.
If people search for "best" or "top", e.g. "best gardener in Aberdeen", review sites like Yell.com will come very high in the search results. If you have many good reviews, you're more likely to be returned as a top result. This also applies to voice searches, particularly on Yell.com, as they partner with Amazon, which owns the Alexa voice assistant.
To make review sites work for your business, make sure you encourage customers to leave you lots of great reviews.
Social Media and Influencers
Popular social media sites like Facebook, Instagram and Twitter etc., have high domain authority. If you set up a new company and create a website and social channels, you'll usually find your social media ranks higher and quicker in the search engine results than your site does.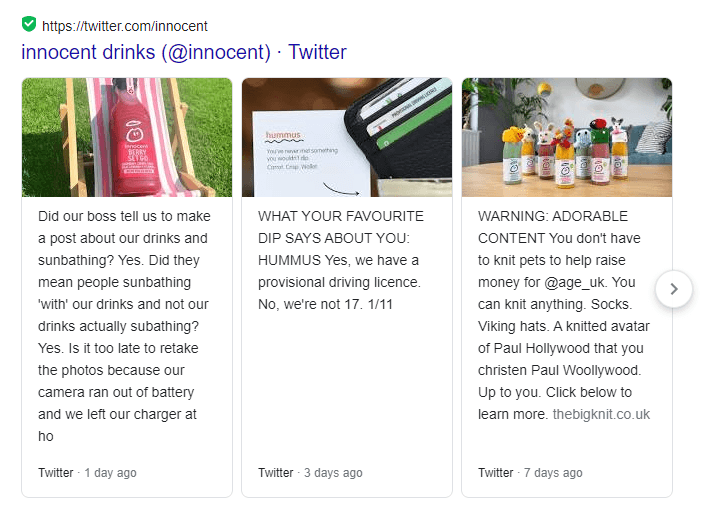 Google is serving a lot of rich content now, so instead of getting just a list of search results, it shows products, images, and social content. You'll see my example of Innocent Drinks above includes some social media posts high up on the search page. So making sure you have a solid social presence will help your brand feature in search.
There is a hot debate whether links to your site from social media act as backlinks to increase your domain authority. Many SEO experts believe that they do. The links could be on your channel or other people's channels. Your social media should contain a mix of posts, so don't make each one a link back to your site.
A blend of Digital PR, hiring influencers and creating sharable content should help you get some coverage on other people's social channels.
Local SEO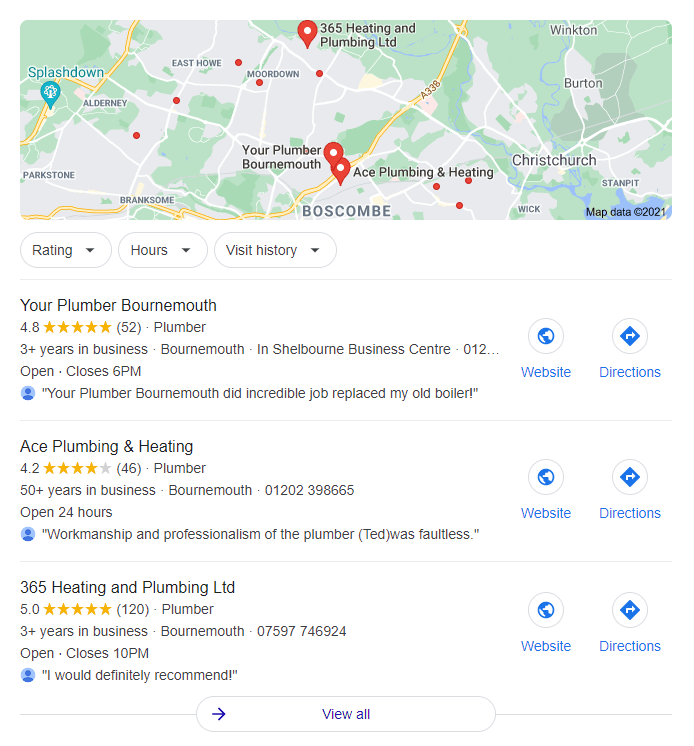 If you're a business that serves local customers, you must have a Google My Business account. Google shows local content to people searching for businesses near them. For example, "plumber Bournemouth" shows a map of Bournemouth and some of the local plumbers directly into the search results. This rich content stands out in the listings and can help with your search engine presence.
The great thing about Google My Business is that it also serves another purpose – you appear in searches on Google Maps. If someone searches for perhaps a "pet shop in Leeds", all the pet shop businesses in Leeds will display in the map results. This is ideal for capturing people when they are out and need to find a company quickly.
Videos
Video is hugely important for SEO, both on and off your website. Google shows video results in the main search and under its 'Videos' tab. The search results will list videos on YouTube, other video sites, and individual websites.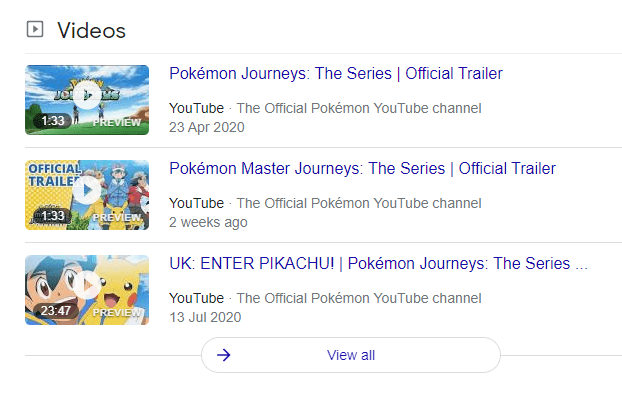 For Off-Page SEO, I suggest a YouTube account. Post all of your videos on there, then embed them into your website if you want to. YouTube ranks well in SEO (it is owned by Google, after all!) and will give your company another avenue to be found in the search results.
YouTube is also one big search engine itself, with more than 35.6 million adults in the UK that use the platform doing thousands of searches each day. Ensure you optimise your video tags, description and title to ensure it covers all the essential keywords so potential customers can find your video on YouTube.
This may seem like a long list of ideas to try, but take them one at a time and find out what works best for your business. Local SEO (if you serve customers in your nearby area) and reviews can both be quick wins; they aren't too time-consuming and can help boost your search engine presence – so why not give them a try first.
I'd suggest link building and Digital PR might be good to try next, as they can help your website's site ranking, and the credibility of getting your business in the press can be powerful.