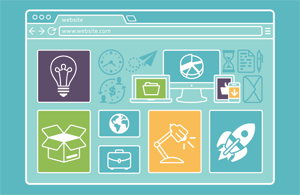 Most websites include a homepage, main sections and subsections. These component parts and the way they fit together make up the structure of the website. How you structure your website will depend on:
who you want to visit it
what they will be looking for
what action you want them to take
So before building a website, you should think about your target audience, why they'll be visiting your website and what you want them to do when they get there.
This will help you decide how to organise your content in a way that encourages visitors to stay and read more. Web developers are usually happy to help you plan your site structure, offering guidance on what will work best for your audience, and defining what your key messages and goals are.
Helping users find their way
It's important to take website usability (or 'user experience') into account when planning your site structure. As a general rule, you should try to avoid users having to make more than three clicks to arrive on any page of your site from the homepage. The more clicks it takes to find what they're looking for, the higher the chances of your visitors losing interest and leaving the site.
However, including too many main sections in your website navigation is probably not a good idea. Visitors may be overwhelmed and be put off exploring further. Instead try to break the content down into relevant subsections, accessible from the main sections, to guide people to the information they're looking for. Including a breadcrumb trail – a clickable list of the pages a visitor went through to get to the one they're currently on – can also ease their journey through the site.
Making your website SEO friendly
Structuring your website well is also an essential element of search engine optimisation (SEO). Some experts suggest that it's best not to include more than three levels in your site structure (homepage, main sections and subsections). This is because the further down your website navigation a section appears, the less likely it is to come up in searches.