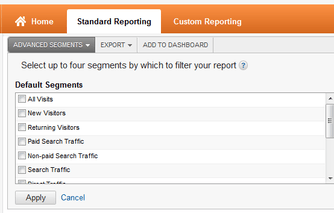 All web analytics tools analyse the behaviour of visitors to websites, and although most products offer essential features, it's important to choose a solution that meets the needs of the particular business and website.
There are over a hundred different web analytics applications available, ranging from free products to customisable programmes that can cost considerable amounts of money – several thousand pounds a year in some cases.
Most web analytics applications provide a massive amount of data, but that information needs to be presented in way that's easy to understand. It should be simple and straightforward to generate reports, and for most users it's important that relevant information, tailored to the needs of the business, can be easily extracted.
How do I choose the right one?
The key things to consider in choosing a web analytics application are:
Free or paid-for? The most widely used products, Google Analytics and Yahoo! Web Analytics, are free of charge, and offer an extensive range of features. Yahoo! Web Analytics claims to offer deeper visitor profiling and greater customisation, but Google Analytics is used by half of the top 10,000 websites.
Total cost: even free solutions will cost you in terms of time, resources, training and, perhaps, specialist staff. It might even be appropriate to use a specialist agency to interpret data collected by a free application.
Visitor data: the kind of information you need will depend on your objectives. An international business, for example, might need to know more detailed geographical data than a local business. Whatever details your business need, it's essential that the data provided also gives you insights into your search engine optimisation and website design.
Referrals: this is where the website visitors come from, and is useful information for refining marketing and promotional campaigns to make sure you get the best return on investment.
Visitor behaviour: this lies at the heart of web analytics, and to a large extent the more information provided the better, as long as the data can be sorted into useful, focused reports.
Reporting: the frequency of reporting, options for re-analysis, presentation formats and download options are all things to consider.
It's also important to take into account technical support – how is it provided and how much it costs are key considerations – along with the availability of training, either online or onsite. One advantage of the more widely used programs is that there are several online sources of training and advice.
Optimiser tools
It's also worth considering an optimiser tool, which can be used alongside a web analytics application to test different versions of a website to see what content, designs and other features work best. The most widely used is the free Google Website Optimiser.