So, what is a case study and why do you need one? A case study is an excellent way to demonstrate a business product or service and its benefits, in particular, how it worked for one of your clients. Think of it as a longer, more detailed testimonial. Case studies can be used to convince, inform, and inspire potential clients.
"Customer testimonials and case studies are considered the most effective content marketing tactics of B2B marketers" (source: Boast)
Case studies normally work best for business-to-business (B2B) companies. They do take a while to produce due to the level of detail needed, but they are extremely valuable when you have a higher cost product or service as they will help convince potential clients that you are worth spending the money with.
Find out how to write a case study to convince, inform & inspire potential clients.
Click To Tweet
Writing a Case Study
Writing a powerful case study can be a challenging endeavour. It's about more than just putting a few statistics down on a piece of paper, you need to outline your client's issues and how you solved them. Most importantly it needs to be assembled and written in an intriguing and intelligent format.
In this article I will guide you through how to write a powerful case study by telling you what needs to be included, how statistics can be leveraged, and which case study formats work best.
What To Include
Before you even begin drafting your case study, outlining what you will be including is a critical step that will help you to get organised and focused. The outline will guide you as your write your case study, and it will ensure the presentation of your case study is smooth and nicely structured.
In your outline, you need to list all the key points and aspects that you're going to add to your case study:
Identifying the key client problems – What was the problem(s) the client wanted to solve? Explain why the problems exist and how they impact the client. Then discuss how you worked out who or what is responsible for these problems.
Uncovering potential solutions – Your client had a problem. How did you work out how to solve that problem? Perhaps this was done by your team reviewing analytics, outside research, interviewing stakeholders, or through incorporating your knowledge and experience.
The proposed solution – Discuss your proposed solution. Show benefits about the chosen solution along with how it was implemented.
The outcome – So did it solve your client's problem? Show the outcomes of how you helped the business, particularly if there is a monetary benefit – other businesses like to know you're going to save/make them money when they read your case study!
Once you have your outline, you then need to write the case study. It should be in a professional tone, easy to read, and make use of headings, bullet points, and short paragraphs. Most people that read your case study will be time-poor so they need to be able to skim read and pull out the important points quickly. Make sure it's no longer than 1-2 A4 pages.
The Importance of Statistics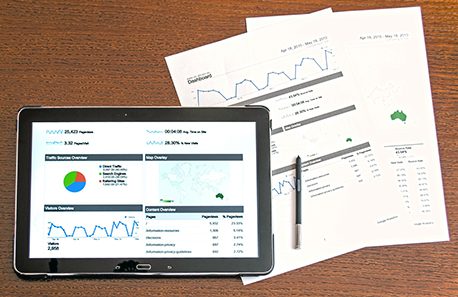 The key information you need to include in your case study, whenever possible, is data. Statistics, especially those showing increased sales, are vital to backing up your case study. After all, good business owner will not ask you how much your solution costs to implement, but how much return-on-investment (ROI) they can expect to receive – whether that is money saved through a new approach or more earned money in the future.
Examples:
"By implementing this new process, we saved the company 50 working hours a week which equates to £52k a year, and it only cost them £5k to implement!"
"By making a client's website mobile-friendly they had an increase of 30% in visitors and £5000 more in web sales a month"
Whatever it is, you need to prove that they can expect positive results by implementing your product or service.
Due to the need for statistics, you might find that you might not be able to write a case study until 3-6 months after a project has finished as you need time for data to build up to give you some great figures. For example, if you built a new website for a client you would need to see over a few months how many new website visitors your client had after the site went live. You could then use this statistic in your case study.
Formats
Once you have your case study all laid out, the next step is determining which format you want to offer it in. The most popular are PDF, web page, video, and presentation format.
PDF – this is perhaps the most popular option for a case study since it can be printed, uploaded, and shared in person or digitally. Your PDF should include plenty of graphics, charts, and headings to break up the text and make it easy to read. PDFs need to be interesting to look at. Don't use a design so busy it takes away from the content, but make it look nice so it's not just page after page of plain text.
Web Page – often it's good to have a web page dedicated to each case study, not only does this give your site extra content but it also helps with your search engine optimisation (SEO). Also, you'll want to send out a link to your case study via email and social media, so the web page will act as the landing page for people to go to so they can read the case study.
The text on the web page doesn't need to be the full case study, it can just be an introduction and then included a link to download the full PDF. For long case studies, it can also help to have a clickable table of contents at the top of the page. Just like a PDF, you need to incorporate graphics and some design elements into your web page for an effective and professional presentation.
Video – 51.9% of marketing professionals worldwide name video as the content with the best ROI (Source: Hubspot) – it can be exceptionally powerful way to present a case study. Video can incorporate a variety of elements from text and graphics to talking heads and animations. For example, the video could include an interview with the client that is featured in the case study, this will give plenty of impact as your audience will hear how good your product/service is straight from the client's mouth.
If you do go down the video route, I suggest having a web page or PDF version of the case study as well, as it may not always be convenient for your audience to watch a video.
Presentation – If you're going to be presenting your case study, you can make an accompanying slide deck. This is particularly useful if you are pitching to a new client via a presentation – you can back up your claims of how good your product/service is by showing happy clients and how you helped them. Just 1 or 2 slides will do, with bullet points on the problem, the solution, and the outcome (e.g. how much money your client saved/made).
Get Inspired By Others
It's a good idea to have a look round at others in your industry to see their case studies for inspiration, for example, this PR firm that covers all basis with their case studies: PDF, Video and web page, or this very visual web page case study from a digital agency that includes lots of details and stats.
Why Case Studies Are Important
There is an expression used by marketers that says you should "show not tell", this means that it is better to show the benefits of your product/service in real life, rather than just generically listing benefits on a web page without anything to back them up.
While creating a case study may seem like a difficult challenge, it is definitely worth your time as it will 'show' the benefits to your potential clients. A well put together case study can inform and convince others to adopt your service or buy a product.