Get up to date with the latest digital marketing trends
Digital Marketing Trends 2021-2022
A roundup of key digital marketing events in 2021 and a look forward into 2022
Digital marketing moved quicker than ever in 2021. Google rolled out some huge updates, and kindled by the pandemic, the use of social media increased. There was a lot of activity from the social platforms in terms of features and trials.
It may feel like it's hard to keep up with everything that's happened amid lockdowns, self-isolations, and homeschooling, so we've put together a roundup of key digital marketing events across the year to keep you in the loop.
Download the guide to find out more.
Did you know...

In 2021, TikTok was the first platform to overtake YouTube in time spent per user. Users in the UK watch almost 19.9 hours of TikTok content a month - an 80% increase from 2020!1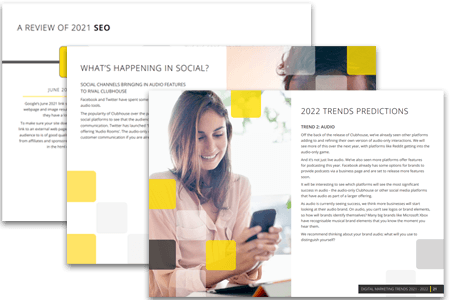 Why should I read this guide?
Get quickly up to speed with the most important changes in Digital Marketing in 2021.
Find out what social media features are coming soon.
See what's going to be trending in 2022 so you can get a head-start now before your competitors.
Did you know...

More than half of small businesses think that because of the COVID-19 pandemic, digital marketing is more important than ever2
Digital marketing is the key to business success
But don't just take our word for it...
"Ultimately, we're all in business to increase profits, and we knew the only way forward was to work with Yell to help us do this.
We started out with Yell advertising, and we progressed over the years with Reputation Manager, Pay-Per-Click and our Yell website.
Pay-Per-Click and ultimately our Yell website have helped improve our profits no end.
Over the seven years, we have seen our workforce increase by four, so we're up to nearly ten employees, which is excellent, and we could only have done it with all of this advertising."
- Denise Hughes, a Director for Stuarts Skip Hire in South Wales
How much time does managing your digital marketing take up?
Looking after your digital marketing can be a mammoth task. Creating content, keeping an eye on ad spend, and staying up to date with trends can all be time-consuming.
Let our experts help you.
1 App Annie Report 2021
2 IAB UK