Digital Marketing for Law Firms, Lawyers & Solicitors
Yell's expert digital marketing services include PPC, video, reviews & SEO and will help to boost the visibility of your legal firm. Learn more here.
Digital Marketing for
Law Firms, Lawyers & Solicitors
Yell's expert digital marketing services include PPC, video, reviews & SEO and will help to boost the visibility of your legal firm. Learn more here.
As with most products and services, potential clients seeking legal advice or looking to employ a new solicitor will head online to find the right kind of firm that suits their needs.
We know this is the case because we can see the number of searches being made on Google. For example, in the UK, there's an average of 4,400 searches a month for the term 'personal injury lawyer', 9,900 for 'law firm' and an incredible 60,500 searches each month for 'solicitors near me'1.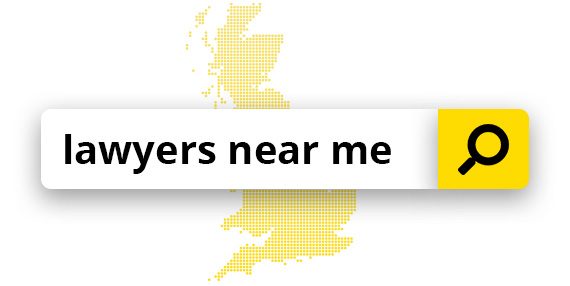 To ensure your legal firm is visible to potential customers online, the first step is to have a professional website that showcases your services and makes it easy for potential clients to get in touch.
But there's more to a successful online presence than just a good website – a solid digital marketing strategy that includes SEO, PPC, social and the harbouring of a solid reputation, will help ensure you're appealing to your relevant audience wherever they may be on the web.
With Yell's digital marketing packages, you can let us take on the work of boosting your online visibility and traffic, so you can focus on making your legal firm a success offline. Click below to learn more about our services and how they can help improve your online performance.
Explore our various digital marketing services for Law Firms, Lawyers & Solicitors:
Websites for Law Firms, Lawyers & Solicitors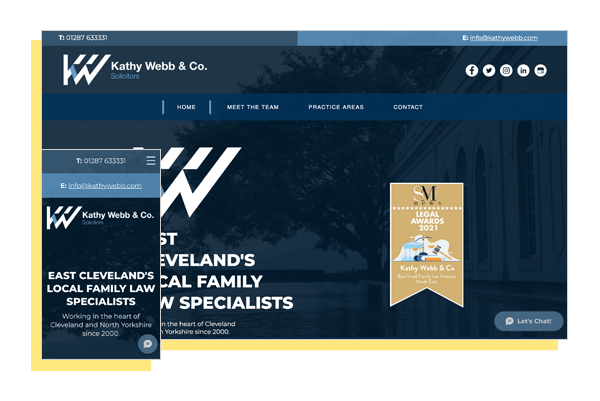 The first step to a successful online presence is creating an attractive, clear and useful business website, making it easy for potential customers to understand which law services you offer and to determine whether your firm is the best option for them. Not only can you use this space to build credibility and trust, but you can also showcase positive reviews, introduce your legal team and point new clients in the right direction for contacting you both on-and-offline.
With our website packages, we'll work with you to ensure your website not only functions smoothly, but also clearly reflects your branding and ethos. From design to functionality, security and written content, we'll ensure your website stands out from the competition and is built for success. Plus, we'll make sure it works across a range of devices, including PCs, tablets and mobile phones. Some of our packages will even include booking systems to help make appointments even easier.
And the support doesn't stop there – we'll be on hand on an ongoing basis to make updates and amendments as needed, and to make sure your website continues to perform effectively.
PPC for Law Firms, Lawyers & Solicitors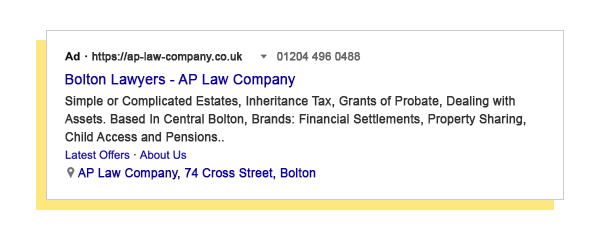 Where SEO focuses on boosting performance on search engines, PPC (Pay-Per-Click – also referred to as paid search) helps put your legal firm in front of potential clients in a range of other locations across the web through the Google Display Network.
Our PPC services offer a highly targeted marketing approach, which helps to identify your audience, create appealing, bespoke ads and placing them in the right online spaces. These could include editorial and news sites, or the ad sections of search engines, to reach your potential customers and drive more leads.
We'll manage your ad budget and oversee the management of your campaigns to ensure they're driving the maximum value for your legal firm.
Video for Law Firms, Lawyers & Solicitors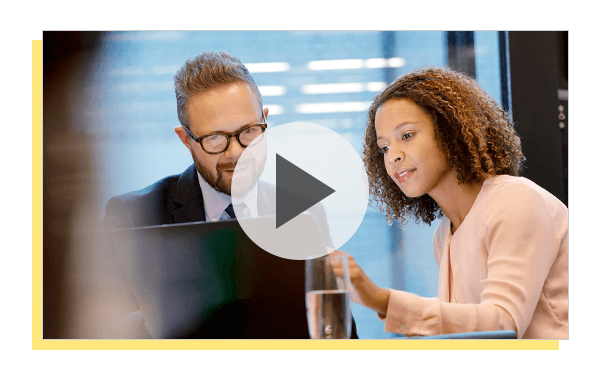 Internet users each have their own preferences for how they like to browse and consume information online, with video becoming an increasingly popular medium. It's a versatile tool for increasing engagement and showcasing your skills, knowledge and expertise.
Perhaps you'd like to introduce your team to potential customers, show off your professional offices, or simply explain your services in a visual or spoken format. Video is an ideal way to showcase your credibility and describe how your firm can benefit clients.
Our video services include a range of options, including drone filming and animation, so we can be flexible in finding the perfect format to suit your needs. Then the footage is yours to use across your website, emails, socials and other marketing materials.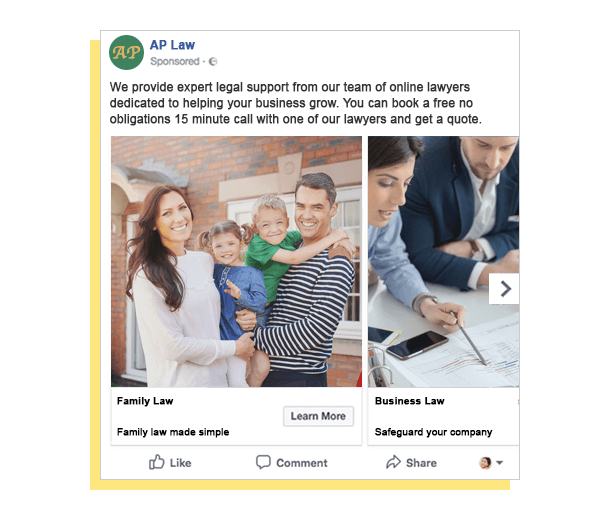 On average, internet users across the globe spend around 2 hours 27 minutes on social media every day2. This provides legal firms with an excellent advertising opportunity that can increase brand awareness, expand reach and engage with potential clients. You can use these spaces to share news or blog posts, create opinion pieces and show off great reviews and results. Not only can you boost your website traffic and client base as a result, but this can also help you recruit new team members and really stand out from your competitors.
With our social media advertising services, we'll support with the creation of ads to appear on Facebook and Instagram, using paid slots to highlight your firm's expertise and skills to your audiences as they scroll.
Online Reputation Management for Law Firms, Lawyers & Solicitors

Solicitors and legal advisors are in a competitive market, especially when it comes to internet marketing, so it's important to ensure your firm stands out online. One of the best ways to do that is to showcase positive reviews and testimonials of your firm across a range of online channels, highlighting examples of customer satisfaction and reinforcing your credibility. This could be the difference between a client picking your firm over a competing company.
Our Reputation Management solution will help make monitoring, managing and responding to customer reviews across a variety of platforms easier, by combining them into one specialised portal. On top of this, we can also ensure your law firm's contact information is featured a network of websites and directories. Plus, you can consolidate your social profiles into our central dashboard, so you can engage and connect with your customers from one place.
SEO for Law Firms, Lawyers & Solicitors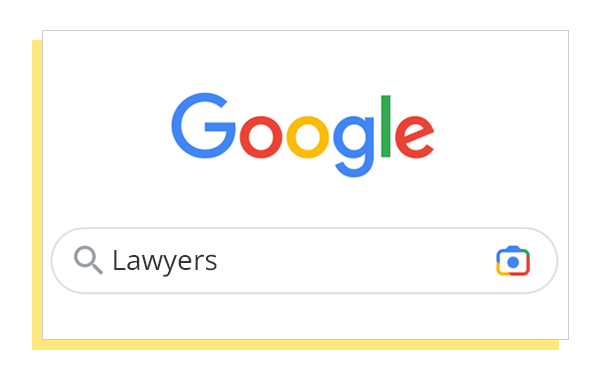 Whether a potential customer is just starting to consider the need for a legal firm or is at the stage where they're confident in what they need, search engines like Google are often one of the first ports-of-call for researching and discovering useful services.
Search Engine Optimisation (SEO) is a marketing approach that focuses on helping your firm's website appear higher on search engines when users type in key terms that relate to your business. For example, if you're based in Bristol then perhaps you want to be in the top position when a user searches for 'solicitors in Bristol'. If you're specialised, then you may want to be particularly visible for searches like 'commercial law' or 'divorce law firms'.
With our SEO packages, we can work with you to understand your business and identify the keywords you should be visible for. Then we can make sure your website is set up in the best way to rank better for these terms in search engines, both in terms of technical structure and online content.
Depending on your priorities, we can even focus our strategies on reaching clients in a specific geographic location, so you can ensure you're visible to your exact target market.
City Environmental Services
Sophie Anderson, Marketing Manager at City Environmental Services (UK) Ltd, talks about how Yell overhauled their website and created a tailored marketing strategy that drives quality traffic, enquiries and conversions to their business.
April 2021
If you're looking to improve the SEO performance of your law firm's website, you'll need to work through several steps including:
Ensuring your website is technically set up to be visible to search engines
Understanding which keywords you want your site to be ranking for
Optimising your website for these keywords, making sure to avoid spamming
Create regular, fresh content, usually on a blog, to answer relevant queries around these keywords
Improve your link profile by securing links to your site from other sites across the web
Recommended reading
For more detailed information on the topics discussed here, here are some recommended articles from our Knowledge Centre
SEO
There are three significant streams of SEO – Off-Page SEO, On-Page SEO and Technical SEO. I've previously walked readers through weaving Technical SEO into the website foundations and considering On-Page SEO.
PPC
Let's begin this guide with what PPC really means and how it works. Pay-per-click (PPC) is a method of advertising your business online by paying for your advert every time someone clicks on it.
WEBSITE
Are you looking to promote your business online? With more people turning to the internet to find local businesses, having an online presence is essential (especially in the current climate). In this article, we look at the steps you can take to build your online presence.
If you are running a small business, learning how to leverage your time is essential. One great way to do this is by using a content strategy known as "Content Repurposing". In this article, we explore the power of repurposing content. What Is Content Repurposing?
Contact Us
Let's talk. You can call, start a live chat, or fill in our contact form and one of our friendly experts will call to help advise you on the best digital marketing for your business needs. We're here for you every step of the way.
1. Figures from Google Keyword Planner January 2023
2. Figures from Statistica's 'Daily time spent on social networking by internet users worldwide' report - Aug '22