Digital Marketing For Tradespeople & Construction
Learn how Yell's expert digital marketing services including PPC, video, reviews & SEO will help to boost the visibility of your construction firm.
Digital Marketing for
Tradespeople & Construction
Learn how Yell's expert digital marketing services including PPC, video, reviews & SEO will help to boost the visibility of your construction firm.
If you're looking to increase business for your trades or construction company, then it's important to maintain an online presence that drives the maximum value.
Your business needs to be reaching potential customers wherever they may be online, whether that's search engines, editorial sites or social media.
Here at Yell, we offer a range of digital marketing services for tradespeople and construction companies, to ensure you'll not only be visible to potential clients, but you'll also have a high-quality website, trustworthy reviews, excellent digital assets like videos, and clear, engaging online ads that will draw more leads and bookings.
In the UK there are on average 1,300 Google searches every month for the term 'demolition contractors', 1,900 searches for 'building contractors near me' and 12,100 searches for 'construction company'1. Our SEO packages will help you rank for relevant terms like these, meaning you can be driving a lot of that qualified traffic straight to your website.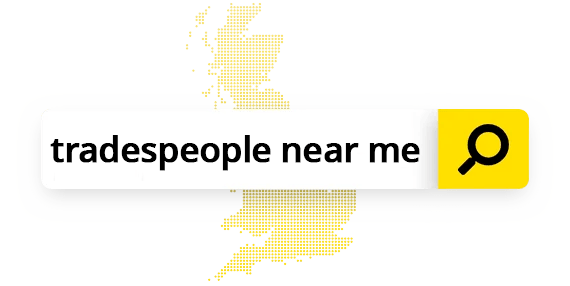 Meanwhile, our PPC offering means your bespoke ads will feature in search engines and editorial sites across the web, and our social media advertising helps you to reach potential customers in spaces like Facebook and Instagram. You can show off the quality of your construction work with genuine reviews consolidated into one online portal through our reputation management packages, or with professional videos that we can create to reflect the high standard of the jobs you do.
Let the experts here at Yell take on the work of boosting your business online, so you can focus on doing the best work you can offline. Click below to learn more about our different services and how they can benefit your trade or construction company.
Explore our various digital marketing services for Tradespeople & Construction:
Websites for Tradespeople & Construction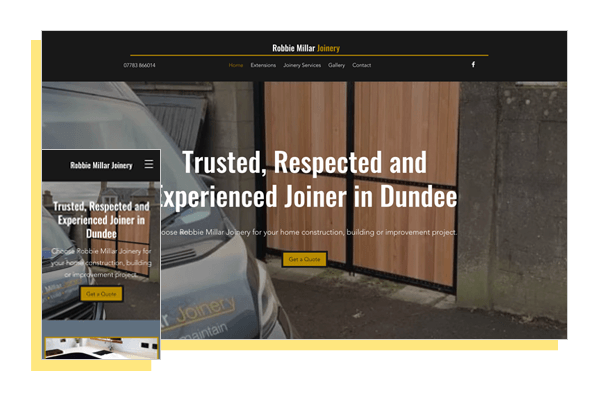 Your website is a key marketing and sales tool, where you can explain the services you provide, showcase examples of your work, help customers find and contact you, and maintain that all-important online presence. A professional and attractive website reflects well on your company, brand and skills, and ensuring it's functional and simple to navigate means customers will be able to find the information they need quickly before contacting you with ease.
Whether you're a contractor or a tradesperson, our website packages mean we'll be able to work with you to create a clear, compelling and attractive website. From initial designs through to written content, your new website will appeal to potential customers and stand out from the competition. We'll also make sure your site is secure and functional across a range of devices, including mobile phones, PCs and tablets. Some packages also include options for online booking systems, so you don't need to be manning the phones to secure appointments.
Need to make changes or updates to your website? Our ongoing support can help with amendments as you need them, so you can keep your site looking good and driving business.
PPC for Tradespeople & Construction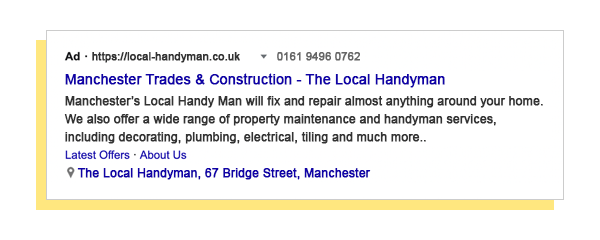 While you can boost the success of your website on search engines through SEO, our PPC (Pay-Per-Click, or Paid Search) packages will help your trade or construction website to reach potential customers in other spaces.
With PPC we can use a network of advertising spaces to place ads for your business and website in areas of the internet that we target specifically to appeal to your clients. We'll manage your ad budget and ensure each of your campaigns runs smoothly and drives maximum value, whether that's through increased traffic or leads. We'll also work on an ongoing basis to track the effectiveness of your ads and adjust your campaigns so they can continue to work in the best way for your company.
Video for Tradespeople & Construction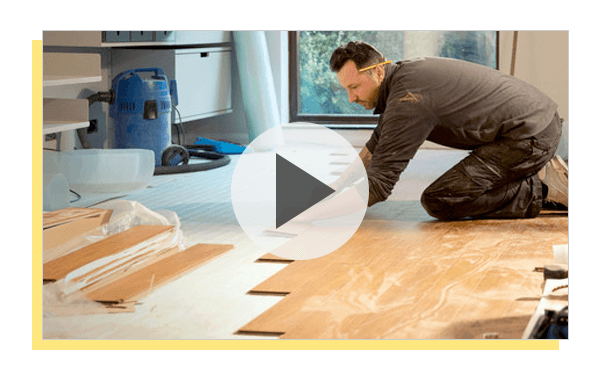 Using video across your website, social networks and email marketing is a fantastic way to showcase your skills and previous work in a visually appealing way.
You can pick from a range of our video packages, which could include animation, or even drone footage to capture your construction handiwork from above. If you'd rather not be the star of your videos, we can even arrange voiceovers to add more detail to the visuals.
We'll work closely with you to create a video that reflects your brand and vision, whilst being yours to share with customers and potential clients through socials, emails or your website.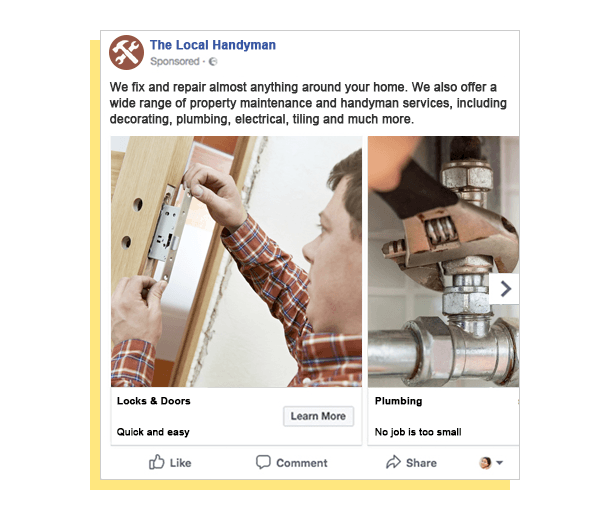 On average, internet users across the globe spend around 2 hours 27 minutes on social media every day3. If you're looking to promote your construction work on social media but struggle with finding the time or inspiration, our services can help. Our experts can assist you in raising brand awareness, driving website traffic, generating leads, and securing bookings through effective social media campaigns and personalised social ads that appeal to your target audience.
We'll work to understand your ideal demographics and, based on our knowledge of their social media behaviours, will target your ads to them across sites like Facebook and Instagram.
Online Reputation Management for Tradespeople & Construction

Have you ever checked the credibility and trustworthiness of a business online before booking or purchasing from them? Well, your customers will be doing the same, so it can be hugely beneficial to gather positive reviews and testimonials and share them in relevant online locations. Whether it's on your website, on comparison sites or social networks, authentic, positive reviews could be the reason a client chooses your company over a competitor.
Our Reputation Management solution consolidates your reviews from social networks and publishers, helping you to monitor and respond to feedback, highlight customer satisfaction and build your company's integrity online. We'll also ensure your business' contact details are distributed across relevant directories and websites to help you be found.
A strong online reputation will prove a track record of great work, so make sure yours is the best it can be.
SEO for Tradespeople & Construction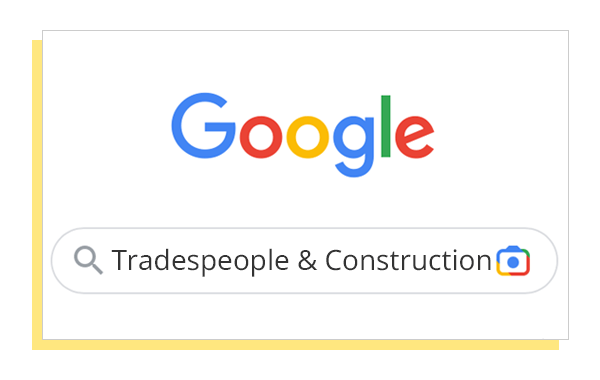 When researching and booking any kind of service, including construction and trades work, many of your potential customers will likely be turning to search engines (primarily Google) to find companies that fit the bill for their needs.
Websites that rank in the top position in search engines are likely to have a click through rate of nearly 30%2, with far fewer people clicking on the second result. This means if you're in position one, you could be bringing high numbers of additional customers to your site every month.
Our SEO packages will help to boost the visibility of your website and increase traffic by ensuring your construction business appears higher in search engines for relevant terms. Whatever services you offer, we can optimise your site for the right keywords and, if you're a local tradesperson, we can target location-specific searches. We'll also structure your site in the best way to appeal and be visible to search engines like Google.
And one of the great benefits of SEO is that it's measurable. Our experts will be able to produce a detailed website performance report and Google Search Console audit to identify key areas for improvement and to benchmark for ongoing reports, meaning you can easily track the progress of your website's search marketing results.
Denise Hughes, a Director for Stuarts Skip Hire in South Wales, talks about how Yell helped them increase quality business leads by 300% with paid advertising on Yell.com, PPC ads, Reputation Manager, and a new website.
April 2021
SEO is crucial for establishing an online presence and growing your business. By ranking higher on search engines, you can boost your visibility and increase your chances of attracting potential customers searching for related services in your area. Investing in SEO is a vital starting point to any digital marketing strategy and one which can really pay off.
Recommended reading
For more detailed information on the topics discussed here, here are some recommended articles from our Knowledge Centre
As a small building firm, staying competitive in today's digital age is crucial. One way to do this is by effectively using social media for lead generation. In this blog post, we'll explore the benefits of acquiring customers this way and provide tips on how to use it effectively.
Read more...
PPC
Let's begin this guide with what PPC really means and how it works. Pay-per-click (PPC) is a method of advertising your business online by paying for your advert every time someone clicks on it.
Read more...
WEBSITE
Are you looking to promote your business online? With more people turning to the internet to find local businesses, having an online presence is essential (especially in the current climate). In this article, we look at the steps you can take to build your online presence.
Read more...
If you are running a small business, learning how to leverage your time is essential. One great way to do this is by using a content strategy known as "Content Repurposing". In this article, we explore the power of repurposing content. What Is Content Repurposing?
Read more...
Contact Us
Let's talk. You can call, start a live chat, or fill in our contact form and one of our friendly experts will call to help advise you on the best digital marketing for your business needs. We're here for you every step of the way.
1. All figures taken from Google Keyword Planner, December 2022
2. Backlinko - "We Analyzed 4 Million Google Search Results"
3. Report from Statista "Daily Social Media Usage Worldwide Aug 2022"