Having covered some basics on optimizing for Local search, it's vital to have reliable reporting on your website to measure the success of any organic search campaign. The range of analytics tools available online is vast and to keep things simple at this stage I will focus on those that are most popular and simple to install.
As a starting point, I would recommend installing Google Analytics to track not only performance of the site but also SEO progress. This is FREE software from Google which can be installed on most websites within minutes using a simple code.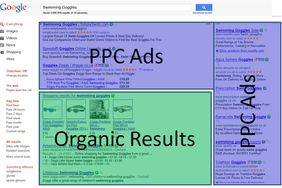 Google Analytics provides useful reports to understand your audience, advertising impact, traffic sources, conversions and content in one central place. I am surprised at how many clients I see who have no analytics software and have never approached their web company for their stats!
These reports allow a business to assess who refers the most traffic to them and which of these referrers provide the best quality. Quality can be assessed by how long someone spends on the site, how many pages they view and how they interact with the contact form or payment page. Specific actions like making payments or filling out forms can be tracked using goal conversions which can be setup with ease.
With most of my clients I will assess their Analytics reports before suggesting any improvements; Bounce rate is a key measure in my view. Bounce rate is the percentage of single-page visits or visits in which the person left a site from the landing page. The aim in general is to achieve a low score which means users spend more time on your site and engage with more content, therefore more likely to result in a positive outcome.
Another useful feature for Local SEO is the ability to visually see where all your visitors come from in the Map Overlay mode, see image.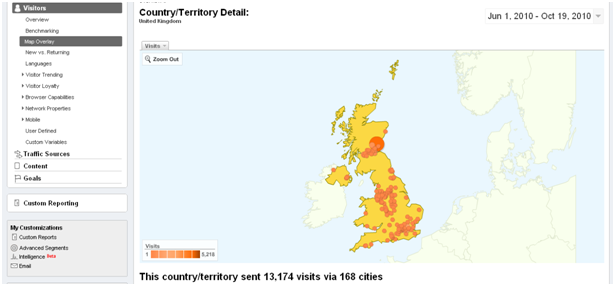 When introducing changes like adding a Google Places, directory listings or social sites we can then assess the effectiveness and therefore the focus of the change.
Google Analytics also shows what the top keywords are when users access the site. This information can in turn be used to tweak the content of the site be it amends to current or brand new content.
Also note that Google are always enhancing their reports and very recently they have introduced Real time tracking and the option to see which mobile devices were used to access a wesbite.
In the next post we will discuss Webmaster Tools which is another tool which can be helpful when optimizing for local search…