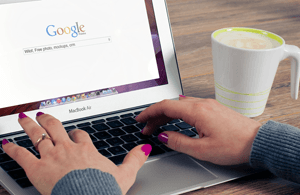 Search engine optimisation (SEO) is an important part of most business' online marketing strategies. It's a complex area – that's why many businesses choose to use SEO specialists – but the core best practice SEO techniques are surprisingly straightforward.
What is search engine optimisation (or SEO)?
SEO or search engine optimisation is understanding of how search engines work, to ensure your business website gets seen in organic search results. Ranking in the organic results on search engines isn't easy, especially in competitive business sectors.
Why does SEO matter?
It is important that your company's website gets seen by customers and using the right SEO techniques will ensure this happens. Search engine optimisation tips can help a website to appear in search results and be clicked on by customers.
Getting started
To start with, it's vital to remember what the purpose of your website is. Focus first on what you are trying to achieve and only then think about SEO. There's no point driving lots of traffic to your website for its own sake – you want the right visitors.
Creating the best content
Creating useful (and preferably unique) content helps with SEO. So:
Think about the kinds of things your target customers are likely to search for, and develop content that will attract and satisfy those searchers
Write focused text – ideally, each web page should deal with a single topic rather than mixing lots of ideas together
Use headings and subheadings to break content down into readable chunks
Regularly update your website with fresh new content
Organising your website
Organising your content well makes it easy for visitors – and search engines – to find relevant content:
Plan your site with a simple sitemap, and include the sitemap online so that every page is easy to find
Give each page a unique title that accurately defines what it's about, and a brief description that summarises the content
Make the page's URL (e.g. www.mysite.co.uk/a-page-about-SEO) easy to understand
The title, description and URL tend to appear in search results, so the clearer they are the easier it is to see what your website has to offer.
What mistakes should I avoid?
Be careful with images and other non-text content. Partially-sighted people – and search engines – find these difficult to understand, so make sure your website builder provides text alternatives as well.
Wherever you have links in your site, use words that explain the link: for example, 'Yell's local search marketing directory' rather than 'Yell.com'. Be careful as well with links out to other websites – if you link to sites engaged in dubious SEO techniques, it could damage your reputation.
With those basics in place, remember to promote your content, helping to attract visitors and links from other sites. Ideas can include:
Your own blog, social media and relevant online communities
Including your website address on business cards and marketing material
Relevant online directories
The bottom line
Best practice SEO techniques include writing fresh, relevant content, organising your website clearly and promoting your website to attract visitors and incoming links.
This article is provided only for general informational and educational purposes. It is not offered as and does not constitute legal or other professional advice on the subject matter in question. You should not act or rely on information contained in this website without first seeking professional advice on the subject matter in question.