For the past couple of months we've been a bit busy redesigning this website. Welcome to our new marketing website! An amazing team with incredible experience of website design, Social Marketing, SEO, Search Marketing, content management, user experience and digital marketing plus amazing website build development skills have been working very closely together on this site.
Jam-packed full of valuable, free advice written by industry experts, which will be updated every day, we hope you find loads of useful stuff.
The project has been a great case study for user experience design, but also for website build, SEO and how all the different aspects of digital marketing come together.
What's new
Site search, so you can find what you need, from every page.
Simplified navigation, so you can find your way around.
Mobile – so you can use it when you're on the move using a smartphone like an iPhone or tablet device like an iPad.
Free, valuable marketing advice – hundreds of articles about digital marketing topics: Presenting your business; Website design; Website content; Website build; Video marketing;Reaching your customers; Banner advertising; Pay-per-click; Search engine optimisation and Social media. This free advice is the main focus of the site.
A team of expert writers (from Yell and external to Yell) writing 1 free advice article per week.
Bio credentials about every author to show you their credibility, so you can trust the advice.
Easy share social features on every article and product page.
Related articles which may be of interest are clearly cross-linked.
Comments on every article – which you can read, and make your own – tell us what you think.
New product pages with features and galleries to explain our products.
We kept the good bits from our old site – existing customers can register and login to manage their account, free tools, sign-up for Free Local Advertising and free marketing advice events.
Your feedback
This was a user-centred design project. The feedback we got from users during the design process helped to shape this new site design. But the work doesn't stop with the site going live, this is just the beginning. So, we'd love to hear your feedback about the new site, what you think can be improved, suggestions – tell us here in the comments, or contact us to send us your feedback.
Before and after
In case you didn't see our old site, or can't remember what it looked like, here's a reminder, compared to the new site today:
Old website: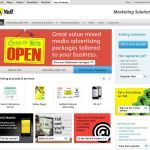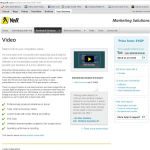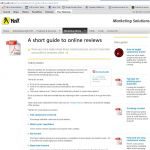 New website: