Christmas is a busy time for us all. For some businesses, this is peak trading time, for others, it's their quietest period. These opposing scenarios present different challenges. In this series of articles you'll discover simple ways to survive and thrive whilst your competition may remain in chaos.
Let's first consider the business with a peak period at Christmas.
The run up to Christmas sees an escalation in sales. This could be online and/or through a retail outlet. If it's online, it's important to ensure your web hosting package allows for the additional traffic this generates. Check this out now before your website fails and you lose countless sales.
It's also important to ensure your credit card machine is in good working order, especially if it is used as a stand-alone machine rather than connected to a till. Machines can be temperamental. How are they powered, do you have spares? What is your back up plan if your credit card machine fails? Ensure you have one, as most potential customers will simply walk away in the event of machine failure rather than hand over cash and/or agreeing to re-visit your store later with cash; they simply don't need or won't be prepared to go the extra mile to complete the purchase.
Many businesses hire temporary staff at this time of year. It's important that you take the time to train them well and limit their tasks. This reduces the number of potentially costly mistakes. Depending on your business, buddying them with more senior or experienced members of your team can prove very fruitful, after all, they are generally the ones who remain calm in pressured situations.
With extra staff there are times when the business is struggling to cope with numbers on the premises. Staggering starting and finishing times may alleviate this issue and provide necessary re-stocking hours.
One of the major concerns for bosses is staff absence during busy times. After all, they also need to shop for gifts. By staggering starting and finishing times, there may be ways in which you can build in extra hours, like an early lunch break, which allows these members of staff chance to get out to complete their shopping.
Planning is the key to successful trading over this period. Designing friendly rotas is critical. As the owner or manager, your hours will most likely increase. Could you temporarily close down any lessor priority functions of the business and re-assign staff to the busy ones? Their experience may prove invaluable to the team. Additionally, it may be easier to re-train these people as extra help on the front line.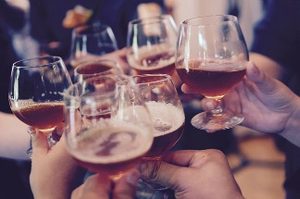 Another big challenge at this time of year is staff absence. People can be run down through due to the additional hours they are working and of course, there may also be the odd 'sicky' due to over indulgence and the Christmas Party! Whilst you probably cannot avoid it this year, chat to your staff about dates for next year and find a solution that works for for all.
If you do have a Christmas party looming, why not change the rota for one night to try and reduce the number of key tasks required for the early start team e.g. double up on staff in the latter hours of trade so that shelves are re-stocked early and therefore ready for the following day. Perhaps this would allow a later staggered start to the working day and more staff will be in work.
If staff numbers are critical to the success of your business at this time of year, then you could introduce a bonus scheme based on attendance. It could be the deciding factor if a member of your team is considering going AWOL.
In the run-up to Christmas, it could be advantageous to pay any bonus weekly. Depending on your team and how your business works, this could prove useful and incentivise the staff by providing them with extra money at this time of year, at a time when they can spend it.
Sales planning on the go…
It is very easy to be consumed by the staffing of the business. It can be a daily headache and it's important that you remain on top of it. Your staff need to be familiar with your store and where the different products are stocked. Customers panic-buy but they can only do this if they can find what they want easily.
Have you got enough sales/service staff on the shop floor so they can help customers who look "lost"?
Ensure customers can spot them easily. This can speed up the buying process and provides you with a great opportunity to either up-sell or cross-sell other products whilst they are in buying mode. Buyers need help and the greater number of early interactions you can have (without being too pushy), the better the sales opportunity. You are helping a customer make decisions and opening their eyes to purchase better gifts or gift packages when they may have entered your store for one item.
Keep an eye of fast-moving stock. It may be useful to consider creating packages which includes marrying together fast-moving and slow-moving stock. Ensure key suppliers are ready and able to replenish depleted stocks quickly. For those items where stock numbers are limited, additional supply is impossible, and the item(s) are selling well, you need to consider ways to maximize their sales potential. This is where packaging and/or pricing can be useful. Creating bundles or deals such as "buy one and get a XXX widget 25% off" type of deal is a great way of selling other stock that is generally slow moving or generally forgotten about at this time of year.
The key message here is that you need to be carefully monitoring sales. Sometimes it is very difficult to predict sales and to confidently forecast your best-selling product(s). Studying your sales data may be extremely revealing and suggest that you need to test and/or re-think the price and placement of these items in your business/store.
Speedy Marketing is essential
With so many visitors to your retail store, either in person or online, it is essential you have designed ways of capturing email addresses and perhaps mobile phone data. To do this you need to have one or many eye-catching offers or information packages that customers want.
When you have this data, use it quickly. Have your email or SMS system ready to churn out fantastic daily offers that may entice your customer to frequent your store again and again on the run up to Christmas. Whilst daily may sound too heavy, remember that this is the time of year that most people are in buying mode. You need to capture the mood and create that feeling that the reader will miss out if they do not act fast.
A 24 hour sales blast or flash booster offer with time-sensitive deadlines can work well. Any offers you mail out need to have short deadlines because your customers are being bombarded numerous times a day with offers from other stores. They only have so much spending power so act fast and ensure you use scarcity as one of the key drivers in your campaign. This can be scarcity of the product(s) or scarcity within the offer itself.
In part 2 of this article we will look at businesses who tend to find this a difficult time of year for sales.
Discover simple ways to help your business survive and thrive during the Christmas period.
Click To Tweet