You might have noticed that I've mentioned Google's Panda update a couple of times already in this blog. Released in the UK in April of this year, it's one of the biggest shake-ups in the world of SEO and online content in recent years. Designed by Google genius Navneet Panda, it's the latest version of their algorithm – the formula they use to decide the order in which search results are listed. And what it means is that good content is more important than ever.
Traditionally, getting to the top of a search engine results page (or SERP) was achieved solely through SEO and link-building. You found some popular keywords and made sure they were used frequently throughout the site, so that when the search engine's 'spiders' crawled the site, they would find them. Then you got a load of other sites to link to your site to make it look popular. Job done – your site achieved a high ranking.
But what the gurus at Google have come to realise is that appropriate keywords and a multitude of links don't automatically make a site…well…good. Just because a website has keywords on every page and links pointing at it from a hundred other websites doesn't mean it's not full of badly-written, boring copy and old-fashioned designs.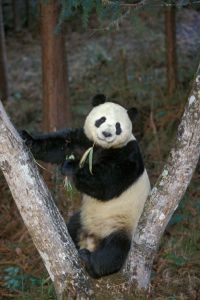 So that's where Panda comes in. This latest algorithm places much more importance on well-written, original, trustworthy content. It aims to filter out boring, uninformative websites from the top of the SERP, and replace them with sites that people find exciting and helpful – sites that people want to share with their friends through Facebook, Twitter and other social media platforms.
If you've used the traditional methods of SEO and link-building to get a good ranking on Google, the Panda update is a very scary thing indeed. Thousands of sites – including a few very well-known ones – have been 'Panda Slapped' and their rankings have dropped dramatically.
But don't panic. It's also a very exciting thing. It's a chance to refresh the old, tired content on your website. It's an opportunity to create enjoyable content that people actually want to read, without having to worry so much about whether you're getting enough keywords in there. Basically, it's a victory for well-written, unique copy that's fun and exciting to read. Good work, Google.