Summary
How to create a user to do list. This task list, validated with actual customer feedback, is essential to a good website design. For your website to have a good user experience you will need to know what users want to do when they visit your site.
Benefits
Makes your website easier to use.
More users are more likely to do more of the things you want them to do on your website.
Your customers have a good experience which makes them happy and feel good about you.
You see more benefit and return on investment from your website.
You are more likely to see the benefits you want from your site
Things to think about
Find out what your users will want to do when they come to your website. What are their goals? What will they want to get from visiting your site?
Think about what you'd like your users to do when they come to your website.
Do these match?
For your website to work for you and users, your own list will need to match your users' mental Task list.
What you are more likely to get by doing this
Content, information and media on the site which is relevant and useful to users – so they find out what they need.
Information users can find.
Functionality on the site which supports what users want to do.
Customers feel it is simple and easy to use, so think you'd be straightforward too.M
Clear calls to action ('Sign up now', 'Regisiter', 'See my opening hours', 'Find us on the map' and your contact details which users will find and use.
This will prove very valuable to make sure your website design has a good user experience.
Example Task List
The list below is an example of a user to do list: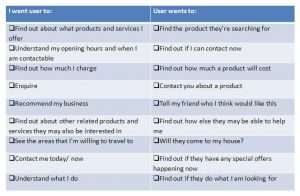 How to do this
Start with your own 'to do' list of what you want customers to do.
Draft user task list – Draft a list of what you think the user wants to do.
Ask customers – Check this with your customers, ask them what they want to do on your website. You can ask them through a survey, on your website, or offline. You can ask them when you meet them, or ask your staff to ask the same question, or a suggestion box in your office or premises. Or accompany your staff on customer visits so you can ask them yourself. Confirm what your customers need from your site.
Break this down – into what customers need to see, what they need to do, what they need to leave your site with/ having done.
Requirements for your site – You will then have a list of information and functionality requirements for your website which you can brief to your website designer.