Whether you're new to the subject or a professional with years of experience, you will at some point have been stumped by an SEO-related issue. And there's no shame in that: search engine algorithms change fast, and so does advice on best practice. Solutions to problems aren't always black and white.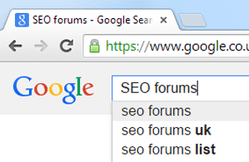 Given the complexity of SEO, the way to help yourself (and to learn faster) is to not bury your head in the sand and work in a silo. Rather than guessing what the impact of a particular linkbuilding strategy might be, or making changes to your web pages and hoping for the best, use the wisdom of the crowd. You can pretty much guarantee someone has faced your issue before, and is willing to talk to you about it – so save yourself time, pain and money by using SEO forums to get answers.
How SEO forums can help your business
You'll get the most out of forums if you use them unselfishly. While it's tempting to only post questions and be a passive receiver of advice, participating in discussions has lots of potential benefits. These include:
Raising awareness of your business and bringing in website traffic. Not all forums will allow links to your website, and any sensible one will automatically place a nofollow tag on the link so it doesn't pass authority. Forums shouldn't be used for linkbuilding anyway; that said, mentioning your business could lead to more people searching for your brand in the future.
Getting feedback on your website and its SEO capability, and seeing where other webmasters are getting it right (or wrong!).
Staying aware of the latest industry news and trends.
Working collaboratively on projects, and making new contacts.
A good SEO forum should be very active (so you will get answers quickly), have a moderator, use subcategories and require registration to post or comment.
A useful list of the best SEO forums in 2015
Click To Tweet
The best SEO forums in 2015
We've done the hard work for you to find the best forums out there, which are listed below. Go ahead and get involved! It's an active way to learn and you may make some useful contacts in the process. If you've never used a forum before and need tips on etiquette or how to use them, these 25 tips may be handy.
Quora is a leading Q&A site with a huge and very active user base. It's a great knowledge hub for just about any category you can think of, and also has a specific SEO section, with consistently interesting topics for all levels of expertise.
A forum dedicated to helping businesses and marketers do better SEO (as well as PPC, social media and general online marketing). The categories are easy to navigate and search, and there's a good combination of both technical and general discussions.
The Moz community is one of the most active SEO groups online, and this forum benefits from being very easy to use, having plenty of categories covering all aspect of SEO, and regular input from Moz staff as well.
Where better to get advice on SEO than from the horse's mouth? Google employees post and respond on this forum, so you can be sure the advice you're getting is authoritative.
Lots of useful topics here, including SEO techniques, SEO no-no's, copywriting strategy and general resources. Heavy moderation keeps the posts high-quality.
This is a Q&A site for programmers, though it does have a page for SEO questions. As this is a developers' forum, discussions here tend to be highly technical in nature.
A popular SEO forum that's been around a long time. While it looks a little dated now, there are plenty of discussions to look through, with a good blend of beginner-level and more technical queries.
Warrior Forum is a general internet marketing forum, with a specific SEO section that covers optimisation, link building tactics, and more technical issues. Posts tend to get replies quickly.
A business, marketing and design forum with plenty of helpful answers to beginner's questions about SEO.
This forum is worth a search for a niche question if you haven't been able to find an answer elsewhere.
We hope that list is useful. Are there any other forums you use for SEO that aren't mentioned here? If so please let us know, by leaving a comment below.