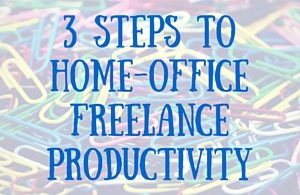 Becoming a freelancer can be one of the most liberating things you ever do, but it doesn't come without its fair share of downsides. One of the most present of these disadvantages is that of productivity and self-motivation, which is especially troublesome for those new to the freelance life.
Advice about bringing structure to your day without a boss breathing down your neck tends to fall into one of three stages, so we'll start at the top:
1. Sort Out Your Surroundings
We don't all have gorgeous Pinterest-photo living spaces, and even fewer of us have a spare room lying around to use as a home office.
Choose a working space that works best for you, and stick to it. Being in a set place in order to do your work makes getting into "work mode" all the more easier. For those of us who don't have a home office in a separate room, your workspace needs to be comfortable, but ergonomically sound. If you're sitting on your settee for 8 hours a day with your laptop on your lap, you are likely to experience some discomfort in your shoulders and back before long. A good workspace consists of a seated space including chairs with upright back support and a table at desk height. If you don't have a desk space, this usually ends up being the kitchen or dining room table, but if you do have a spare corner for a small desk and office chair, it's well worth the investment.
Be aware of how your surroundings affect your mental state too. Most prefer tidy and orderly workspaces with a place for everything and everything in its place; but if you do your best work in a more rough and ready workspace, by all means do what works for you. That's one of the joys of being a freelancer.
Depending on what you do and how much of the time you need quiet for phone calls, you may find it pays off to mix it up sometimes and work from a coffee shop or library. Lots of people (myself included) find the background hum of voices relaxing, yet focusing; it may sound silly to some, but give it a go. Occasionally uprooting yourself to a comfortable public place also has the added benefit of removing you from the distractions of home.
2. Set Ground Rules
For those who work at home, it's imperative to set ground rules for anyone you share your home with, especially regarding when you're working and when you're "at home." This can be easier said than done if you are a carer or a parent (or indeed a pet owner), so consider working during times that you are likely to be disturbed the least.
However, you can set rules for others until the cows come home, but the one person you really need to crack the whip with is yourself. Schedule your day/week as closely as you can. Some of us are natural born list makers and some aren't, but trust me, to do lists are your friend. Personally, I have a weekly, monthly, quarterly and a 6 month list; that might be overkill for some people, but you need to figure out what works for you. When you have composed a to do list, it's also important to prioritise it; so if it comes to a toss-up over what task gets done next, you can see which ones are more important than others.
This next one may seem like a no-brainer, but turn off distractions when work requires your undivided attention. Turn your phone on to voicemail, sign out of Skype, put any devices on silent or do not disturb. Similarly, those of us with particularly busy minds may be drawn into multitasking, but don't be tempted! It adds another distraction, just keep things simple, and put your all into one job at a time.
When it really comes down to it, you need to make promises to yourself and keep them. Willpower and self-discipline are like muscles – they get stronger as you exercise and practice. Don't beat yourself up if you struggle at first, or even if you fall off the wagon later down the line. Some say that it takes 6 weeks to get into a habit or to stick to a routine; if you try your hardest and if the routine works well with your other commitments, you're set for success. If you find that you need to tweak your original scheduling plan, don't worry. Good scheduling takes time, effort and compromise.
Whatever you do include in your schedule, always make time for breaks and have a set time each day when you "go home." A clear division between personal time and work time is essential, and making sure you're well rested plays an important part in the quality of your work.
3. Implement Tools and Tips
The best way to get productive is to start writing lists. We've already talked about list making, but there are a number of note and list keeping tools online, so your tasks can be synced between all of your devices, organised efficiently and backed up to the cloud. Google Keep, Trello and Evernote are all great solutions for the serial list maker, and are all available both through a PC web browser or through their respective apps for iOS and Android.
It's also important to know how long each task takes, and this only comes with experience. If you've been freelancing for a while, you'll have a much better idea of timing compared to someone just starting out; but no matter how far down the line you are, it's still a good idea to see how long it realistically takes you to complete certain tasks. Set up a makeshift timesheet in a spreadsheet, and record the times when you start and finish each day's different tasks. Yes, every time you stop and start. Try this for a week or so – the results might surprise you.
If you've got a large, daunting task that you've been putting off, that's a huge productivity no-no. Take a good look at these large and looming projects and break them down into smaller, more digestible chunks. Conversely, if you have a lot of little "faffy" things to do like sending a few quick emails, checking your business social media accounts and entering a few invoices into your system, you may find solace in grouping tiny tasks into a bundle to complete within a set time. This gets the little, messy jobs out of the way within half an hour or so and you have the rest of the day to focus on making money.
If you find your day filling up with admin rather than the work you do for your clients, it may be time to consider a virtual assistant. Virtual assistants or "VAs" are remote workers that provide administrative and clerical support. If you only require a few hours of clerical assistance a week, it's obviously far cheaper to take on a VA than to take on an employee. VAs are a growing industry for obvious reasons, but be aware that it can seem a considerable outlay if you are new and there's also the case of identifying the tasks that can be performed remotely by someone else.
So there you have it, the three stages of becoming the most productive freelancer you can be. It may all seem like hard work at first, but when you persevere, you'll soon reap the benefits.
Check out these 3 steps to productively working from home.
Click To Tweet
So reader, what helps keep you on track? Any tips that you use that I've missed? Please share your tips down in the comments!