Search Query reports are something you can pull in AdWords which show you exactly what the user originally searched for before they clicked on your PPC advert.
These search reports are really informative and help you build out your account and indentify new verticals. They should not be overlooked. The are in fact, one of the top 5 most important areas of your PPC account.
It also makes you (sometimes) question people's a)intelligence b)perception of Google and c) wonder if they even read your advert…
So, where to find them?
Log into your AdWords account. Select Campaigns. Select Keywords. Then select 'See search terms' 'All' and Bingo.There they are.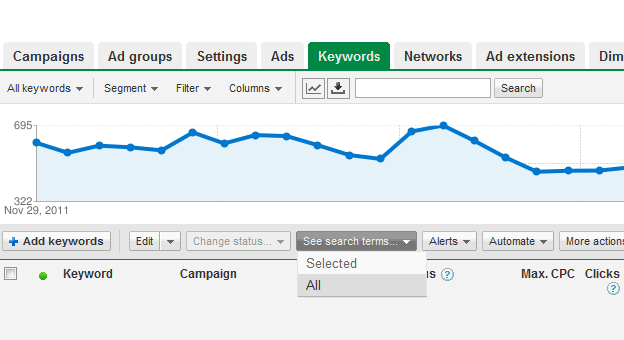 As you would expect, some of the keywords – hopefully with the most traffic and incredibly relevant are top. Clicks and Impressions are listed exactly as they would be with normal keywords as is CPC and spend and conversions etc. Only difference is the keyword may not be the one you added to the account but the one Google has matched it too.
Have a look through them, I often order them up by impression amount especially if you have a poor CTR.
If the keywords are completely irrelevant and make you go 'I paid what for what!' then you need to turn off the broad keyword match types and refine it. Tidy them up. I have seen some accounts with broad match keywords such as 'dance' or 'toys'. Google have made a lot of money off such broad terms as they have matched to so many queries!
If just a few terms are rubbish, say your area of advertisment is 'pg tip monkeys' and someone has searched for 'images of pg tips monkey' then you need to add images as a negative keyword, telling Google Nah. Don't bring my advert up for searches like that. Keep guessing but no to images.
As well as showing you what you don't want, it can also show you new areas. Say you focus on saving for children keywords and you notice them matching to saving for granchildren or babies, well then that's a new related vertical. Add a adgroup around grandchildren and babies. Add some relevant adverts. Build a landing page with a cute dribbly baby on it. Test it. People are searching for it right. Be there. The more specific you are the cheaper your click costs *should* be.
You need to keep on top of these reports. Run them at least once a week to ensure you are spending your budget wisely. If you have massive traffic levels and budget being spent, increase this to twice a week. They take a few days to populate but are really important.