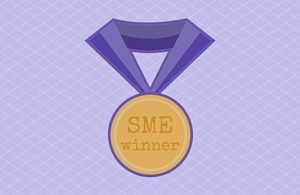 My very first 'real' job was as a Web Consultant at Yell when I was 21, and I stayed with the business for four years.
That's a big deal in your early twenties.
I had a few promotions there and eventually moved into marketing, but it was that first job that taught me the most about small business owners – what their strengths are, what their challenges are, and plenty more besides.
Here are the key things I learned from all of you about SMEs.
Number one: they're fairly hilarious. I had so many customers over the years that made my colleagues look over as I wept tears of mirth after a call with one of my small business clients – and that was just the refrigeration specialists.
Is it spending every day with a small team that feels like family? Is it the natural eccentricity and bravery it takes to start a business? Who knows but it's GOLD.
Number two: there is nothing they don't know about their specialist subject and can't share passionately with their customers and anyone they interact with in their industry. Man, the things I have learned about screeding and personal waxing. More than I wanted.
Running a small business means you know the details of every job because the company probably started with you as plumber, accountant, tea lady and first aider.
Number three: they're busy as all get-out. SME should stand for SO MUCH EVERYTHING – and that's before Miss Perky from Yell calls to chat about the website.
I managed the design and build of hundreds of small business websites that I'm still very proud of, and it amazes me how much time and effort many business owners put into helping me make something good for them. (I mean, yeah, they were their websites but they were paying for me to deal with it so props for the effort.)
When I left Yell, I got to see how things were from the other side. I joined a company that still qualified as a start-up and, for the first time, I was working in an environment where everyone actually knew everyone else. There was no one to bring me a print-out of the website analytics for my latest piece of work. No legal team to check I wasn't telling outrageous lies – artistic licence, as it's known by creatives. When you're a small business, everyone's job is a lot bigger and you have to multi-task to survive.
I have spent a lot of time telling small business owners what they need to be doing: social media, banner advertising, updating their website regularly – it's a lot of stuff to do, on top of their day-to-day job running a business and keeping customers happy.
You guys have kept businesses going through recession, the rise of the digital revolution (whatever that is) and beyond. You're pretty amazing so here's to you: SMEs, you rock.