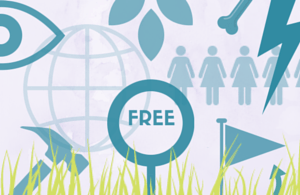 Trying to get hold of images you can use easily, legally and (most important) free is often really hard.
Google > right click > save is not an option. When you're publishing things onto the internet, stealing images is a very bad idea.
There are millions of stock images available on hundreds of websites, but you'll pay a fair bit for them, and there's only so many times I can see Happy Corporate Man Running Through Field before I scream.
So, what to do?
Make 'em yourself
Surprise!
Don't worry, I'm not telling you to spend thousands on image software and a stint at art school. I've got a trick up my sleeve that I use every day to illustrate my content easily, legally and free.
Canva.com
Canva is a lovely online tool that lets you create graphics yourself. It's made up of several things:
Elements like lines, photo grids, speech bubbles, icons and everything else you need to make pretty designs
Layouts to help you put together things like banners, infographics and callouts – just make sure you replace any photo backgrounds because these cost money!
Text with ready-made styling or options for fonts, colours and sizes
Backgrounds with colours and textures to complement your designs
Stock imagery if you need a touch of the real in your post
Uploads option, so you can include things like your logo or product imagery
Yeah, but can it do what I need?
What do you need? Canva is set up to let you do practically anything you need:
Social media profile graphics, image posts and ads
Blog graphics
Photo editing
Infographics
Business cards
Presentations
Flyers, posters and documents
Photo montages
These can then be downloaded as jpegs for online or PDFs for print. Simple.
You can't use Canva for packaging or t-shirt design – anything that you're going to actually SELL – and you can't download and share it for other people to use. You also can't use it to design your company logo, because the elements you use won't belong exclusively to you.
Check Canva's terms of use here.
Yeah, but how hard is it?
The best thing about Canva is that you can use it for ridiculously simple things like this:
Pick layout
Replace background
Edit text
or things that look super fancy like this:
Pick layout
Delete background
Add moustache image
Add monocle image
Edit and position text
Add shape for background
If you need support, Canva has a load of design tutorials to help you use its features.
Yeah, but how long will it take me?
That's up to you. I knocked up the examples above in two minutes and five minutes, but I sometimes spend 15 minutes or so if I want to make something more detailed.
Canva (bless it) asks you what kind of graphic you want to make so it can give you the right size. Facebook post, presentation, poster, business card – all set up for you, which is a massive time-saver.
Yeah, but is it REALLY free?
It is, if you don't use premium elements. I never have and I don't think you need to splash the cash to make something really great.
Premium images and graphics are $1. These have a dollar sign on them when you hover, and if you use any of these elements accidentally, you'll be told before you download the image so you won't get charged.
If you don't want to spend your budget on stock imagery (or you want something more original), use @Canva to create your own for free.
Click To Tweet