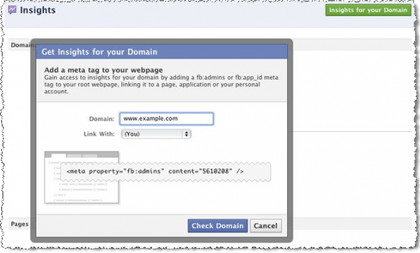 We all know that you can get hold of lots of free data when you are the administrator of a Facebook business page.
Facebook's page Insights section gives a top-level view of how your page is doing, and it's also possible to drill down deeper with the Excel files that can be downloaded via the social media site.
But what about activity that's nothing to do with your actual Facebook page?
How about Facebook as a whole – so even if you don't have a page for your business, people are still free to share links to your website through their status updates. And if you have 'like' buttons on your website, how can you discover the benefit you are getting?
This is where Facebook Insights for Domains comes in. It's free to use, and fairly simple to set up. You need at least a personal profile on Facebook to use the feature and 'claim' your domain – and by that it means your website.
Facebook then provides a meta tag that needs to be added to the back-end of your website.
Once this is in place, you'll be able to track things like how many times people have posted a link to your website on Facebook, clicks sent to your site because of these links and the number of times people have viewed something of yours because someone pressed a like button placed somewhere on your website.
You can also, as you would expect with Facebook, get a idea of the average age of people sharing your content on the social network, and also discover where they live and whether they are male or female.
If you have more than one website it's possible to manage several sites via one Facebook account.
It's worth reiterating that this has nothing to do with a Facebook business page and is totally free – so it's a bit of a no-brainer.
Have you implemented Facebook Insights for Domains? Let us know which aspects you find most useful.