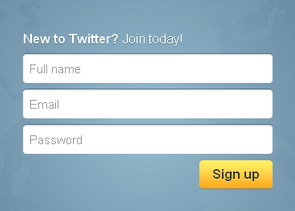 Social networking site Twitter – the land of people talking about what they have just had for dinner, what they think of tonight's TV and no end of messages stuffed with OMG, LOL and ROFL. So why should you be thinking "how do I set up a Twitter account for my business?".
Well, there is a lot of that kind of thing out there. But Twitter can be a fantastic and, of course, free way to promote your business. If you use Twitter for business, you can build up a group of engaged customers who then receive whatever messages you put out. So what it allows you to do is speak to people interested in what you do directly. And they can talk back.
The process creating a Twitter account is one of the easier things to do when to comes to using social media for business.
Create a basic Twitter account
Visit the twitter.com site and complete the fields on the homepage – that's your full name, email address and a password of your choice. The next screen allows you to pick a username (preferably your business name), and once this is completed your account is live.
You are now presented with a 'wizard' that encourages you to begin following other people – this means you receive, or can see, their messages. Twitter will prompt you to follow five celebrities, or accounts listed under search terms such as 'business', followed by five accounts linked to specific categories, such as technology and sport, and five you search for by name.
You'll then need to confirm your email address, via an email sent out to the account you registered with, to access all of the features available.
Add more detail about your business
At the moment, your account will be looking pretty plain. To start adding some personality to it, head to the administration area at the top of the page (the tab that is represented by a person's silhouette) then click 'Settings', and finally 'Profile'.
Here, you can:
Upload an image to become your icon – this could be your company logo, a picture of the person in charge of the account or another image that represents your business. Maximum size 700k.
Edit your real name
Insert a location
Insert a web address – your website
Write some bio text to describe your business – who you are, what you do and what you'll be talking about on Twitter. Maximum 160 characters.
In addition, under the 'Account' section here, you can change your @ username (maybe you have made a mistake or something better has popped into your head?) and adjust how your Twitter page appears – which can be found at twitter.com/YOURUSERNAME
Change your design
Delve into the 'Design' area and you can change the appearance of your Twitter page. There are several set design schemes that can be used, and it's also possible to add a custom background image.
Email alerts
In addition, within the profile section you can tell Twitter when you would like to be contacted by email. This can be every time someone mentions you (@YOURUSERNAME) in a tweet, when someone sends you a direct message or if someone new follows you.
Once all of the above is taken care of, you are ready to get tweeting!