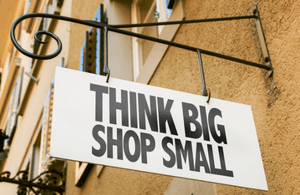 In a lot of ways, 2020 has sucked for all kinds of businesses. I'm not here to Mary Poppins a terrible situation.
But in amongst all the bad news, some rays of light have strayed across my screens. The small and mid-sized businesses that have turned lemons into limoncello and provided valuable services during a pandemic.
And boy, did we need it.
How COVID-19 changed the SME rules
1. Serving consumer demand
For the first weeks of lockdown, the big brands couldn't keep up with the sudden demand for larger orders of milk, anti-bac wipes and other necessities. No one really wanted to go to the supermarket, and online order slots were worth more than their weight in bread flour.
We were all forced to venture further in our searches for the household staples we needed. Looking further through our search results and thinking laterally about other suppliers.
Case study: Milk&More
As well as the local community-run village shop, my biggest pandemic lifeline was Milk&More. A couple of days before lockdown, I decided I needed to organise milk, bread and juice for my grandparents, to convince them to stay home.
Even at that point, I couldn't get a slot with any of their local supermarkets – so I thought of the milkman. Milk&More IS the milkman, but they deliver far more than that. Cleaning products, snacks, bakery, all sorts.
Pre-lockdown, Milk&More had a respectable customer base. They prided themselves on their commitment to sustainability and had the largest fleet of electric vehicles in the UK – 200 electric milk floats. They were the lifeblood of the British institution that is the milkman.
But they were about to be hit with the biggest spike in demand for alternative grocery delivery – ever. A week after my first order, Milk&More had to put a pause on new accounts. There was a holding page on their website; the queue sometimes got to 17,000 people. My grandparents kept getting their delightful (seriously, they're obsessed) delivery every Monday morning.
However, within the month, Milk&More were taking on new customers again. Their rate of growth has spiked beyond all imagining – 85,000 new online customers since January – and introduced thousands of people to the wonders of this cultural relic.
My grandparents aren't giving up their creamy milk (IN GLASS BOTTLES, HONOR!) anytime soon. Customers for life.
"Since the start of the health crisis, we have seen an unprecedented demand for our service. At one point during lockdown, we were making around 1.3 million deliveries a week and we saw visits to our website increase by 300%.

"In addition to the growing demand for our service, we also saw product sales double during lockdown, as people took advantage of the wide range of items we offer – from fruit and vegetables, to environmentally-friendly household cleaning materials, as well as fresh milk and juices. Our organic ranges performed even better with many lines exceeding last year's sales by 2.5 times.

"During the health crisis, the health, wellbeing and safety of our customers and staff was, and still is, always our priority. Like many other home delivery companies, we made the difficult decision to temporarily stop accepting new customers for a while during lockdown, so that we could focus on doing our best to deliver to our existing customers and provide them with the same high level of service that we pride ourselves on. We are happy to say that this is now not the case and we are accepting new customers as normal.

"At the very start of the pandemic, we launched a successful major recruitment drive to find over 150 additional milkmen and women, many of whom trained with Milk & More during lockdown and are now working alongside the team."

Andrew Kendall, Deputy CEO of Milk & More
2. Fast innovation
Being small is a huge advantage when the world is changing rapidly. It's far easier to shift focus as an SME than as a corporation, and it shows.
Many, many small businesses diversified their product ranges to include masks and hand sanitiser. The number of pubs that started delivering was amazing. My village shop started selling sandwich bags of local flour rather than name brand, because they could. My local farm shop began making their own, organic, hand sanitiser in a huge jug with a tap, so you'd bring your own reusable container to fill up. The brewery a mile from me sold ale in four-pint milk cartons out of their warehouse.
And the demand was there – because bigger businesses weren't adapting quickly enough. Not only were they not providing an adequate service; many of us didn't even want to give them our custom when they were doing such a shoddy job. Large chains took far longer to create COVID-19 governance to protect staff and customers; smaller, independent businesses were able to transform outdoor spaces, set up delivery and care for their customers on a personal level.
Little sellers that still hadn't quite made it onto the internet had a sudden push to get it together. With shops shut, it was the only way to survive. An independent Italian restaurant in my closest town shut for three weeks and then popped up suddenly, taking orders for delivery. Good for them – they're the only pizza delivery in the area and they were able to reopen their restaurant in the last couple of weeks. They survived the worst thing that had happened to the hospitality industry in generations.
Small business owners are innovators and fighters. This was their time to shine.
3. Alternatives to the old normal
With so much time spent away from the rat race, we were faced with big questions about how we were living pre-Covid. Many of us became more focused on sustainability and we had the time to do our research, investing in local and responsible businesses.
With our attachment to the high street and fast fashion severed, we made more considered choices.
The last few months have been a boomtown for independent sellers. Bored, guilty, worried people lost themselves in the Instagram Discover tab and spent.
It's been an interesting combination of nihilism and freedom: you might as well do what you want because there's a global pandemic…and you CAN now do what you want because there's a global pandemic.
4. New pastimes for a new reality
Trust me: I'm a 31-year-old who took up rollerskating. It's a different world. Even those of us who haven't found that working from home has led to more free time will have experienced boredom at some point in early lockdown.
Perhaps you found a new lust for jigsaw puzzles. Maybe your lawn became an obsession. We've all made the same sourdough recipe, millions of us. Whatever your lockdown was like, chances are, you found a tried a new hobby.
Case study: Wool and the Gang
Wool and the Gang is a knitting shop – but that's simplistic. They sell very luxe knitting kits from beginner to expert level. I hypothesised that lockdown was probably a hotbed of new hobbies as people coped with losing their usual activities. Anna Veglio White, their Brand Marketing Manager, confirmed:
"During the almost global lockdown we saw a significant spike in our social following and website traffic. People are obviously looking for things to occupy themselves with inside, but there are two key elements to knitting that have made it particularly popular right now.

"The first is that making things by hand takes time, in our fast paced lives many felt they didn't have the time, but now they do. The second reason is that crafting is proven to reduce stress and anxiety, something we could all have a little help with right now. Sitting down to stitch can put you in an almost meditative state, we don't say knitting is the new yoga for nothing!

"We hope that those who have dusted off their needles and hooks or picked them up for the first time will become customers for life. There's an addictive element to knitting, once you've got the bug it's hard to stop."

Anna Veglio White, Brand Marketing Manager of Wool and the Gang