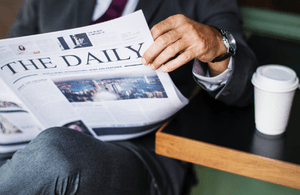 In the increasingly online-first, social media driven world of modern marketing, traditional press coverage sometimes seems to take a back seat. However, those who don't consider all angles of media visibility may be missing a trick.
If you want to be visible in newspapers, magazines, and broadcast media, arming yourself with a professional press kit is essential. But what is a press kit? What does it include? Let's investigate.
What is a Press Kit?
A "press kit" or "media kit" is a collection of essential promotional information about a company intended for use by reporters. The aim of a press kit is to make it easy for journalists to talk about your business (positively) in the press.
A very basic press kit may include hi-res branding images, a short write-up about your company, what you sell, and some basic contact info. However, the more information you include, the more helpful your press kit becomes to interested parties.
Why Do Companies Need a Press Kit?
If you're hoping to feature in the media, you need some kind of press materials on standby to hand out at short notice. Having a press kit saves time and effort for both yourselves and the reporter; if all of your press-relevant collateral is kept in one place, neither of you need to go on the hunt for the right information when a publishing deadline is looming.
If you work with a lot of high-profile clients or carry out substantial corporate social responsibility activities, you should have some kind of prepared materials to forward to the press.
Showing that you've considered your press visibility can also make you appear more put together, established, and professional.
What Other Uses Do Press Kits Have?
Depending on what you put in your press kit, it could hypothetically be sent to anyone who is interested in working or collaborating with you. A good press kit takes a lot of work, so it might as well do double duty somehow! Depending on how targeted or broad you make it, you could potentially send it to leads, prospects, networking contacts – basically anyone who could benefit from more information about you.
What Format Should I Present My Press Kit In?
You can present your press kit in a number of ways. Historically, press kits were based around physical collateral such as printed media, DVD-ROMs, or USB pen drives. But nowadays the simplest and most professional option is to develop your press kit as a page on your website. This way, if an enquiry from the press comes along, you only need to supply your press kit's URL to potentially give the reporter all they need. This is presently the "done thing".
What Should Your Press Kit Include?
Your kit doesn't necessarily have to include all of these points, but consider the kinds of publications who may realistically cover a story like yours. Some situations may call for far less information than is listed here – some may need much more! But the more compact and easily digestible you can keep your press kit, the better.
68 percent of journalists say they "just want the facts", or the who, what, where, why, and when (Source: Greentarget).
Hi-Res Brand Imagery
Hi-res versions of all of your corporate imagery in standard image file formats should be available front and centre. This should include your logo and any relevant brand photos that illustrate your products or services.
Your photographs and graphics need to be the best quality you can muster, so work with professional photographers and designers wherever possible. You may also want to include print-ready CMYK versions of your images if you're particularly interested in print coverage.
A Short Mission Statement
A press kit should also feature a very short statement about your company's vision, history, and milestones. Think – what makes you different? What something special do you bring to the market? What's your USP? Why do your customers come back?
A Who's Who
If you have a team, you can include short profiles of your staff (or at least the most "mission-critical" personnel) these can include hi-res headshots, their names and job titles, and a short professional bio about each.
Factsheets About What You Sell
Especially if you are known for a diverse range of products or services, you should provide a short write-up and imagery about each offering. You can also publish statistics about your products and services – or indeed your company as a whole – including revenue figures, awards, and accreditations. You may even want to include information about your ideal client personas if appropriate.
Case Studies, Testimonials & Collaborators
Publish evidence of how you've helped your clients – this can include case studies, testimonials, photographs, screenshots, and/or examples of products or deliverables. If you sell a physical product, you can also provide instructions on how to get hold of samples or where to see the product in action.
Notable CSR Policies and Projects
If you have a corporate social responsibility policy, you may want to highlight what support you give, why the cause is important to you, and data about the great things you've achieved.
Samples of Existing Press Coverage
If you've already been featured in the media before, mention it! Link to all your previous press coverage and provide access to past press releases and announcements.
Your Core Calls-to-Action
It's important to communicate any preferred CTAs that you'd like reporters to include in their coverage. Don't leave the writer to make assumptions or leave the reader hanging. Think carefully – what next steps do you want those reading/watching/hearing your press coverage to do?
Contact Information
Always include a relevant way for reporters to reach you by phone, email, social media, or postal mail. Create a dedicated email address (preferably something like "press@" or "mediaenquiries@") to separate out press enquiries and direct them to the best possible member of your team.
Keep Your Press Kit Up to Date!
Remember to update your press kit periodically with new press activity; updated personnel and contact information; and add new data points. The aim is to maintain your press kit so it provides the most up to date information. Also include the date that your press kit was last updated, so readers know how recent the information is.
Other Considerations
Always bear your ideal publications in mind when choosing what to put in your press kit. For example, a monthly print publication with longer articles aimed at SMEs is going to need different information to a beauty reviewer from a daily national newspaper, or a popular YouTube tech review channel.
Remember that your own press kit doesn't have to include all of these points. Information overload is unwelcome at the best of times, but particularly so when you're a busy reporter covering multiple stories. So make your press kit a snapshot – not an essay!
What exactly is a #presskit and what should it include? #mediakit #smallbusiness
Click To Tweet
Over to you – have you ever sought out press coverage for your business before? How easy/hard did you find it? Did you achieve any coverage? Did it have a noticeable effect on business? Let's compare notes down in the comments!