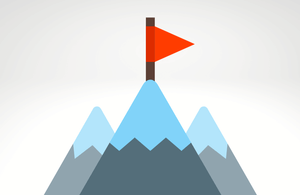 I hate the phrase 'brand purpose' simply because it's been used too much by people that don't feel its meaning deep in their souls. So, let's say brand mission.
Every business has a mission. Even if that mission is just to make as much money as possible. We need this mission to help us work on tone of voice. Without the underlying spirit of the business, we don't have a voice. We just have words.
And here's the thing: that mission and that voice need to push you into slightly nervy places. If we sit comfy in our brand mission, we rest on a boring voice that won't stand out.
"Lots of brands are more scared of the risk of offence than excited about the benefit of cut through. And the people at those brands are merely ensuring they don't smash the boat into the rocks. Hence, vanilla work."

A tweet I screenshot without a handle and now can't find – 100 years' bad karma
We don't want to be vanilla.
Three questions for finding your brand mission words
1. How do we work?
Do we… Sprint or progress or evolve or improve or preserve? Some are pacy, some are elegant and some are gentle.
Pick your word for how your business work and then explain it.
Sprint: we move fast, we're at the cutting edge, we're breaking and remaking banking.
2. How are we driven?
Are we driven by… Excitement or concern or love or outrage or individualism or impact or tradition?
Impact: we want to be recognised as a driving force of change in banking.
3. How do we help?
Do we… Fight or sympathise or protect or inspire or encourage or empower or include or invite or challenge or inform?
Include: we're making banking technology work for everyone.
These questions lead you towards some pretty passionate statements – and that's what you want. The stuff that comes from the heart helps you establish your mission and reason for existing. Voice, and its tones, starts here.
Get some inspiration from these 4 excellent brand missions
1. Hiut – Do one thing well
"We can only make 100 pairs of jeans a week. There is a great deal of satisfaction to be gained from making something well, of such superior quality that you know it is going to stand the test of time. It makes the hard work and the obsessing over each and every detail worth all the effort. That's our reward. That's why we stick to just making jeans. Yup, we just make jeans. That's all folks."
How does this tone of voice work for Hiut?
Dry
Tough
Proud
Exclusive
Their missions words are: preserve, individualism, protect, invite, fight. This is a brand that's fiercely independent and proud of making only one product and making it incredibly well. They're protecting craftsmanship and quality, and inviting you to an exclusive club of people who care about those things.
2. Patagonia – We're in business to save our home planet
"We're taxing ourselves. Patagonia's self-imposed Earth tax, 1% for the Planet, provides support to environmental nonprofits working to defend our air, land and water around the globe."
How does this tone of voice work for Patagonia?
Tough
Bold
Provocative
Military
Their mission words are: concern/outrage/fight/protect.
Patagonia are inciting radical change on behalf of our planet. They express the brutal reality of our environmental crisis and shout a call to arms.
3. Econsultancy – We show you what great looks like. Then we get you there.
"We're independent. Our brand is built on our integrity, experience and knowledge. We are also practitioners. Our team has worked for some of the world's most famous marketing and digital organisations. And we've been around since 1999 as a digital community for marketers (yes, that's three years before LinkedIn went live and five years before Facebook made an appearance online)."
How does this tone of voice work for Econsultancy?
Their mission words are: progress/impact/inform.
Econsultancy are one of the marketing industry's most respected sources of information, training and research. They have to practise what they preach and be at the cutting edge.
4. Habito – You shouldn't have to go through hell to buy a home
"Mortgages have barely changed in decades. We're building brand new ways to buy your home, and using technology to make finding the best mortgage simple. We're online, so you can chat to us when it suits you. Get your mortgage from bed, if you want. It's either hell or Habito."
How does this tone of voice work for Habito?
Down-to-earth
Solid
Trustworthy
Tongue-in-cheek
Their mission words are: improve/impact/invite/fight.
Mortgages are one of those Your Money or Your Life subjects. Habito are trying to be a market breaker with a completely new way of getting a mortgage – but they need to be trusted. Their practical tone is spiced up with a few playful twists here and there. They're inviting people in to a process that most of us worry about.
Brand mission serves a practical purpose: to nail tone
Our brand mission gets us thinking, talking and writing in the right way to convey what our businesses are all about.
Don't let anyone tell you that 'mission' has to involve saving rain forests or performative feminism. This is about your authenticity; branding, not marketing. Who we are, not what we do.