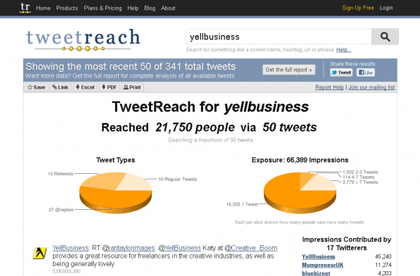 Statistics are important. They can help you judge success, work out what direction you are going in and help shape what you do in the future.
If you are managing a Twitter account for your business, hopefully you'll be keeping an eye on follower count, how many clicks your tweeted links are getting and how many people are mentioning your username each month.
Another good number to know is your 'reach'. This can give an indication of how many people are seeing your tweets on their desktop computer, mobile phone or tablet. And the good news is there's a free tool to help work this out for you.
Bearing in mind the viral nature of Twitter, think of reach in this way:
If you have 100 followers, then 100 people will potentially see your tweet.
If three of those 100 retweet that message, their combined total follower count will see the message also.
If one followers of the three retweeters decides to retweet the message, their followers will see the message.
So, in theory, there is a number that can be arrived at to discover how many people, potentially, see your tweet. I say potentially as, of course, a proportion of people won't see the message as they may not log in to Twitter until a day or so after your post goes out, and it could well get lost in the noise.
However, it's a good figure to know. If you want to discover how far a tweet has reached, or how far a particular hashtag or even your Twitter username has travelled, check out TweetReach.
This is a freemium product, but there's a good chance that, as a user with the needs of a small business in mind, it will do everything you want of it.
Have a go, and let us know what you find.